Five days in the nation's capital — time for work and time for play!
I arrived in DC with a crew of five on Wednesday afternoon. It took us about four hours to set up three cameras, two half racks, one boom, one spider, one scan converter, and six mics in the conference room of the Academy for Educational Development (AED).
I wanted to crash when I finally got inside my hotel room, but I also really wanted to see an old college friend. So I freshened up and walked to Dupont Circle to meet her.
Erin and I were roommates in college, and it had been far too long since we'd last seen each other. It was so much fun to catch up! We had dinner at Bistrot Du Coin, a vibrant bistro with an authentic French menu. Fortunately for me, Erin lived in France for three years and was able to interpret the menu for me. She highly recommended Boeuf Bourgignon (beef stew in red Burgundy wine sauce with onions, mushrooms, and pasta), and I'm glad I listened to her! It was flavorful and hearty, and the beef was so tender. We also shared a half bottle of Bordeaux and Fondant au Chocolat Semi Amer for dessert.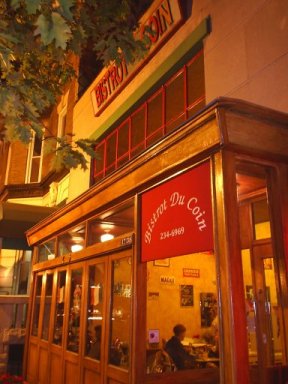 I woke up early on Thursday for the first day of the Regional Educational Lab (REL) Southeast conference on Response to Intervention (RtI). I played the role of producer — which is a lot like event planner — on behalf of Penn State's College of Education. I met school administrators from across the country, listened to presentations on tiered instruction in the classroom, and ran the microphone from one end of the room to the other during Q&A sessions (thankfully I didn't trip on a briefcase or crossed leg).
After a very long day of filming, I was happy to relax at a Greek cafe with the crew. Zorbas is ranked as one of the best deals in DC — it's authentic and affordable. The atmosphere was enchanting, and the hummus was some of the best I've ever had. Maybe someday I'll travel to the Aegean Sea and experience Greece for myself.
Friday brought another half-day of filming followed by a trip to the PBS offices in Crystal City, Arlington. I was invited to visit after meeting some folks at the IMA conference in Atlanta. I learned lots about COVE, the soon-to-be-released online video player that will feature both local and national PBS content. Exciting stuff!
Afterwards I headed back to DC to meet up with my cousin, Scott. He lives on Seton Street — one block of colorful row homes between Dupont Circle and Adams Morgan. And I think his may be the most beautiful. It's sunshine yellow on the outside with an exposed brick wall on the inside and cozy contemporary decor.
Scott was anxious to introduce me to his favorite speakeasy on U Street. He led me through an unmarked door and into The Gibson. The lights were dim, and the bar was a deep mahogany. It was romantic and reminiscent of the 1920s. I later learned that this exclusive hot spot seats just 48, and it's typically tough to get into without a reservation. Glad I was with an insider! Scott ordered a concoction with vermouth and absinthe, and I chose the Brunswick Sour — even the cocktail names are glamorous! My drink consisted of white rum, lime, and a swirl of merlot on top. The sweet merlot was the perfect compliment to the sour lime. The bartenders were incredibly artistic, and our drinks were both delicious and beautiful.
Unfortunately Nick didn't arrive in DC until just after we had left The Gibson. By that time it was close to 9pm, and we were ready for dinner. We chose Dukem, an Ethiopian restaurant on U Street, and headed there with Scott and his partner, Harry. Ethiopian cuisine is unlike any other food. The four of us shared a combination platter that included lamb stew, chicken in ginger sauce, ground beef in garlic sauce, and an assortment of vegetables. The meats and sides are served on pancake-like bread called "injera." To eat it, you tear pieces of the injera and use them to scoop the mixtures — no utensils needed! And it's all incredibly flavorful. We also enjoyed "Harar" honey beers.
We woke up on Saturday morning to the sweet smell of scones — did I mention that Scott is a fantastic host? After breakfast Nick and I took a cab to the Capitol Building and met up with his college friend and her boyfriend. The four of us toured the new Visitors Center and Rotunda. I was hoping to see the Chambers, but supposedly you need to reserve tickets from your Congressman. Oh well … it was cold and rainy, and we were happy to head to Capitol City Brewing Company for a late lunch. After the ethnic adventure my taste buds had experienced the past few days, good 'ole American pub food was surprisingly satisfying. And we shared a sampler of Cap City brews including kolsch, porter, ale, and stout.
After lunch we went to the Natural History Museum. Unfortunately it closed two hours earlier than expected due to a special event. So we only go to see the Hope Diamond and other precious gems and stones — still one of my favorite exhibits!
We decided to stay in with Scott and Harry on Saturday night, and Scott experimented with some new martini recipes. Sunday morning we grabbed brunch with our best man, Mike, at Whitlow's in Clarendon and added Crate and Barrel to our registry. (We love their glassware!) Then it was off to Dover to surprise my mother on the day before her birthday! We enjoyed a home cooked dinner and Godiva chocolate cheesecake. And she loved her new Kathy Van Zeeland purse
Whew! What a busy weekend! But lots of fun. I'm glad we took advantage of the food, culture, and history of DC … and had time to visit family and friends, too.