Productive weekend in Happy Valley! We took some time to relax on Friday night and tried a few new beers at Zeno's. Saturday morning, after going for a run (in the 70+ degree weather), we headed out to Macy's and Bed Bath & Beyond to start our registries.
We found a few items at Macy's but were extremely impressed by the selection and customer service at BB&B. The bridal registry consultant shared ideas we hadn't even considered. For example, we really did not think we wanted china. But she changed our minds when she introduced us to Noritake. It's incredibly durable, dishwasher- and microwave-safe, and rustic — adjectives I would not have previously used to describe china. So we added the Colorwave raspberry red sets to our list.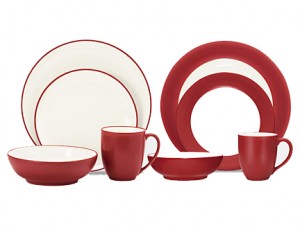 We also fell for Calphalon. We chose the contemporary non-stick 12-piece cookware set, the 5-piece bakeware set, the 17-piece knife block set, and the nylon utensils.
Of course, we also had some fun scanning our "wants," such as the KitchenAid 5-Quart Artisan Stand Mixer in red (we've been drooling over that for months), a Cuisinart Griddler, and a spice rack.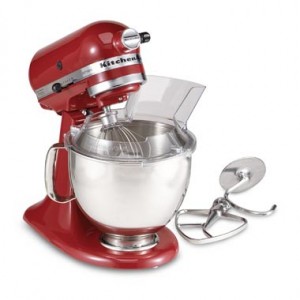 Notice a trend (aside from choosing red things)? I would guess that 90% of our registry is composed of kitchen items. We just have a tough time choosing things like bath towels, bed sheets, and home decor. I mean, we have no idea what our future house will look like. At this point, we don't even know where it will be located!
Anyway, we had so much fun. I think Nick let me hold the scan gun for a whole two minutes. But he did scan me and declare me "priceless." Yes, this is my husband-to-be.
While at the mall, we also popped into Kranichs to check out their selection of wedding bands. We had already decided that we want complimentary bands, and we both like milgrain edging. I want something that won't take away from the stunning diamonds of my engagement ring and that I can wear all of the time. Palladium seems like a good choice, and Nick likes it, too. I tried on a 2.5mm ring, and Nick was drawn to the 6mm. We didn't make any purchases, but we might return in the near future.
After a long Saturday of wedding-related activities, we grabbed dinner at Otto's and saw Slumdog Millionaire at the theatre. But there was one more thing on our to do list …
On Sunday we ordered our save-the-dates! Stay tuned for details.