an unlonely traveler
wednesday (6/20)
After flying over Lake Michigan, the Dakotas, Montana, and Idaho, I caught my first glimpse of the Evergreen State. The landscape seamlessly transformed itself from barren desert to rocky mountains to green valleys. And then there it was … Mount Rainier … The highest peak in the Cascades at 14,410 feet. It emerged from the clouds and dominated my view from the tiny plane window. Awesome! Fortunately, I arrived on a clear day and was able to see the snow-capped mountaintop from the ground, as well.
Every local I met had food recommendations to share. The 20-something mother on the plane with her blue-eyed daughter who played hide-and-seek with me between Michigan and Washington … The slender chic woman from West Seattle with her Louis Vuitton leather luggage whom I met while waiting for a taxi at the airport … The classic hipster Seattlelite couple (more about them later) outside of my hotel. You can guess that they each had their favorite neighborhood, their preferred dish. But all had two words in common … "seafood" and "coffee." No surprise!
I flung my suitcase onto the Marriott bed, quickly brushed my teeth and hair, grabbed my camera bag, and headed for Pike Place Market: the "soul of Seattle." Created in 1907, today it's America's premier farmers' market. I have never seen such bright and beautiful food! Beecher's cheese, Moon Valley honey, Chukar chocolate-covered cherries, Daily Dozen doughnuts, Uli's sausage, and heaps of fresh seafood on ice … Copper River Salmon, Dungeness Crab, scallops as large as my fists, halibut, cod. And, oh, the mounds of Mount Rainier cherries! They're more sweet than sour, more golden than red. And their flesh reminds me more of a peach than a cherry. They sell them at Wegman's for about $6/pound for two glorious weeks during the summer. But here at Pike Place, they're closer to $4/pound and in great abundance! After just two hours in Seattle, I'd consumed 1/2 pound of cherries, 1/2 dozen doughnuts (minis!), a crab cake from Lowell's, and a latte.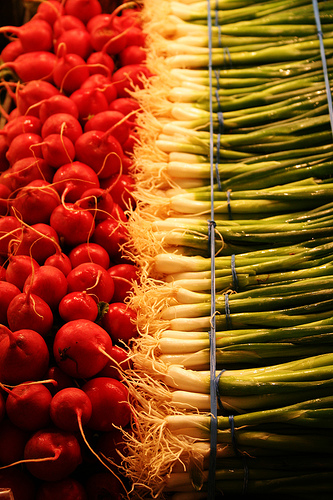 But the market latte didn't quite satisfy my palette for a true Seattle blend, so I wandered into Seattle Works on Pike Street for the "finest microroasts" in the city. I chatted with the barista, and he hooked me up with a trio of his favorites (light, medium, and dark). Now, I would call myself a coffee-drinker (yes, I have experienced caffeine headaches), but I have never felt a jolt like I did from this java! I could literally feel it pulsing through my veins. Good thing because by this time it was 6 p.m. (though my body said 9 p.m.), and I'd been awake for 14 hours. But I still had more to do! Thank you, dear espresso, for your help.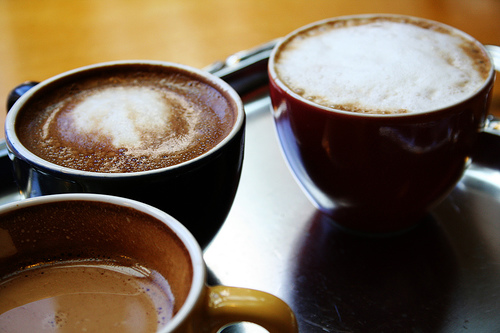 It was at this point in my perfect first day that I met John and Burgundy. They were perched at the top of the staircase leading from the Waterfront to 1st Avenue. Photo op! I asked if they'd take my picture, which led into an hour-long conversation about art (Burgundy has burgundy hair and tattoos and is a local painter) and coffee (John is a barista originally from Philly). We walked and talked towards Sculpture Park, which has a phenomenal view of the Space Needle in one direction and Mount Rainier in the other. We parted ways, and I thanked them for their suggestions and company. A definite perk to traveling alone is that I'm much more inclined to chat with strangers!
I stopped at the conference center en route to the hotel (oh, that's right, I did come to the Pacific Northwest for more than cherries and espressos) to register for An Event Apart. The woman at the table said I absolutely positively had to take the sunset Locks Tour. My body begged for a bed, but my caffeine-induced adventurous spirit said "keep going!"And I'm so glad that I did. We were bussed to Lake Union where we boarded the Argosy Cruise Ship. We saw the houseboat communities from "Sleepless in Seattle" and tugboats and fishing boats before we were lowered 13 feet from the fresh lake water into the salt water of Puget Sound. The lock opened into a spectacular view of the Olympic and Cascade mountain ranges, the Space Needle, and city skyline. I enjoyed a local lager and romantic sunset with myself. It's important to treat ourselves, after all.