During this season of life, I don't have the time (or, honestly, the mental capacity) to share recipes or toddler crafts or parenting tips in this space. But that's okay. Because this blog still serves a very important role in my life. I don't want to forget these days — the good ones, the grand ones, the exhausting ones. And so away we go. A highlight reel of the past two months.
—
Nora rocked her first dentist appointment. They cleaned and flossed her teeth … and discovered that she has an extra tooth! It's the right lateral incisor, and the dentist explained that this formed in utero. The tooth bud simply split into two during early development. It's not uncommon, and she suspects just one adult tooth will push out the two baby teeth. Either way, the girl has a beautiful smile.
Sam also impressed the hygienist and dentist with his cooperation. He even marched down the hall all by himself to get his first round of x-rays. Of course, by the time the three of us left the office and walked down the hallway, the kids were racing and fighting over who got to push the button for the elevator.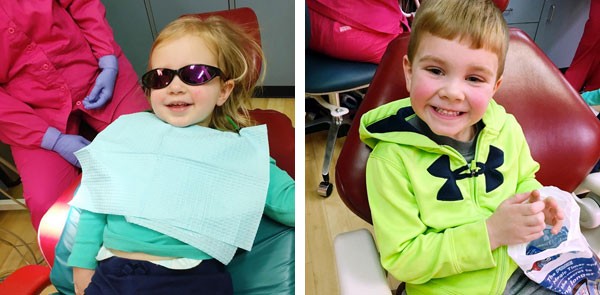 —
I enjoyed a long overdue weekend in Boston with a few of my favorite ladies. The four of us could not be in more different phases of life, and we don't get to see each other nearly often enough, and yet it always seems as if no time has passed between us. That's the beauty of having friends who have known you since grade school.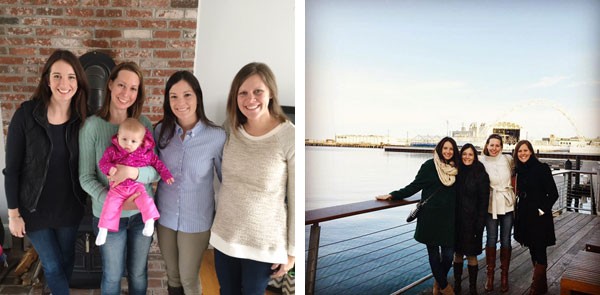 —
I continued to hold down the fort while Nick traveled to Calgary for work. Sam's mid-winter break from preschool presented an extra challenge. But we treated ourselves to dinner at our favorite local deli, and the kids were surprisingly well behaved. And I dug through art supplies and activities to keep them busy during the day. About 45 seconds after I took this photo of Sam the Scientist, I got up to refill Nora's water cup, and Sam decided to put the purple cap onto the container and shake it up. Know what happens when you add vinegar to baking soda and shake it up? It explodes. I guess the "volcano" just wasn't big enough for him. So I spent the next 15 minutes scrubbing green vinegar off the walls, the rug, and Nora's face.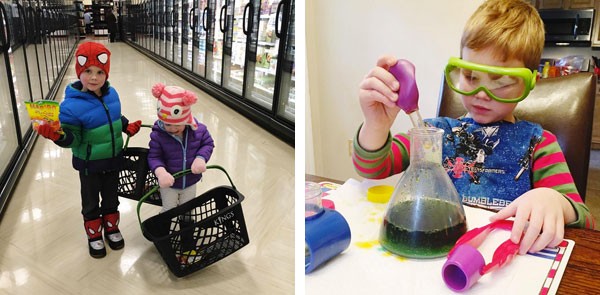 —
We hosted Pennsylvania friends during two different weekends. The kids stayed up way past their bedtimes, and so did the adults (playing Cards Against Humanity). We went to the theatre to see Daniel Tiger's Neighborhood. Nora was completely enthralled, and Nick was impressed that I knew every single song. Our time together is never long enough. But at least we still live close enough for weekend visits.
—
We took the kids to the Great Swamp in Chatham to learn all about maple syrup. Because we figured that we consume enough of it, and it was time to find out where it comes from. The classroom portion was a bit much for Sam and Nora (geared more towards a grade school audience), but Nick and I learned a lot. Like how to identify a maple tree, what are the ideal conditions for tapping, and that it takes roughly 40 gallons of sap to produce one bottle of syrup. Then we went outside to peek inside the buckets, to find out how they boil down the sap to get syrup, and to taste several different grades (the kids favorite part, of course!)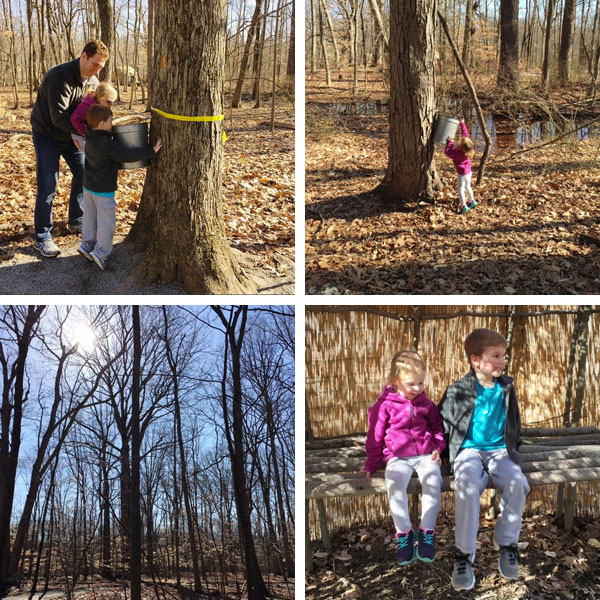 —
Though we found ourselves in the middle of a rough patch in early March with lots of tears and timeouts and more yelling than I'd like to admit (thanks to not enough sleep for Nora and a particularly challenging phase for Sam), I tried my best to start each day with a positive attitude. Sunshine helped. We took advantage of the warmer weather with scooter rides, late afternoons at the playground, and ice cream cones.
—
I rarely get to visit my family without the kiddos in tow. But we all need quality time with our parents (despite our age), and so Nick granted me a weekend away. We talked without interruption, enjoyed the market on Saturday morning, and watched movies together. It was much needed for all of us as my dad prepares to face a challenging spring. But he's Super Poppy, and we're all confident that he'll beat this, just like he did ten years ago.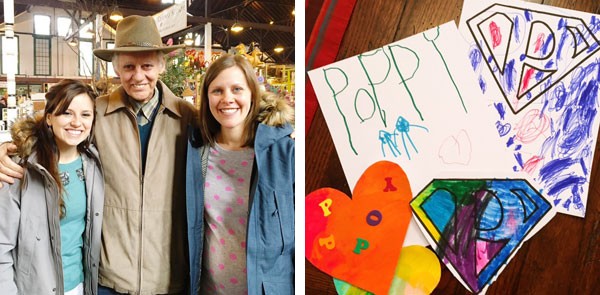 —
Finally, we enjoyed our first St. Patrick's Day in Morristown. Also, we felt really old. Especially when I walked outside in my maternity sweater and slippers to throw a dirty toddler diaper into the trash can while the 20-somethings across the street were blaring music and playing beer pong. Nick really wanted to join their game, but he decided he didn't want to recreate the Frank the Tank scene from Old School. When did that happen, anyway? When did we trade pints of green beer for sippy cups of milk and live music late into the night for early bedtimes and popcorn on the couch? But this is our life. And we love it.
—
And since Lucy didn't make it into any of the photos above … The sometimes annoying and always endearing characteristic of Goldens: they must always be in the middle of the action.