Dear Samuel,
You are two months old! And you get cuter and sweeter by the day. Already you have grown from a fragile infant into a smiley, squishy baby.
Your smiles are so genuine and consume your whole, round face. You respond to our voices with gummy grins and coos. You stick out your tongue and blow bubbles. And we just think you are the most adorable baby to ever be born.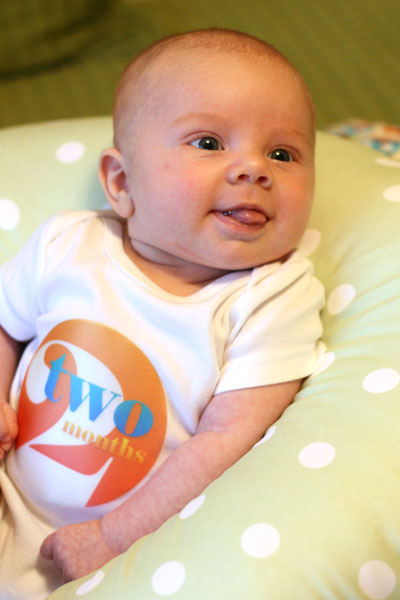 This month you officially outgrew all of your newborn clothing, plus the napper in your pack 'n' play and the sling in your bathtub. We had to raise the straps in your car seat and your swing, and we no longer have to fold down your size 1 diapers. But despite all of this, you are still our little Peanut! In fact, at your two-month check-up you weighed in at 11 lbs 4 oz and measured 23 inches long — 25th percentile for both. Also, you were such a trooper through your first round of shots!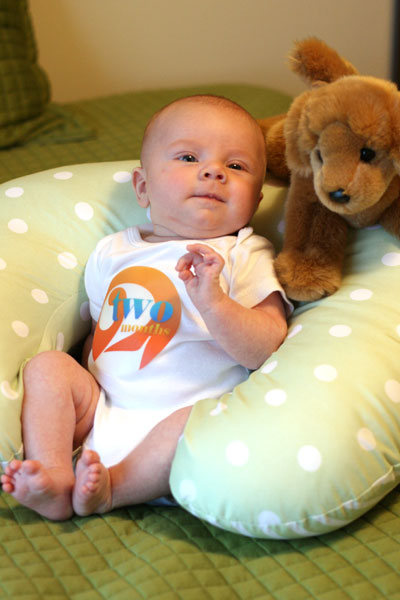 You are Mommy's little mister and Daddy's buckaroo.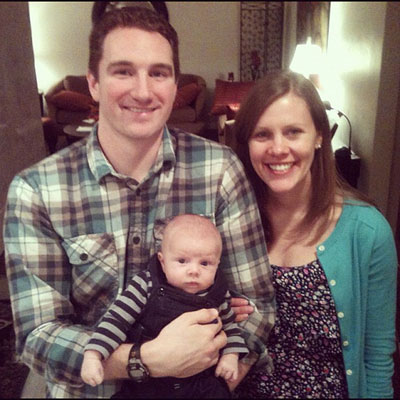 And always our Peanut.
You are quite the traveler, too. From Virginia to Pennsylvania to Maryland this month. Fortunately, you are so comfortable in your car seat and sleep through most of our road trips. Except when we got stuck in traffic on the beltway entering Virginia. Mommy was in the back seat with you and nearly passed out from all of the shooshing. But it was worth it to get hugs from your honorary aunts and uncles and to meet your friends, Aiden and Owen.
Next we drove east across Pennsylvania to see Oma and Opa who had traveled north from Alabama to help your Great Aunt Vicki campaign for District Judge. Though you didn't go door-to-door with Daddy, I guarantee you would have won the cutest baby vote.
And finally, we spent an afternoon at Boordy Vineyards in Maryland. Yes, you visited your first winery at six weeks old. Though you much preferred the milk.

You also took a mini-road trip with Mommy to State College one day. You woke from your nap when we were just about ten miles from home and cried and cried and cried while Mommy sang every song she could sing from the driver's seat.
Speaking of crying, you don't do a whole lot of it. Unless you're hungry. And that cry is more of a whimper. Occasionally – when you're tired – you cry real tears, which make us want to cry, too. But you can usually be calmed by bouncing and walking … or the bath. You absolutely love bath time. You smile and coo and kick your tiny feet, and you would probably chill in that tub until you turned into a prune, if we let you.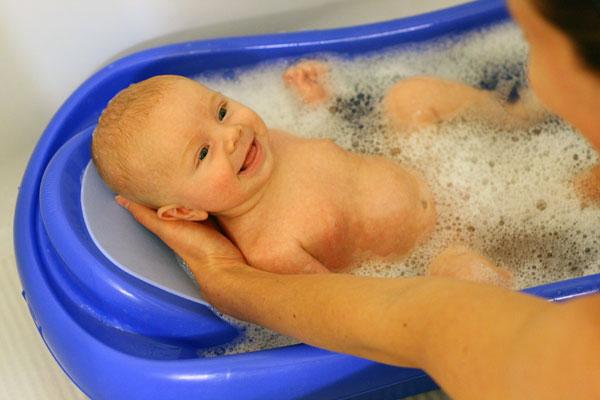 After your evening bath, we slip you into snuggly PJs, I feed you, and then Daddy sits you in his lap for story time. Your current favorite books are Little Goose and Pajama Time.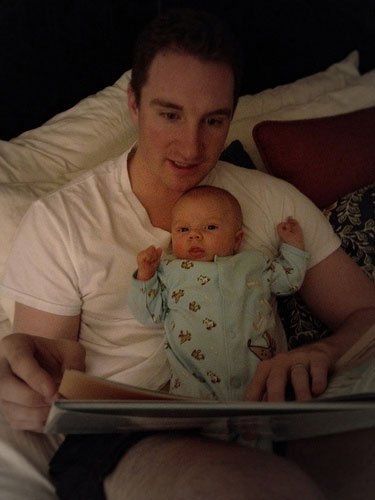 Then it's into your cozy swaddle blanket and into your crib for the night. That's right. We moved you into your big boy crib when you were seven weeks old. You didn't mind the transition at all, and probably would have been fine with it sooner if Mommy and Daddy hadn't resisted. You sleep so soundly there – from about 9:30pm until 5:30am. Then I feed you, change you, and play with you until you're back asleep about an hour later. Lately, you and I just cuddle up on the bed in your nursery and sometimes wake when Daddy comes to kiss us goodbye on his way to work.
Yes, Daddy returned to work after six wonderful weeks at home with us. We miss him so much! But we send him photos and videos and talk to him several times throughout the day. And it's so exciting when he finally walks back in the door and says, "Daddy's home!" Here's one of the videos we sent to him this month:
You and Daddy are good pals. But you exhaust him! One morning, I left you with him for an hour while I was at the doctor's office. When I got home, he passed you into my arms so he could shower and brush his teeth, and he said he doesn't know how I do it for eight hours every day. But there's no place I'd rather be. And there's no better feeling than when you look up at me with those big blue eyes …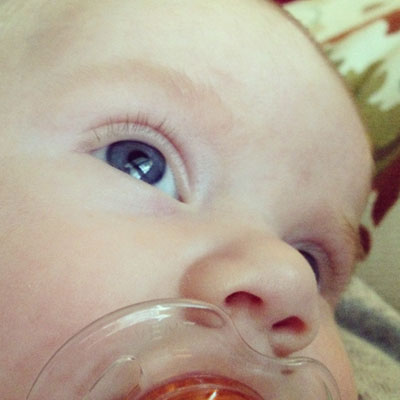 … or snuggle in close for a nap.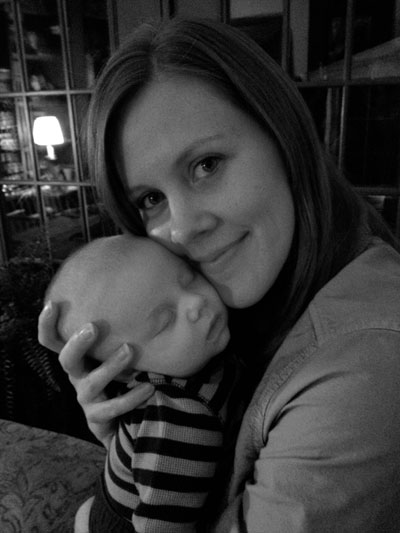 You're sleeping well, and you're eating well, too. You eat about every three hours during the day. And you finally started to take the bottle around eight weeks. After trying four different brands, we settled on the Tommee Tippee bottle. We also now practice "paced" bottle feeding, thanks to help from our lactation nurse. This just means that we sit you upright and hold the bottle horizontally so the nipple is only half full, and the flow of milk is slow. Otherwise your strong mouth muscles suck too much milk, causing you to gag and throw your arms up in alarm. But you're doing so much better now! Mommy gets a nice evening break, and you and Daddy have some time to bond.
Bath time is your favorite time, though playtime is a close second. You've really started to focus on your surroundings, including your forest friends: Mr. Owl, Mr. Squirrel, and Mr. Bird. You kick and wave your arms and talk to them. And sometimes your little hand gets stuck on a ring, which you find quite amusing.
You're not quite as fond of tummy time, though you've gotten so good at holding up your head. Such a strong little guy! (And nicely exhibiting that famous Wiley tongue.)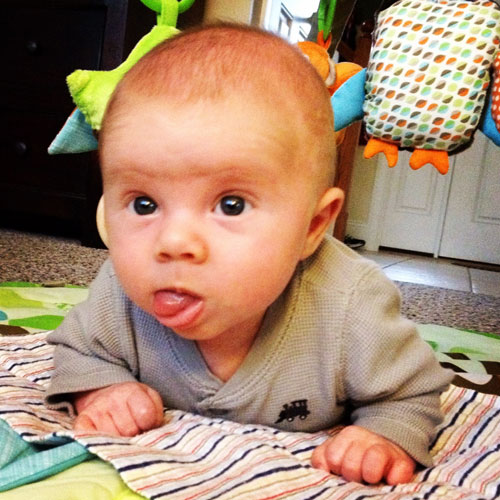 Sammy, we love you so much. You bring such joy into our lives. You are cuddly and sweet and sometimes silly.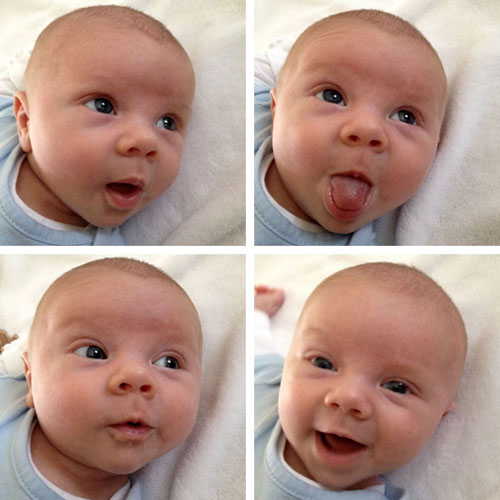 You make our world a brighter place, and we look forward to every tomorrow with you.
Lots of love from Mommy and Daddy.