(Let's get back to Germany recaps, shall we?)
We celebrated Oktoberfest until the music ended and the tents turned up their lights — which meant we were all in need of a caffeine boost the next morning. Mary grabbed a latte on her way to the airport, and Nick and I met Anne and Carsten for breakfast before parting ways. We were sad to say goodbye, but plans are already being discussed for future visits!
From Munich, we headed back down the A7 towards the Alps. It was another overcast day, but the rolling fields were still vibrant shades of green.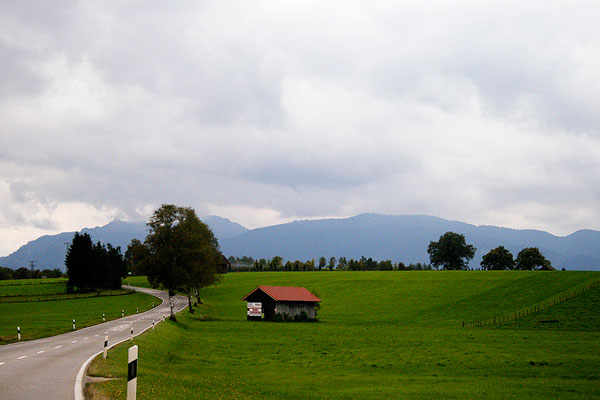 We stopped briefly to stock up on sweets — Haribo and a Kinder Egg to share — and continued to follow the GPS through the tiny villages of Bavaria. And then we missed a turn. Well, that missed turn lead to our most favorite road of the trip. Don't you love when that happens?
The road narrowed to one lane and weaved between farmhouses and livestock pastures. We even had to swerve at one point to avoid an oncoming tractor.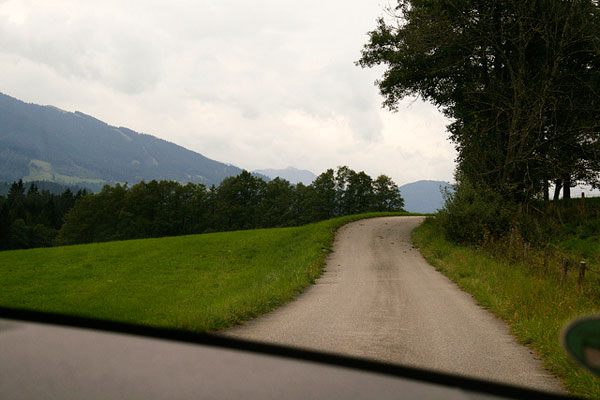 I do believe the happiest cows come from Bavaria — not from California.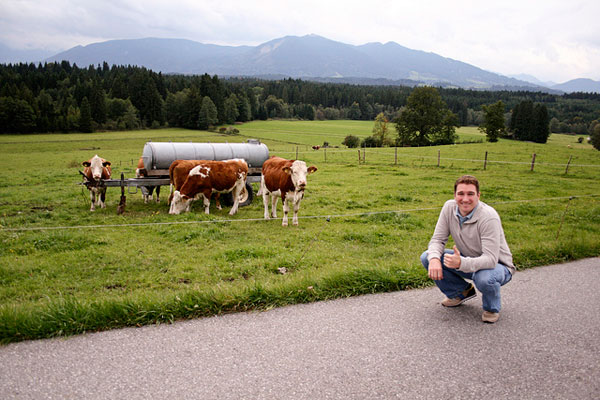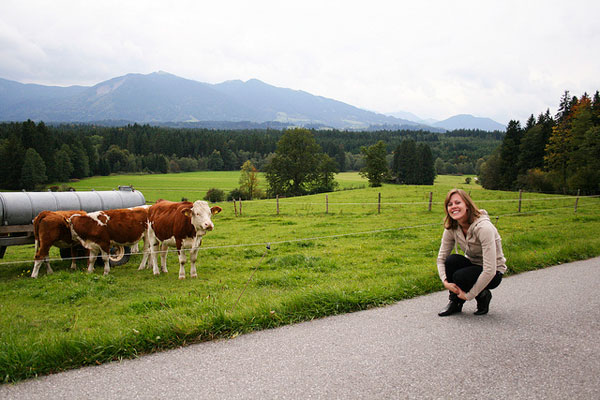 And the heavy brass bells hanging from their necks aren't just for show — it's how the farmers keep track of their cows while they wonder through the Alps. Just listen to this.
The unpaved road through the Alps was lovely, but it did set back our schedule. We arrived in Hohenschwangau with just a few minutes to relax and regroup (I had to change out of my wedge boots and back into my Sketchers) before we began our climb to Neuschwanstein Castle.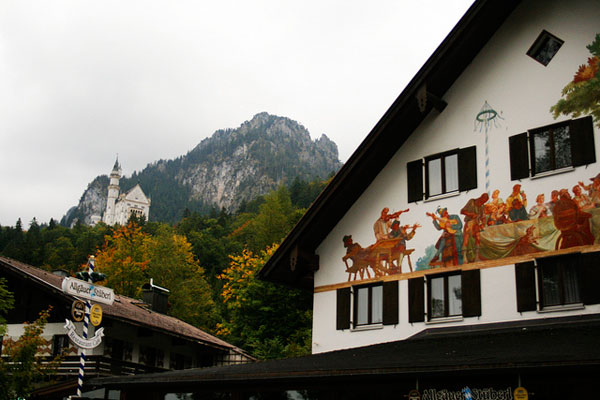 The air was crisp, but the trail was steep, and before we reached the top, Nick had removed his jacket and I had slipped off my scarf.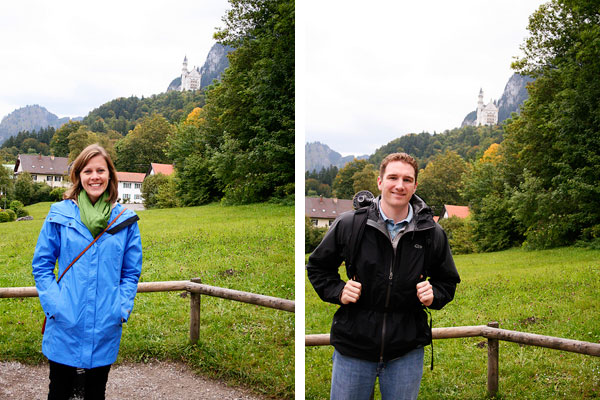 Neuschwanstein Castle was commissioned by King Ludwig II during the 19th century. It's romantic and dramatic and served as the inspiration for Sleeping Beauty's Castle in Disneyland.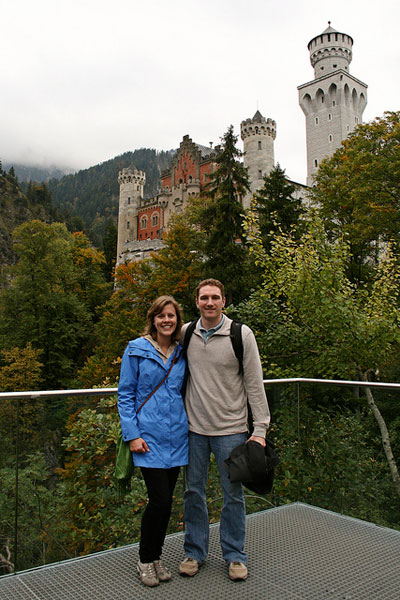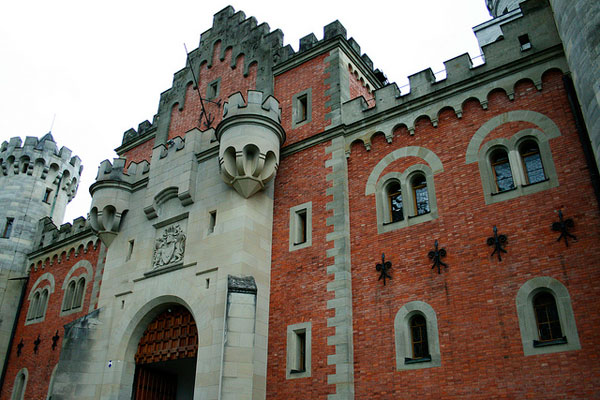 We toured the dining room, the study, the kitchen, the music hall, and the bedroom. We even saw the "royal throne," which apparently, has only recently been opened to the public.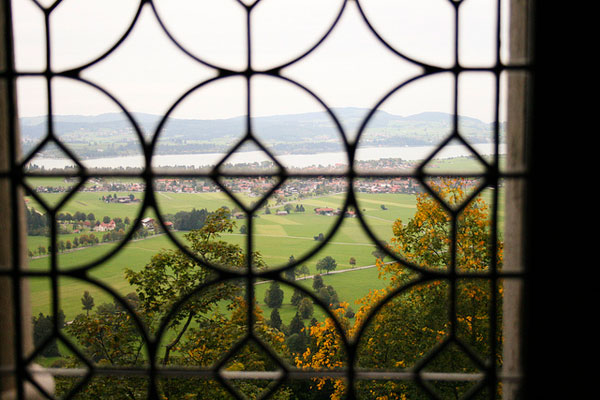 After our tour, we checked into Casa Patrizia, owned by a Romanian woman. We asked for a dinner recommendation, and she said the best place in town was just a block away. Score!
Dinner at Helmerhof was fantastic — my personal favorite of the week. The restaurant was cozy and filled with locals, and we followed suit with liters of Erdinger Urweisse and Koenig Ludwig Dunkel. I ordered the venison goulash, which was rich and flavorful, and Nick had a hearty helping of hirtenteller with pork, fried onions, bacon, and cheese spätzle. And the desserts were just too pretty to pass up.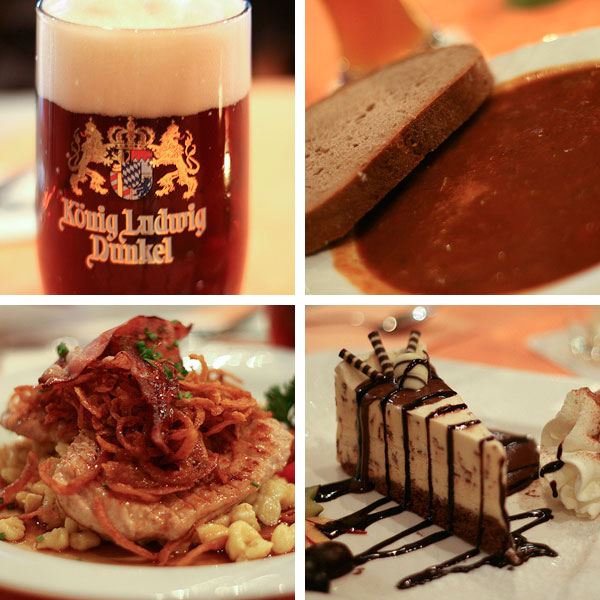 Next up: Fussen, the end of the Romantic Road.