Last Saturday we visited 2 of 19 farms that participated in the Central PA Farm Tour. We met a sixth generation farmer who showed us how apples are pressed into cider and blended into butter, and we learned from an organic farmer how to properly trellis tomatoes and keep away the deer. I also talked to three kids about their favorite fruits and vegetables while plum juice ran down their chins, and I asked visitors of all ages why they support the local food system. Oh, and I chronicled all of this for WPSU's Local Food Journey blog.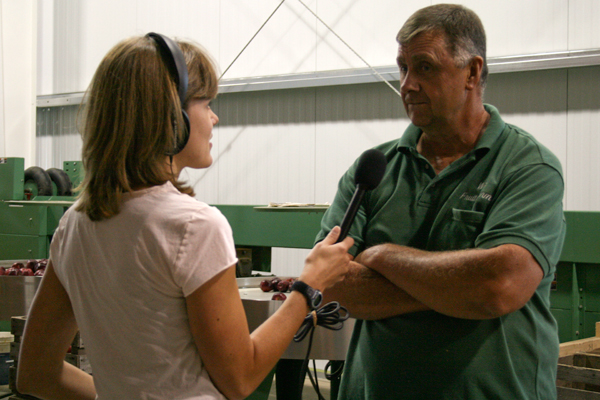 I played the role of radio producer with a recorder around my neck, a microphone in my hand, and headphones holding back my bangs. Unfortunately, I discovered on Monday morning that the memory card which held all of my sound bytes was corrupt. I feared I had lost everything. But, alas! I have the smartest and most diligent colleagues, and they were able to recover enough audio to warrant my radio debut.
Of course I owed them a great big thank you. And of course I showed my gratitude with chocolate chip cookies.
This recipe comes from Jenna at Eat, Live, Run. She recently reminded her readers of her food philosophy, and I have to repeat it here before I share the recipe. She says, "I choose to cook with simple ingredients that celebrate how food should really taste." And "I fully believe you can eat anything you want in moderation." I couldn't agree more, Jenna.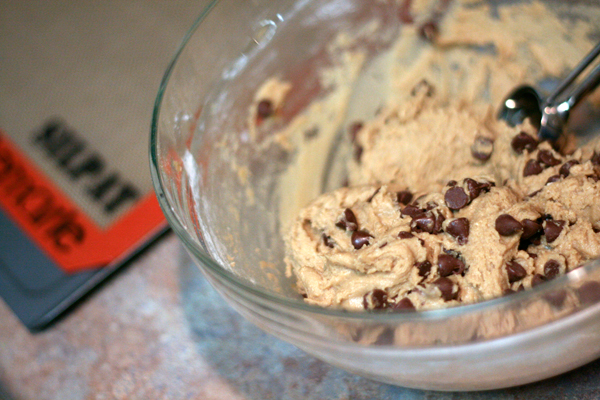 We eat spinach and oats and blueberries and chocolate. We buy real butter for our bread and real cream for our coffee. We like natural, wholesome (and local when possible) ingredients.
These chocolate chip cookies showcase one simple element in all its glory: butter.
Have you ever looked at the ingredients list on the butter in your fridge? My sister did recently, and she couldn't pronounce half of the items on the list. She and my parents now buy a brand with a list that reads: cream. Can't get much simpler than that, right?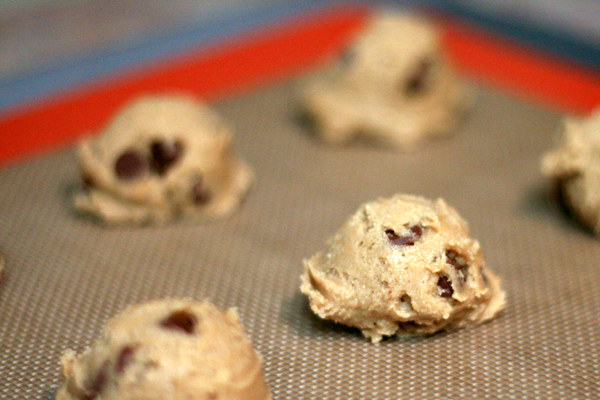 To make these cookies, first brown 10 tablespoons of real butter. Your kitchen will seriously smell like a candy factory. And just wait until you blend it with sugar, brown sugar, vanilla, and salt. It transforms itself into a sticky, smooth caramel consistency.
The resulting cookie has a greater depth of flavor than what comes from the recipe on the back of a bag of chocolate chips. They were such a hit with my colleagues that they asked what else they need fix to get more baked goods.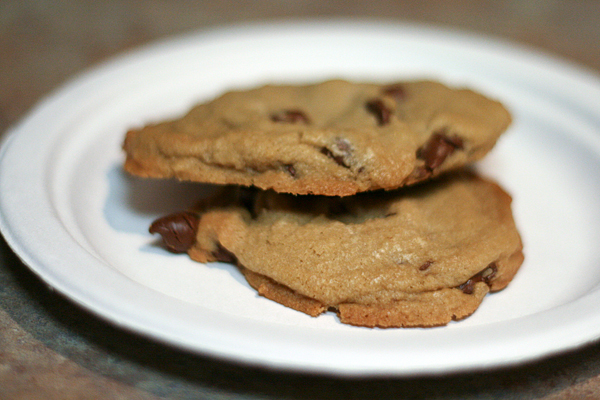 For those who want to know, my radio story will air tomorrow on WPSU during Morning Edition. Yes, I'll be sandwiched between Steve and Renee, and I am so psyched. Although I do think it will be a bit surreal to hear my own voice during my morning commute. I'll post a link after it airs!
Brown Butter Chocolate Chip Cookies
Ingredients
1 3/4 cups all-purpose flour
1/2 tsp baking soda
14 Tbsp unsalted butter (1 3/4 sticks)
1/2 cup white sugar
3/4 cup packed dark brown sugar
1 tsp salt
2 tsp vanilla
1 large egg
1 large egg yolk
1 1/4 cups chocolate chips
Directions
Preheat the oven to 375 and line two large baking sheets with parchment or silicone baking mats.
Sift or whisk together flour and baking soda in a medium bowl and set aside.
Add 10 tablespoons of the butter to a medium skillet over medium-high heat. Allow the butter to melt for 2 minutes and begin to swirl it around the pan, allowing it to brown. Keep the butter moving so it doesn't burn. Browning should take about 3 minutes. You'll know it's done when it smells nutty and has a dark golden brown color. Remove  pan from heat and use a heatsafe spatula to transfer the butter to a large, heatsafe mixing bowl. Add the remaining 4 tablespoons of cold butter to the melted butter, and stir gently until it is melted.
Add the white sugar, brown sugar, vanilla, and salt to the butter and whisk  together. Add the egg and egg yolk and whisk again until mixture is smooth, about 30 seconds. Allow the batter to rest for 3 minutes, then whisk for 30 seconds more. Do this two more times. The end result should be thick and shiny.
Add the flour mixture and stir until just combined, about 1 minute. Gently stir in chocolate chips. The batter will be soft.
Form each cookie with roughly 3 tbsp of dough. Place cookies 2 inches apart on the prepared baking sheets and bake one tray at a time, 10 to 14 minutes, on the middle rack of your oven. Rotate baking sheet after 5 minutes and check the cookies at 10; you want them to be golden brown and set around the edges, but puffy in the middle.
Allow to cool on the pan for 1 to 2 minutes, then transfer to a wire rack to cool completely.
(Adapted from Cooks Illustrated via Eat, Live, Run)