"Normal day, let me be aware of the treasure you are. Let me learn from you, love you, bless you before you depart. Let me not pass you by in quest of some rare and perfect tomorrow. Let me hold you while i may, for it may not always be so." ? Mary Jean Irion

I saved this quote weeks ago, and it has really resonated with me. It's easy to remember the big days, but it's the normal, ordinary, every days that are the best days. And so I've attempted to capture one of these days in as many details as I could manage. Because these are the days I treasure — as crazy and chaotic and exhausting as they are.
Thursday, Oct. 15, 2015
Emily: 33 | Nick: 33 | Sam: just turned 4 years | Nora: almost 22 months | Lucy: 3
6:28 am | I wake up without an alarm — kid or otherwise. That's what going to bed before midnight does for a woman. I choose to lay in bed for another 15 minutes before I jump into the shower. Then it's a race. Will I finish my shower, get dressed, and dry my hair before the kiddos wake up? Sometimes I win. Sometimes I don't. Today I win.
7:10 am | Nick is in the shower. And just as I finish straightening my hair, Sam appears in the doorway. With Ricky, of course. He says he has a picture for Daddy and reemerges a few seconds later with the family portrait that we made yesterday. He shows Nick through the shower curtain.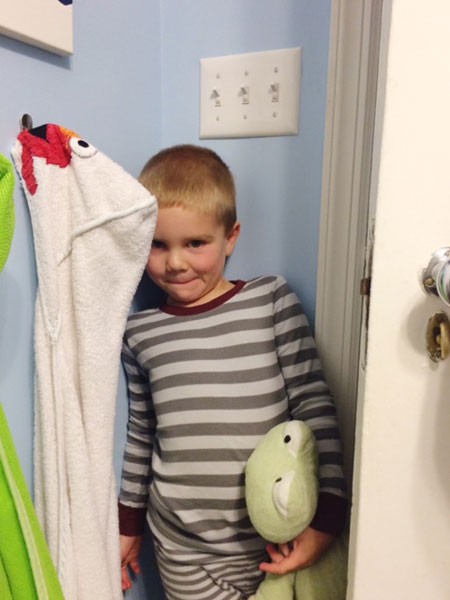 7:15 am | I race upstairs to make our bed before the boys join me. They're talking about Daddy's cuff links and the special box he keeps them in. Lucy is not ready to get up.
7:25 am | I hear "Dada Dada Dada" coming from Nora's room. She always remembers who tucks her in the night before and chooses to greet that person first the next morning. But since Nick and Sam are still chatting, I sneak in to see my little lady. Smiling and ready to start her day! A few minutes later, she's dressed and reading books on Sam's bedroom floor. But not before I hear Sam crying from my bedroom. Apparently, he pinched his finger in our dresser drawer and needs a Band-Aid. He chooses Spider Man, but is not happy that the Hulk covers Spider Man when wrapped around his finger. And so we switch it out for a lightsaber one.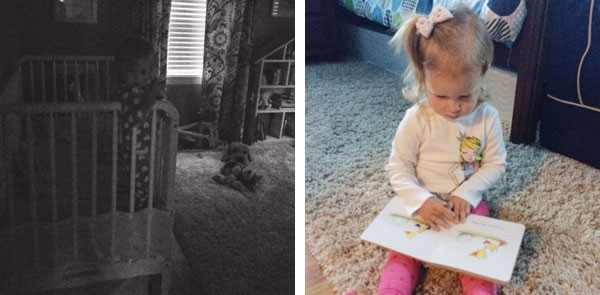 7:40 am | Daddy has an early meeting today, and so he's out the door before we even get downstairs. But not before big hugs from both kids (How grateful are we that an early departure means 7:45? Most of Nick's colleagues have an hour commute.) Time to get Sam dressed for school. I convince him to wear khaki cargo pants and a hooded striped shirt. I'm surprised neither child argued today about their outfits. Second win of the morning!
7:45 am | We all head downstairs. I let Lucy out the back door and turn on the Keurig. Sam requests to put more stickers on his pumpkin. Nora wants stickers, too, of course. (These pumpkins have been a source of entertainment all week.) Perfect. This will give me time to make breakfast. I get milk for Sam, water for Nora (because she still refuses to drink milk), and pumpkin muffins for both.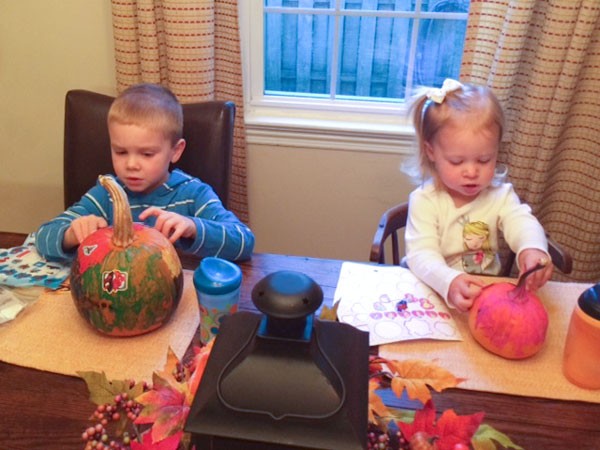 7:55 am | Hot coffee. Scrambled eggs (plus avocado for me). And more pumpkin muffins all around. Breakfast conversation consists of: I want to be next to Nora. Nora is too close. Nora, stop looking at me. And, inevitably, we arrive at potty talk. Because Sam is in preschool now, and apparently that's what preschoolers do.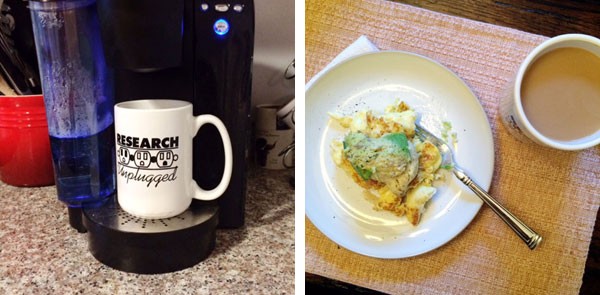 8:00 am | Nora requests music (by pointing to the Bose speakers and saying "on moo-sick"). And so I pull up one of our Music Together albums on my phone. The first song is Alabama Gal, which leads into a conversation about Oma and Opa (because they live in Alabama). And Sam is excited to know that we will see them next weekend. And Nini and Poppy are visiting this weekend. Then he asks if Poppy is going to fix his clubhouse. Because he always asks: When is Poppy going to fix my clubhouse? Nora dances between bites of her breakfast.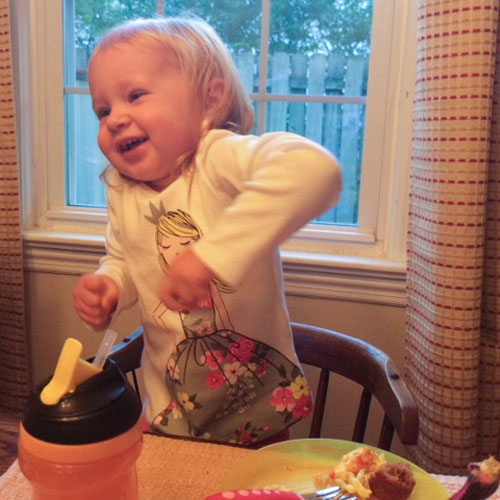 8:05 am | And then she crawls across the table and into my lap. Because she always ends up in my lap during mealtime. And she's not very happy that I'm trying to take a selfie with her.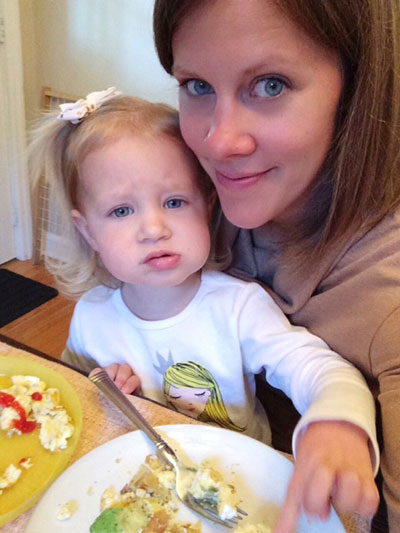 8:20 am | The kids are finished with breakfast, so I clean the table. While I pack Sam's lunch (pepperoni + cheese, pretzels + hummus, clementines, applesauce, and a kid clif bar), they decide to take Lucy's leash out of the closet and try to walk her around the dining room. I rescue her from their tormenting and fill her bowl with food. Sam runs upstairs to use the bathroom.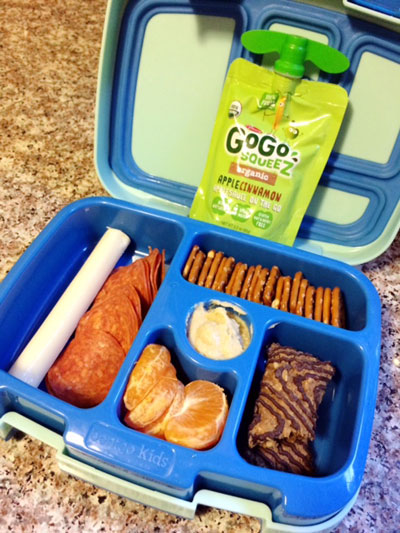 8:30 am | Nora and I meet Sam upstairs to brush teeth. We throw their pajamas into the hamper and tidy their rooms before it's back downstairs. Let Lucy out one more time.
8:40 am | Socks, shoes, jackets. Nora doesn't want to wear boots or a jacket. She wants sandals. She has taken the barrette out of her hair. And she wants to bring the Christmas book that she insisted we borrow from the library yesterday. We manage to re-focus and get out the door.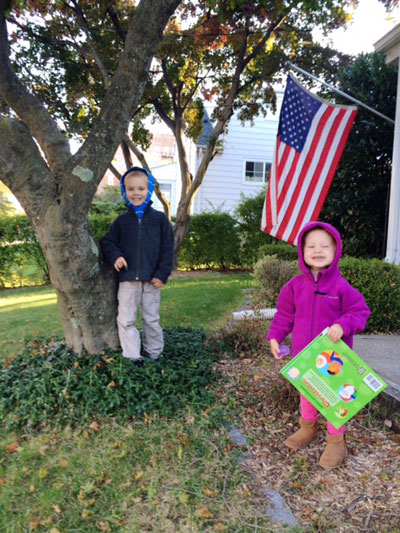 8:45 am | Into the stroller and off to school. I love, love, love that I can walk Sam to school. It's one of my very favorite things about our new house. We pass our favorite bakery, a kids' consignment store, two wine shops, the creamery, the library, the performing arts center, countless restaurants, and the street that leads to the train station (three blocks from our house and 50 minutes into New York City). Sam talks about the fruit truck that we pass and the police car that's redirecting traffic away from road construction. Then he says, out of the blue, "I really want to be Spider Man." I figure he's talking about his Halloween costume. But I can't be sure.
9:00 am | Preschool drop-off. I'm convinced it takes less time for us to walk than to drive because morning traffic on South Street can be ridiculous. As always, Sam is excited to see his teacher waiting for him. He gives me a quick smile and a quick kiss. Then he's off.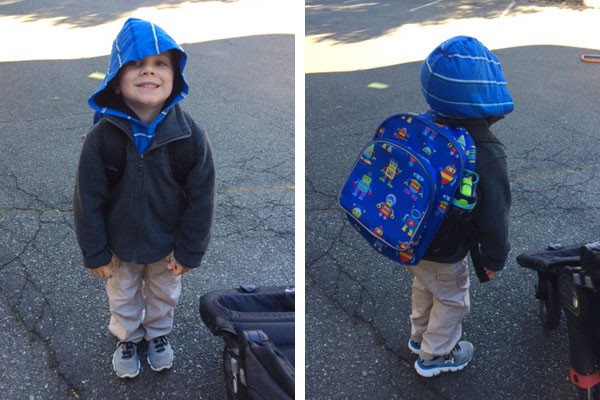 9:15 am | Next up. Music class. Just one block behind Sam's school. But first, we pass one of my very favorite yards. These fall flowers are the absolute best I've seen.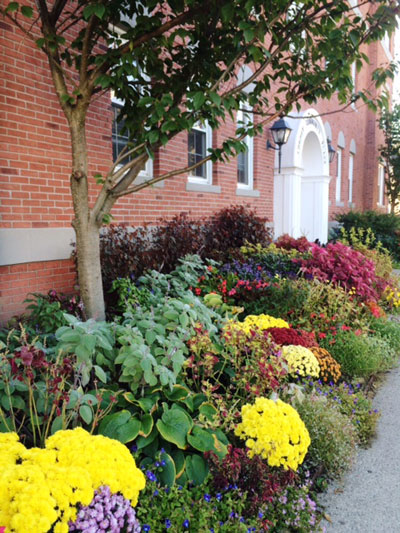 Then I fold up the double stroller (I think this is the only building in town without a ramp), and I follow Nora up the stairs.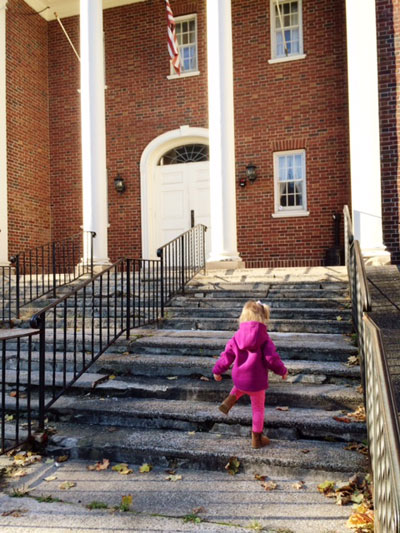 9:30 am | Girl is having a bit of a morning. I tried to hide her binky in my bag before class started. But she's begging for it. Not participating. Whining. I finally give in after about 10 minutes. Later she gets mad because the boy sitting beside us tried to take her drum — that she wasn't even using. I have to admit, I'm relieved when class is over today. I chat with two mom friends whose older sons are in Sam's class as we walk back down the stairs and outside.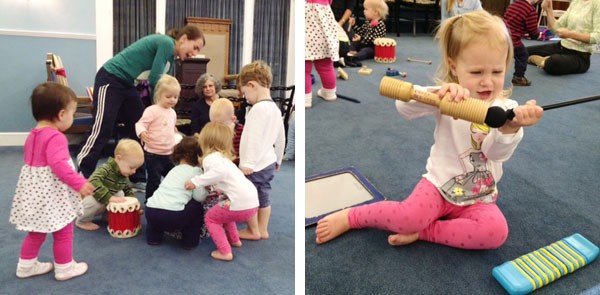 10:00 am | Nora is still being moody. But I have errands to run. So I give her a snack cup of animal crackers, hoping she's just hungry. And onward we go. Downtown and across the Green to Century 21. I text my girlfriend to confirm the size and color fleece that she wants for her daughter (because neither of us were thrilled with the Champion brand for Target this year, and I found hugely discounted Columbia jackets here). Then I pick out a pink sweater for another friend who just had a baby girl. Next stop is the post office to mail a package to yet another friend whose baby shower I'm going to miss this weekend. And I have to say that I'm continually amazed by the kind people in this town. I was a little concerned about the North Jersey stereotype (think Real Housewives of New Jersey, which is filmed about 20 minutes from where we live). But everyone I meet smiles and says "hello" and offers to hold the door for me (and my double-wide). After just three months here, I love Morristown so much more than I expected to.
10:50 am | Final stop: the grocery store for a few items for dinner since I decided I would rather have pasta than sausage sandwiches tonight. King's is just one block from our house. It's like a local Whole Foods, and it's amazing. But pricey. And so I really try to limit my trips. But it's super convenient for an onion, a can of crushed tomatoes, and a loaf of bread.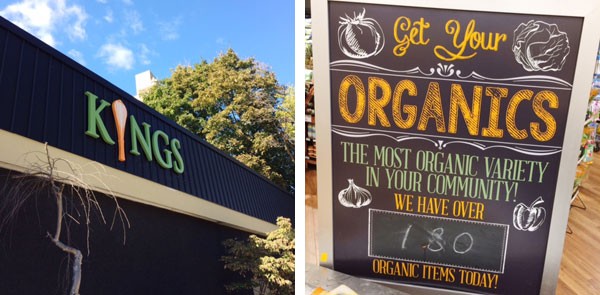 11:00 am | As we approach our house, I hear Nora say: "hooooome," which she says pretty much every time we arrive back home. As soon as we get inside, she takes off her jacket, her shoes, and her socks. Then she asks for "one Dan-yull" (Daniel Tiger's Neighborhood). She has learned to add the "just one" to this request. I oblige. While she's having some quiet time, I unload the dishwasher and make lunch. I peak in at her, and it appears as though she's more interested in her book anyway. Good. Now I don't feel so guilty.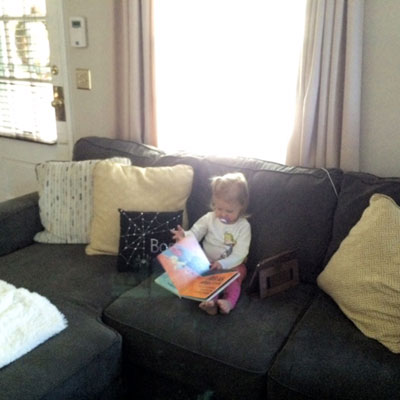 11:40 am | Lunch is chicken corn soup for me (this is my fourth day eating the soup that I made on Sunday, which is about my limit), and grilled cheese for Nora. With a side of Itsy Bitsy Spider. Because, of course, now she wants to sing. We also do the Hokey Pokey. And, as Nora "shakes her sandwich all around," Lucy tries to snatch it. She finishes lunch and eats three more slices of cheese before climbing down from the table.
12:15 pm | We still have about an hour until we have to pick up Sam. So we head upstairs. That's when I realize it's 62 degrees in our bedroom. Yikes! I close the windows and hope that will help because I really don't want to turn on the heat. I contemplate putting away the two baskets of laundry. And then I decide against it. Nora and I play princesses and read Halloween books instead.
1:00 pm | I get a text from a preschool mom friend, inviting us and a few others to the playground after school. I probably shouldn't because it will interfere with Nora's nap, and she's already been a bit of a grouch today. But I'm incapable of turning down an invitation, so I reply "of course!" Lucy is perched in her favorite spot as we head back downstairs. She likes it here because she can see out the front door and both windows — and bark at every person that walks by.
1:15 pm | I pack waters and snacks for the playground. Then we head out to pick up Sam. On Thursdays, he stays 30 minutes longer for music class, and we pick up the kids in the hallway near the stairs rather than inside their classrooms (which means no fun photo of inside his classroom today!). Sam is pretty pumped when I tell him we're going to the playground. He jumps into the stroller and yells "see you at the park!" to his buddies. I am so thrilled with the friends he's making. (And the friends I'm making, too!) I decide to take the residential route to the playground, and we walk along one of my favorite streets in town. These houses are unreal! Multi-million dollar houses just a few blocks from our humble rental. On our walk, Sam tells me about the "macaroni-tosh" apples that he tried at school today (a.k.a. McIntosh!). Apparently they had an apple tasting and talked about cider presses in preparation for our field trip to the farm tomorrow. He's also very curious about the Halloween display that we pass. But he confirms that it's not a real spider's web, just black and white string. Nothing gets by this one.
1:30 pm | So many friends at the playground today! The kids have a blast rolling down the hill, playing tag and Darth Vader, and throwing tennis balls. Nora swings and hangs from the bars and tries to climb the rock wall. And I get to chat with the moms. We talk about soccer, school lunches, and upcoming Halloween events in town.
3:00 pm | Nora is requesting her binky and climbs into the stroller. I know that's our signal to go. Surprisingly, Sam doesn't argue. He must be tired, too. I huff it back up the hill to our house. I'm still wearing my fleece vest, and I regret not taking it off before we started the walk home.
3:15 pm | Back home. Nora is content with just one book before I lay her down to nap. And Sam gets some quiet time with the iPad while I check email and Instagram and Facebook for the first time today. Actually, I realize that this is really the first time that I've sat down all day.
4:15 pm | Time to pull ourselves up off the couch. Sam goes to his room to play, and I start dinner.
4:30 pm | Sam is back downstairs and decides he wants to do an art project. A leaf like the one Nora made yesterday at the library. So we go down to the basement, and I help him to cut some construction paper.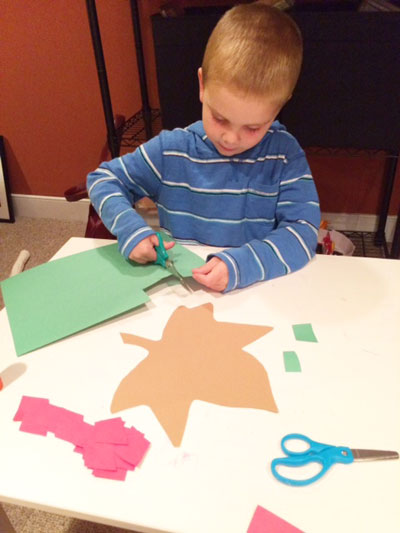 4:45 pm | Nora is awake. Perfect. Because I really didn't want her to sleep past 5pm. I give her some graham crackers, and we go downstairs to find buh-buh (a.k.a. brother — I kind of hope she calls him this forever). I set up both kids with crayons, scraps of paper, and glue. This should entertain them long enough to finish dinner prep.
4:50 pm | Almost five minutes without a peep from downstairs. That's about their limit before I hear arguing and whining, and Nora comes upstairs to "tattle" on Sam. I give her another graham cracker.
4:55 pm | Nick texts to say he's running late. He won't be home until about 6:15pm. Again, I know I shouldn't complain that 6:15pm is late. But anything past 5:00pm feels like an eternity after a full day with the kiddos. Fortunately, dinner can wait until he gets home (pasta shells with sausage sauce).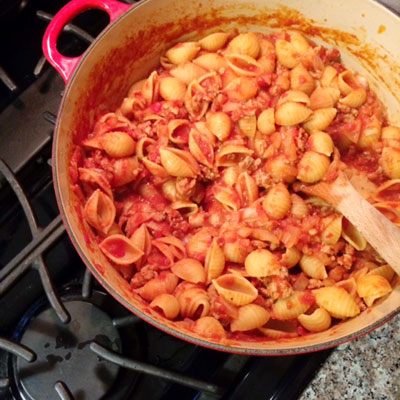 5:15 pm | I go downstairs to join the kids. Nora wants me to set up the train tracks, but Sam is currently using the train table as "Dinosaur Land." So I redirect Nora's attention to the Octopod. And then, of course, Sam takes an Octonaut right out of her hand. There's always lots of arguing during this time of day. I succumb to Nora's request for "one Dan-yull." We're all tired and hungry and ready to start winding down.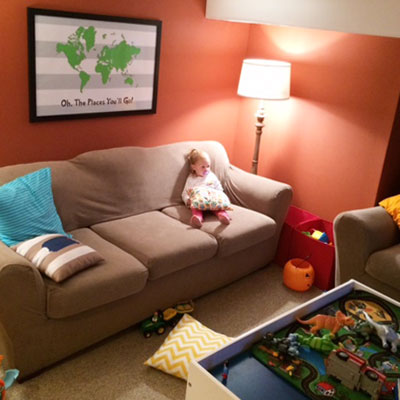 Also, I love that we have this play space in the basement. Otherwise, I think the house would feel too small. (It's about 1/2 the size of our house in Pennsylvania — and we pay over twice in rent what we paid towards a mortgage there! Definitely the biggest downside to living in North Jersey.)
6:05 pm | Nick calls to say he's on his way home. And he's very excited about dinner. (I think he could eat pasta every night of the week.) We decide to get started without him. Sorry, Daddy! Sam asks for plain pasta because last time the sauce was too spicy. I promise him that it's not spicy tonight, and I convince him to have a bit of both. Along with cucumbers and Ranch for both kids. And salads for the adults.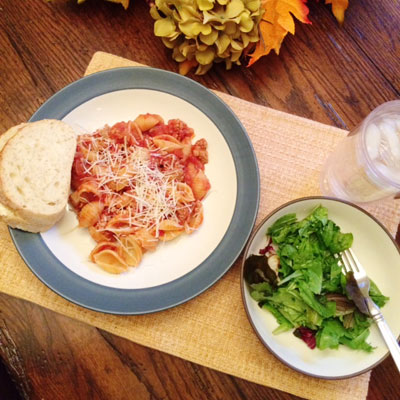 6:15 pm | Daddy's home! Hugs all around. And we all enjoy dinner together. Sam tells Nick about the song he sang in music class: "lay down and be still." And he demonstrates by laying on the living room floor. I'm sure that was a fun task to get a room full of preschoolers to lay down and be still. He also shows off his apple book and tells him about the "macraoni-tosh apples." That's never going to get old! Sam eats three bowls of pasta. And Nora eats three servings of cucumbers.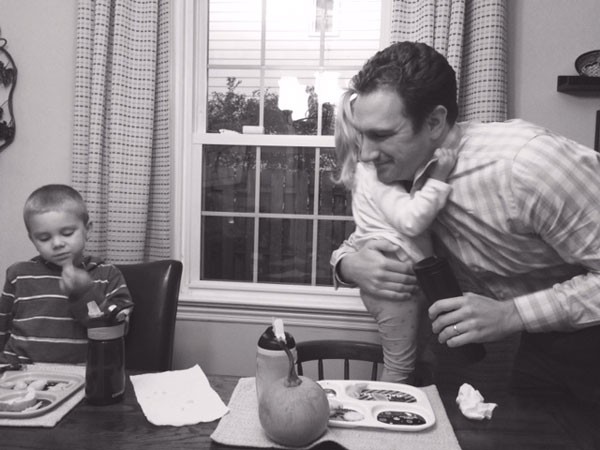 6:30 pm | Sam disappears upstairs and reappears as Spider Man. This happens at least every other night. He also has a cape for Nick, a pirate's hat for me, and a super hero mask for Nora. He's carrying a little rubber frog in his hand and singing "five little froggies jumping on the bed." Nora starts jumping around the living room. Sam busts out some push ups. I really can't make this stuff up.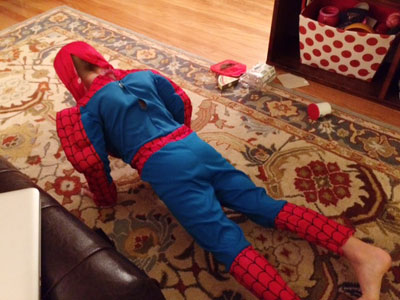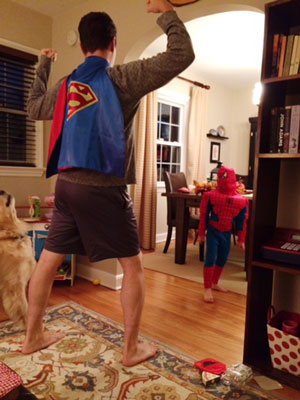 6:45 pm | Nick suggests I take Lucy for a walk while he starts baths. And I happily agree! One of the two of us tries to walk her every night. I feel bad that she probably doesn't get as much exercise as she did in PA when we would play ball with her almost every night. Our current backyard is a fraction of the size of our old backyard. But one positive is that she's gotten much better on the leash. I enjoy the cool night air. And I wonder how many miles I walked today — I'm guessing close to five. Good thing because I have zero desire to workout tonight.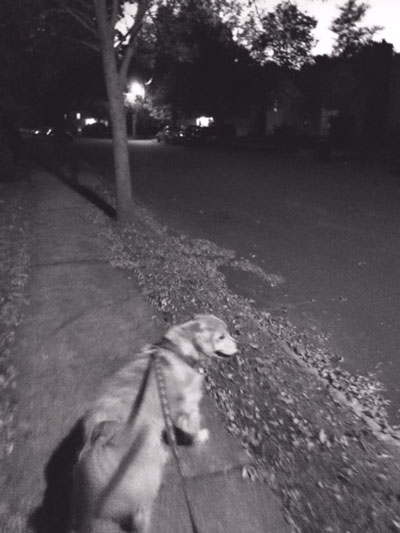 7:00 pm | Back from our walk, and I sneak into the kitchen to load the dinner dishes into the dishwasher. From the bathroom, I hear Nick yell at the kids: "hands and feet to yourselves!" This must mean that he put them in together. We still do this most nights, but it's becoming more difficult.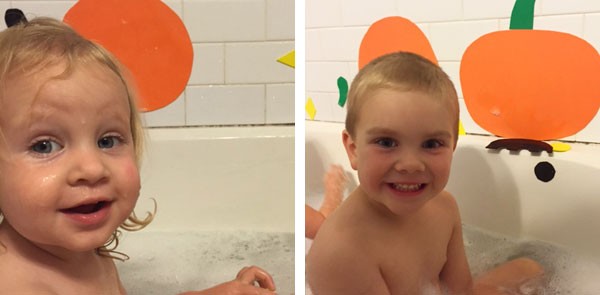 7:05 pm | Nora comes downstairs to find me. She's wearing hand-me-down Halloween pajamas that both her cousins and Sam wore. Nothing better than hand-me-down jammies! I notice that Nick attempted to brush her hair, but didn't do a very good job. So we go back upstairs to finish getting ready for bed. Sam is just getting out of the tub and into jammies. Nora is climbing on and off the bed, and Sam is trying to move his nightstand to retrieve the sticky stars he dropped behind it.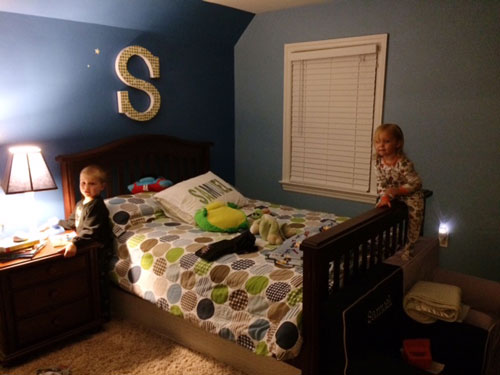 7:15 pm | Nora gives hugs and kisses to me and to Sam, and Nick takes her over to her bedroom for stories. This girl loves books, and Daddy loves to read to her. So I let him do bedtime routine with her most nights. Meanwhile, Sam and I get set up in his bed with a few books.
7:25 pm | Lights out for Nora. I love that she's such a good sleeper. She rarely ever refuses naptime or bedtime. Girls needs her beauty rest! Then Nick joins us in Sam's bed. Sam decides he want to do the "finding" book, which I really don't like, but Nick does. So I let the two of them do their thing while I struggle to keep my eyes open beside them.
7:45 pm | After three books and two songs ("Super Sam" by Daddy and "Mommy's lullaby" by me), it's goodnight hugs and kisses for Mr. Sam. Followed by "I love you" and "happy dreams." And then I walk down the stairs and through our cozy living room before joining Nick in the basement. He's doing some work on the couch. So I call my parents for a quick catch-up before Facetiming with my sister and their new puppy. We can't wait to meet this furball next weekend! We chat for about 20 minutes.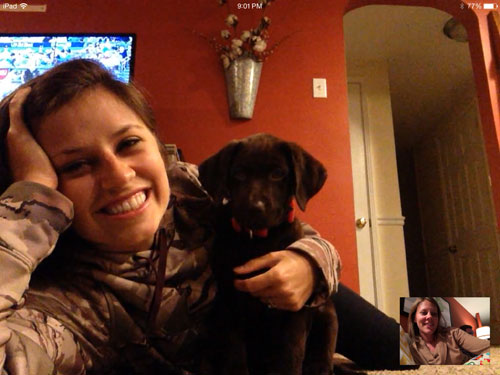 8:30 pm | I make a cup of vanilla tea and watch the episode of Nashville that I DVRd last night. There are only a few shows that I watch every week, and this is one of them.
9:15 pm | Nick is still working, so I decide to start organizing my notes and photos from today. It's a little overwhelming, but I know it will be worth it. Lucy tries to get our attention. She would love to go outside to play ball right now. Nick gives her a rawhide and hopes that will suffice.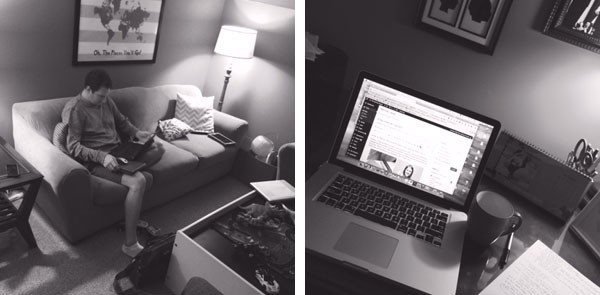 10:15 pm | This is our time quiet time. Our time to decompress and refuel for the next day. We both get wrapped up in what we're doing and, before we know it, it's after 10pm.
10:45 pm | I start to lose steam and decide it's time to call it a night. Nick went up about 20 minutes ago. Lucy follows me upstairs, and I let her out one more time. Then I wash my face, brush my teeth, and climb into bed. I set my alarm for tomorrow morning (6:45 am) and check the weather forecast for our field trip to the pumpkin farm. Looks like it's going to be another sunny fall day. I can't get enough of this weather lately.
11:00 pm | I'm fast asleep within about 10 minutes and sleep straight through until my alarm the next morning. Time to do it all over again 🙂