Dear Super Sam,
You are our sweet, silly, spirited boy. You test our patience, endurance, and sanity on a regular basis. And you make us laugh every single day. You have an endless amount of energy and dirt permanently embedded under your nails. You are constantly running and jumping, racing cars around the house, and scaling the mulched hill in our backyard. You almost always have a hook or bungee cord or plastic fishing rod in your back pocket, and you are rarely not wearing safety glasses or swim goggles or a superhero mask. You have a wild imagination, ask about a million questions every day, and tell the most animated stories I've ever heard come from the mouth of a three-year-old.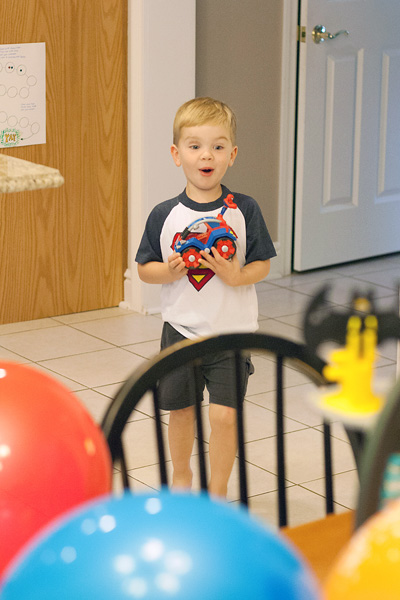 You love pancakes, pizza, mac and cheese, tacos, apples, bananas, and broccoli; Legos, tools, dinosaurs, and the bat cave; chasing Lucy, dancing, and working on projects. You love to play "good guys" vs. "bad guys" and call anything that resembles a weapon a "chick-a-chow." (We obviously discourage this, but you are a boy, and this is what boys do.)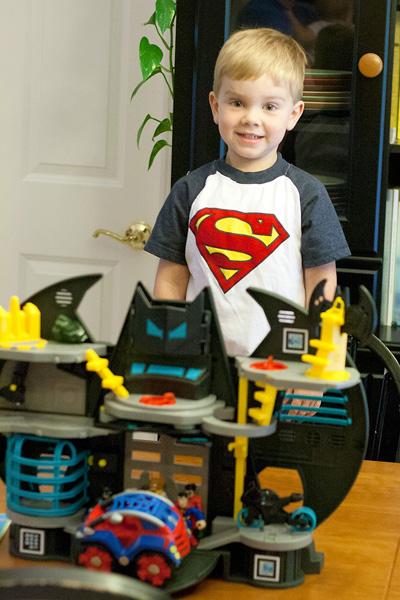 You often introduce yourself as "Super Sammy" and insist quite passionately that you are "six." You torment Lucy and steal Nora's toys, but they both love you unconditionally. You help Daddy to mow the grass and pull weeds, and you help Mommy to clean the windows and bake cookies. You like play-doh and painting and cutting paper with scissors, and you recently drew your first recognizable object: Mike Wazowski from Monsters, Inc.
You have mostly phased out your afternoon nap — which sometimes leads to major meltdowns around dinnertime — but you are exhausted by 8pm and fall asleep easily. Current favorite bedtime books are If You Give a Mouse a Cookie, Super Friends X-Ray Vision, and The Diggingest Dog — and you have most of each one memorized. Favorite bedtime song is "Super Sammy," which Mommy and Daddy sing differently, but you love equally. Favorite TV shows are Octonauts and Paw Patrol and anything about dinosaurs.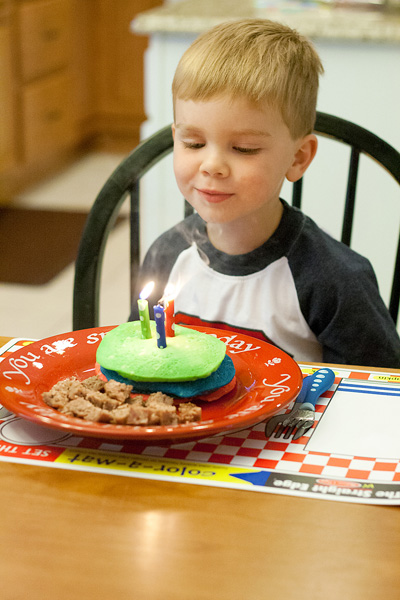 Every morning (sometimes as early as 6:15), you come into our room carrying the clothes you want to wear that day, and you demand that we change you before we go downstairs. You even have a favorite pair of socks — your "super" socks, of course. You are quite opinionated. And articulate. And persistent.
You are a typical stubborn three-year-old, and you challenge us daily. But you are also kind and considerate and affectionate. Sam, we are so proud of the kid you have become. Every day with you is an adventure. We love you. All the way to the moon and back.