There's a cookie monster in our house. And his name is Sam.
If he hears the words cook or bake or chocolate or cookies or brownies, he immediately drags a chair across the kitchen and hops on top. He knows where to find the measuring spoons, and he gets upset if I try to use the whisk without him. He's a great helper and never forgets to lick the spatula clean.
Perhaps we make too many sweets in this house?
Bah. No such thing.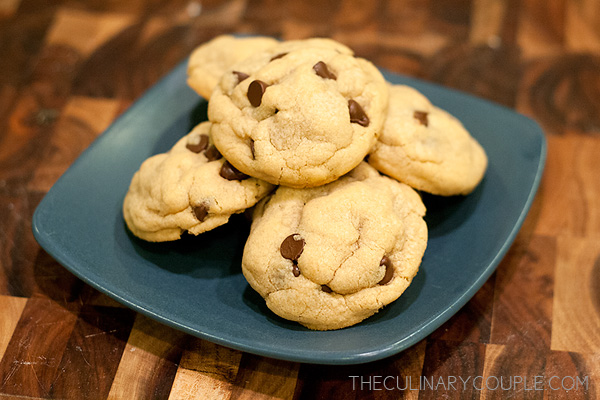 Here's a recipe for one of our current favorite cookies. They come together quickly — no stand mixer involved. And we always have a few balls of dough in the freezer because there is nothing better than soft, warm cookies straight out of the oven. Bonus points when they also contain peanut butter.
Peanut Butter Chocolate Chip Cookies
Makes about 18 cookies.
Ingredients
2 cups all-purpose flour
1/2 teaspoon baking soda
8 tablespoons (1 stick) unsalted butter, melted and cooled
6 tablespoons creamy peanut butter, melted and cooled
1 cup brown sugar
1/2 cup sugar
1 egg + 1 egg yolk, room temperature
2 teaspoons vanilla
1 cup semi-sweet chocolate chips
Directions
Preheat the oven to 325°F. Add butter and peanut butter to a microwave safe bowl, and heat in 30-second increments until melted. Cool completely.
Combine flour and baking soda in a bowl and set aside. In another bowl, whisk together cooled butter/peanut butter mixture and sugars. Add egg, egg yolk, and vanilla; whisk until combined. Switch to a wooden spoon, and gradually add flour; mix until dough forms – it will look crumbly at first, but it will come together. Fold in chocolate chips.
Use your hands to shape dough into balls the size of golf balls. Place on a baking sheet two inches apart and bake for 10-12 minutes, or until the edges are slightly brown. The centers should be soft and puffy. Do not over bake.
(Adapted from How Sweet It Is)