My sister and I have a serious sweet tooth — I think we inherited it from our mother. And so when Laura was here last week, of course we had to bake something. I turned to one of my two favorite blogs for dessert inspiration: Two Peas & Their Pod (the other is Brown Eyed Baker). These chocolate chip cookie bars jumped off the page and made our mouths water and I found all of the ingredients in our cupboard. They were an obvious choice.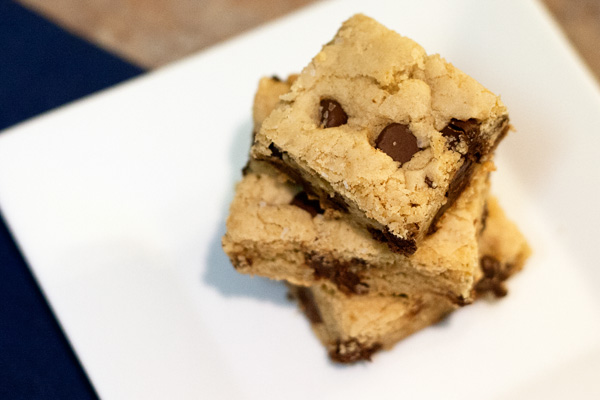 The bars are simple to make and are just the right amount of sweet and chewy. And the sprinkling of sea salt on top takes them from good to great. Dessert was out of the oven and ready to eat just in time for our game of Bananagrams.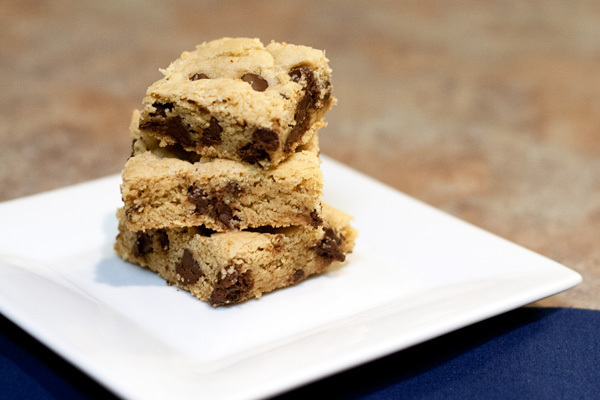 What simple treats do you like to whip up for game night?
Chocolate Chip Cookie Bars
Makes 24 bars.
Ingredients
2 1/8 cups all-purpose flour
1/2 teaspoon salt
1/2 teaspoon baking soda
12 tablespoons butter, melted and cooled to room temperature
1 cup light brown sugar
1/2 cup granulated sugar
1 large egg
1 large egg yolk
2 teaspoons vanilla extract
2 cups chocolate chips
Sea salt, for sprinkling over bars before baking
Directions
Preheat the oven to 325°F. Spray a 9×13-inch baking pan with nonstick cooking spray and set aside.
In a medium bowl, whisk together flour, salt, and baking soda. Set aside.
In the bowl of a stand mixer, mix melted butter and sugars together until combined. Add egg, egg yolk, and vanilla extract; mix until smooth. Slowly add the dry ingredients and mix on low, just until combined. Stir in chocolate chips.
Pour cookie dough into the prepared pan, smoothing the top with the spatula. Sprinkle cookie bars very lightly with sea salt. Bake for 25-30 minutes, or until the top of the bars are light golden brown and the edges start to pull away from the pan. Cool bars on a wire rack to room temperature. Cut bars into squares and serve.
(Adapted from Two Peas & Their Pod)