1. Our sweet Samuel is still a little Peanut! At his four-month doctor's visit this week, he weighed 13 pounds 3 ounces and measured 24.8 inches. That puts him in the 20th percentile for weight and the 40th percentile for height. Also, his head measured in the 10th percentile. But its size certainly does not relate to the developmental milestones he's achieving. He's rolling over in both directions, reaching for and holding onto toys, and regularly participating in family conversations.
2. About that rolling over milestone? Well, we couldn't keep our roly poly little man on his back last week. This made naps challenging. And diaper changes. But the novelty of it must have worn off because he's back to being content on his back.
3. Naptime is still challenging, though. Sam still can't seem to sleep past the 30-minute mark — especially while in his crib. So I let him fuss for about 10 minutes and then pick him up so he can finish sleeping in my arms. This is not at all ideal, but I'm hoping it's just a phase. Anyone have any experience with sleep training during naps?
4. Speaking of sleep training, we're going to give it a go next week. Sam is consistently sleeping from 8pm until 7am, but he wakes between three and five times each night. He usually settles down pretty quickly after I re-insert the pacifier, but I know we need to break him of this habit.
5. One more Sam "thing" before I move on. The doctor gave us the go-ahead to start solids, and we are so excited. Our doctor is pretty progressive, and I plan to dedicate a full post to our plans. Let's just say that almost anything is worth trying, and I will continue to nurse him at least five times each day. More to come.
6. I am ridiculously excited about the Hobby Lobby that recently opened in Altoona. Sam and I spent almost an hour there yesterday. But, surprisingly, I only left with one item: a blue wicker Easter basket for baby boy. Oh, if only I could find time to craft …
7. Perhaps now that I finally finished the Blurb book of our pregnancy posts, I will actually have time to craft. But I'm also only about 25% finished with our Canada scrapbook, and I haven't even started our Germany scrapbook. And I should soon think about starting a photo book for Sam's first year. So many projects, and so little time.
8. I bought Dove chocolate hearts to make these Valentine's Day treats. But I may have to buy another bag because I can't stop eating them.
9. Also, I figured it was finally time to try the famous chocolate chip cookies recipe from the New York Times. The dough is supposed to chill for at least 24 hours, but Nick and I couldn't help but sample two cookies each last night. They were so good, and I bet they'll be even better tonight. *Note to self: It is not wise to eat two large chocolate chip cookies at 9:30pm. You will be awake until 1:30am, and you will still have to get out of bed to check on your son four times before 6:30am.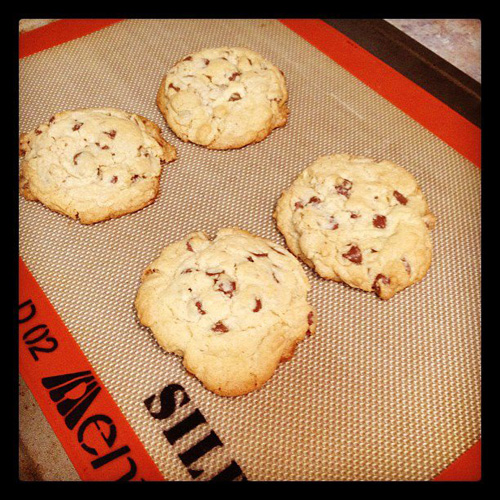 10. We're off to Pittsburgh tomorrow! We're staying here and eating here. We're visiting family and the university that Nick hopes to attend this fall. Looking forward to a fun weekend away!