HER PERSPECTIVE
Best Moment: Wedges and stilettos may be stylish, but I just can't wear them. Not before and definitely not now. My mom also suggested recently that I stop wearing flip-flops. (See increasing clumsiness comment below.) So what does that leave? My flats and my Asics. And even my flats don't feel as supportive as they once did. Fortunately, I found the most comfortable pair of shoes at Dick's this weekend: sling back flats by Crocs. They basically haven't left my feet since I bought them.
Symptoms: The third trimester is here — hooray! This also means that fatigue and heartburn are slowly creeping back into my life — boo.
Cravings/Aversions: On Saturday, Nick and I headed north to State College to celebrate the Summer Solstice at Tait Farm. We enjoyed samples from some of our favorite local restaurants, promoted WPSU's Local Food Journey blog, and even chatted with a few of you. (Hello to Erin and Jean!) Afterwards, we — along with my parents, my sister, and her boyfriend — headed to Otto's for dinner where Nick got to indulge in Apricot Wheat and Elderberry Stout. This meant that I deserved a treat, too, right? And all I wanted was a cone of coconut chip ice cream from Meyer Dairy. So you can imagine my disappointment when the teenage boy behind the counter told me they were out of my favorite ice cream. I nearly shed a tear. But I settled for a cone of chocolate peanut butter and a carton of coconut chip to go. (In hindsight, I should have just bought the carton, asked for a cone, and scooped it out myself.)
The next day I was so excited to dig in to my carton … until I realized that nobody (ahem, Nick who brought in the cooler from the car) had put it into the freezer. This time I really did shed a tear.
But this story has a happy ending. I eventually got my coconut chip ice cream.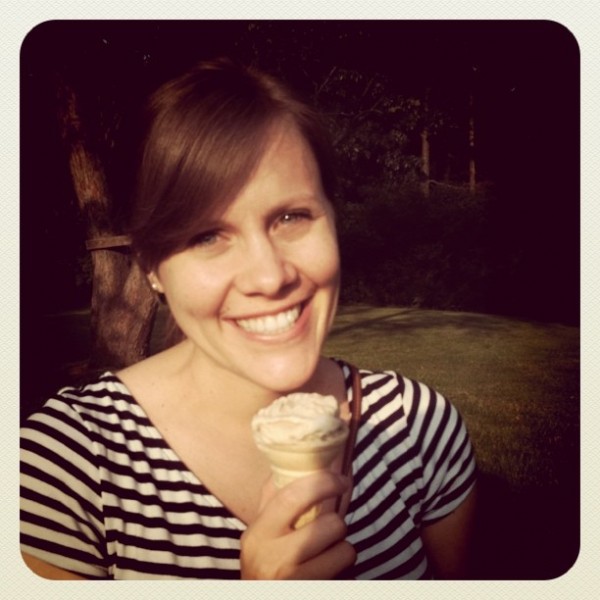 What I Miss: My ability to walk with grace. Okay, perhaps I've never been the most graceful gal despite 10+ years of ballet training. It's not unlike me to stumble on sidewalks; I tripped walking up the stairs of the state capitol building on my second date with Nick; and I nearly slipped down the stone staircase on our wedding day. But, seriously, my level of clumsiness has exponentially increased thanks to this growing belly.
What I Can't Wait For: We moved the dresser from the garage to the nursery this weekend, and our custom crib skirt arrived. We are so pleased with both purchases! Next we will assemble the crib, set up the glider, choose fabric for the curtains, and buy prints from Etsy. My dad and sister have also been assigned special projects, which we can't wait to reveal!
Milestones: According to What to Expect When You're Expecting, Peanut should be most active between weeks 24 and 28. And the book does not lie! I feel kicks and shifts and spins and flips throughout the day, but especially when I climb into bed at night. Sometimes he/she even keeps me awake. But I don't mind. It's still so thrilling and incredible that there is a little person growing inside of me.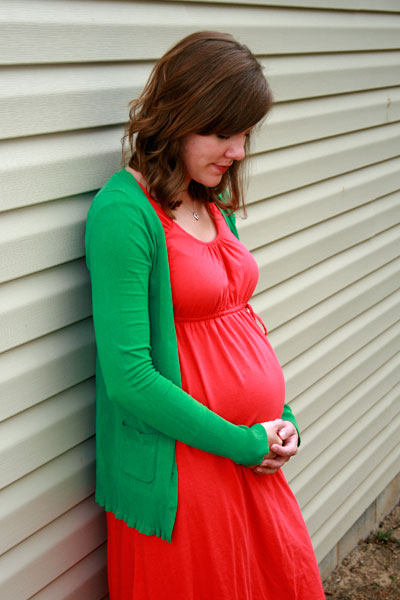 HIS PERSPECTIVE
Best Moment: Getting our 180lb dresser set up in the nursery — that was real fun to carry up the stairs. Thanks for your help, Stephen. Also, it was great to meet local farmers, friends, and foodies at Tait Farm.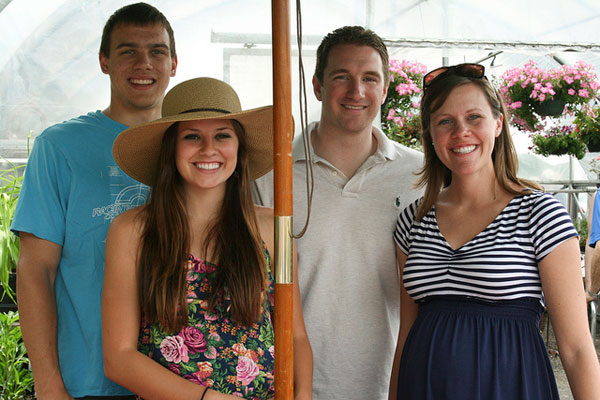 Symptoms: Fatigue. Emily came home from work one day to find me napping with the snoogle — busted.
Cravings/Aversions: Otto's beer. Oh, how I've missed Otto's Apricot Wheat, the sweet nectar of the gods.
What I Can't Wait For: Can't wait to get the crib assembled in the nursery. Also, super psyched for our upcoming trip to Virginia, North Carolina, Alabama, and Tennessee during the week of July 4th!
Milestones: Peanut's little brain stem is now capable of regulating his/her basal body temperature, as well as rhythmic breathing. Way to go, Peanut. And unbeknownst to Emily, Peanut and I had a little moment alone the other night. I was working late and got into bed after Emmie had fallen asleep, and Peanut started kicking around when I was talking to him/her and rubbing the belly. I think Peanut knows his/her father.