With just one month to go until our summer vacation, we still have accommodations to book, activities to plan, and restaurant reservations to make. So of course I'm turning to you, dear Internet friends, for recommendations!
Take a look at our route.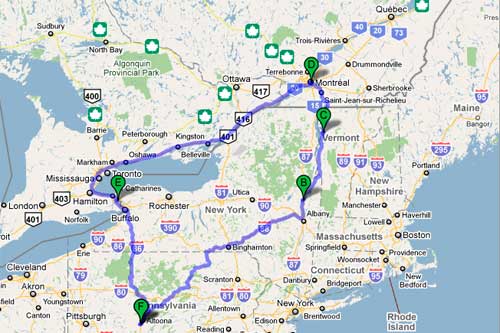 A Home
B Saratoga Springs, NY
C Burlington, VT
D Montreal, Canada (with a day trip to Quebec City)
E Niagara Falls, Canada
F Home
Have you visited any of these places or attractions nearby?
We're specifically looking for B&Bs or quaint Inns in Saratoga, Burlington, and Niagara Falls. (Our aunt and uncle hooked us up with a sweet deal at the luxurious Hilton Bonaventure in Montreal.)
Also, being the food lovers we are, I'd love to learn about local restaurants and delicacies, especially Canadian cuisine.
And what are the must-see sights?
Finally, we'll be in Montreal for my 28th birthday, so special occasion suggestions are welcome, as well!