It's a real treat to come home to a hot meal on a Monday night, especially when it's prepared by my husband! Nick made this one with love … and lots of spice. (I'm not kidding — it's pretty spicy, so proceed with caution!)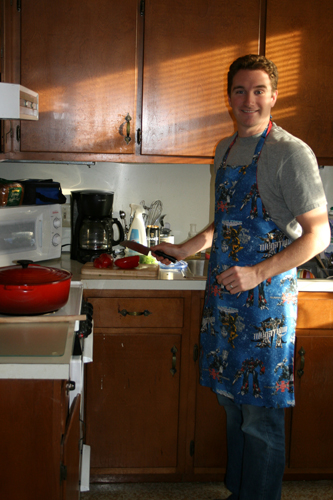 Ingredients
1 lb boneless, skinless chicken, cut into small chunks
1 cup chopped onion
2 cans chicken broth
2 cloves garlic, chopped finely
2 tsp cumin seed
1/2 tsp dried oregano
3 – 15-oz cans white beans (great northern or cannelini), drained and rinsed
1 red pepper, chopped
1 green pepper, chopped
jalapeño peppers to taste
white pepper and black pepper to taste
Directions
In a 6-quart pot (or slow cooker) combine chicken, onion, chicken broth, garlic, cumin, and oregano. Cook on low for 2 hours (or less time at a higher temperature).
Add peppers and jalapeños and cook for 45 minutes.
Add drained beans and cook for 15 minutes.
Serve with shredded cheese and crusty bread.
(recipe adapted from about.com)