Because I've recorded the past six Christmases on this blog, and I couldn't let the streak end just yet … I give you, Christmas 2016 (written on a 55 degree day, two months later).
Breakfast with Bobby the Elf
Bobby the Elf arrived on December 1st with festive cookies and a Star Wars LEGO Advent calendar (that we bought at Disney World in September). Sam had lots of questions about Bobby this year, like: Why does he have a tag? My answer: In case he gets lost on his flight back to the North Pole. And: It must be hard for him to find a place to hide in our tiny house. Maybe he could hide outside because he has soft fur like a stuffed animal. Yet, every single morning, Sam arrived at our bedside, saying: I can't wait to see where Bobby is hiding today! I think he was just trying to catch us in a lie. Which he almost did at least twice.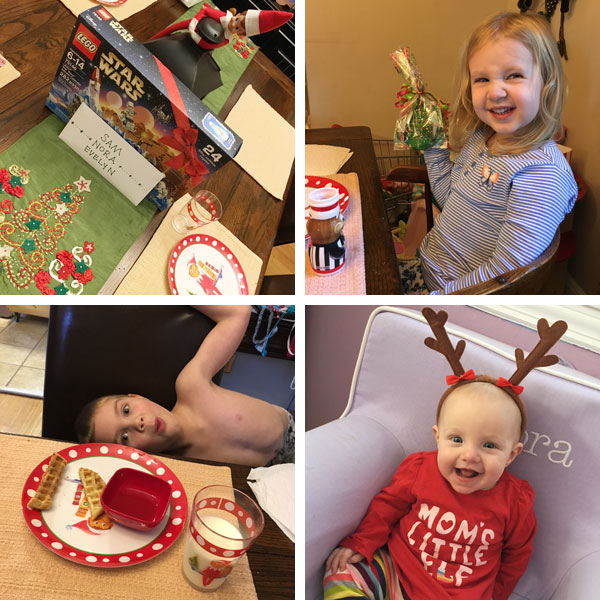 St. Nicholas Day
Nice coincidence that our Nicholas was in Germany in early December and could bring back authentic German goodies for St. Nicholas Day. Also, glad that the kinder eggs were not confiscated in customs like his colleague's box!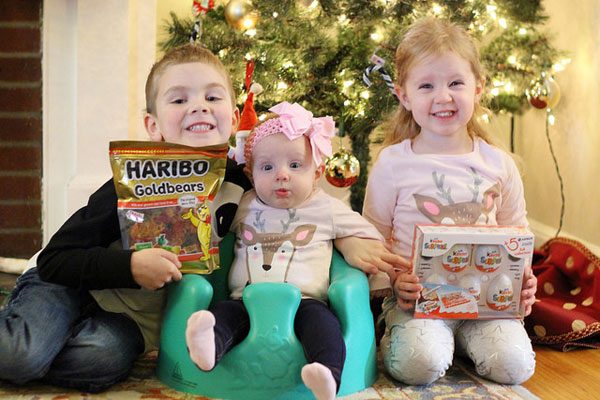 Santa at the Fire Station

I took Sam to the local fire station for breakfast with Santa and some of his best buds. We did crafts, watched a juggler perform, chanted Santa's name when he arrived, and got some one-on-one time with the big guy. Sam asked for a Nerf gun, and Santa responded, "Only if you promise not to point it at anyone." And this Santa was as authentic as they come, so Sam listened. In fact, Sam believed he was Santa's brother because, "He's probably not the real one because the real one lives at the North Pole. But he knew everything, like not to point my gun."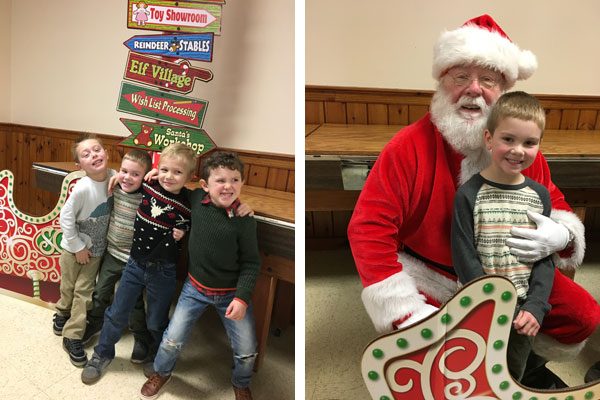 Polar Express
Nick had a holiday work dinner in the city. And rather than dwelling on the fact that they didn't include significant others, we had our own pancake/pajama/Polar Express party. (I think we had the most fun.) Sam and Nora were so excited to line up to receive their special tickets and cash them in later for hot cocoa. Though, neither of them actually drank the hot cocoa; they just ate all the marshmallows.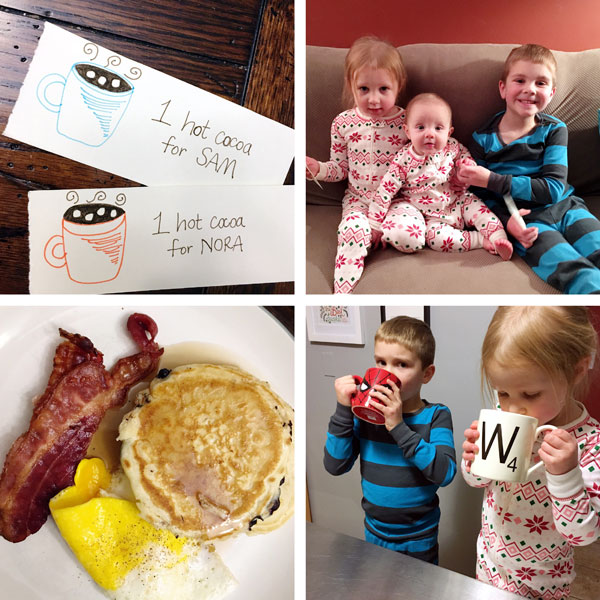 Video Messages from the North Pole
Annual viewing of the kids' video messages from the North Pole. They never, ever disappoint. The looks on their faces when Santa says their names — it's priceless. This year, Santa asked Nora to be a better listener at bedtime, and he reminded Sam to be nice to his sisters. And Momma used this as leverage for at least two weeks after.
Santa Claus at Short Hills
We certainly do not frequent the Mall at Short Hills. But it's the best place to go to see Santa. This year, the kids got their very own custom badges and trained to be an elf before meeting the boss. They were fitted with virtual elf suits, navigated Santa's course around the world, and added "joy" to his sleigh to help power its upcoming trip. They also spent a solid ten minutes throwing fake snow at each other before it was our turn to see Santa. I'm happy to report this was the first year that there were no tears! Sam asked (again) for a Nerf gun; Nora asked for a princess castle; and Evelyn was completely mesmerized. Success!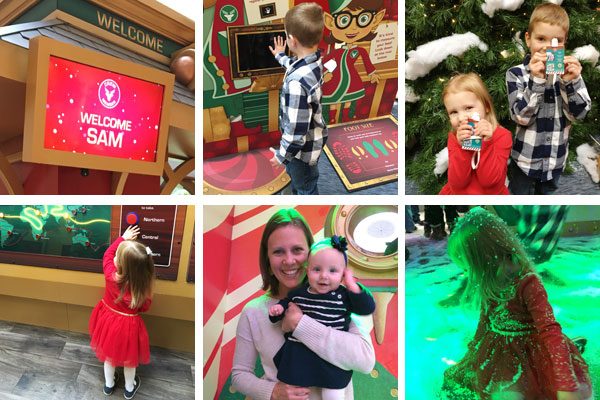 Preschool Christmas Concert
Sam was proud to have all of us in attendance at his Christmas concert. We watched the kids perform and joined the class for cookies after. (Side note, when I was in Toastmasters, one of my early critiques was that I swayed behind the podium when I spoke. Well, Sam must have inherited this nervous habit because he swayed from one foot to the other during the entire concert. I found it to be pretty cute, actually.)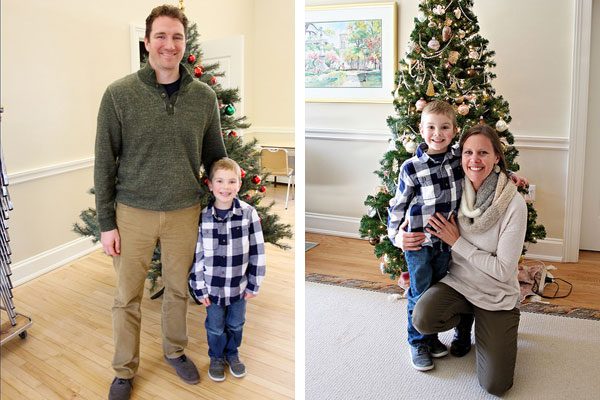 Sugar Cookies
Since we can't make Grandma Motz's sugar cookies without Poppy, we improvised this year and made this recipe. The kids assisted with every step, which meant flour all over the kitchen floor and stained red and green fingers from decorating. (We are confident that Poppy will be healthy enough next year to return to our family's favorite holiday indulgence!)
Gingerbread Houses
The big kids each decorated a gingerbread house (hallelujah for pre-made houses from Michael's!) with marshmallows and gummies and chocolates and candy canes. Though, not surprisingly, Nora stuck more candy into her mouth than she did onto her house.
Mail Delivery
Sam accompanied me to the post office to deliver 100 Christmas cards and 4 packages. He insisted on putting each card into the slot, despite the long line forming behind us. Then we jumped over snow piles and slid across patches of ice before warming up at Starbucks and walking back home.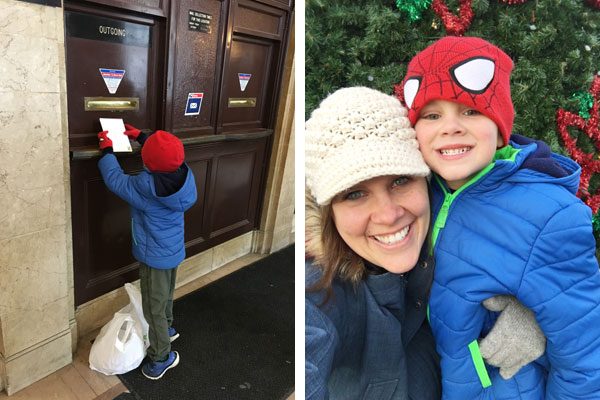 General Merriment
Holidays really are the best when celebrated with little kiddos. Learning how to sit on her own just in time to open presents. "Suiting up and hunting for ice crystals in the snow" at 7am. Stealing Mommy's expensive Belgium chocolates. Tucking ornaments under the tree skirt to take naps. Hosting friends for brunch — even in our "tiny house." And all of the reasons they give us to act like kids again.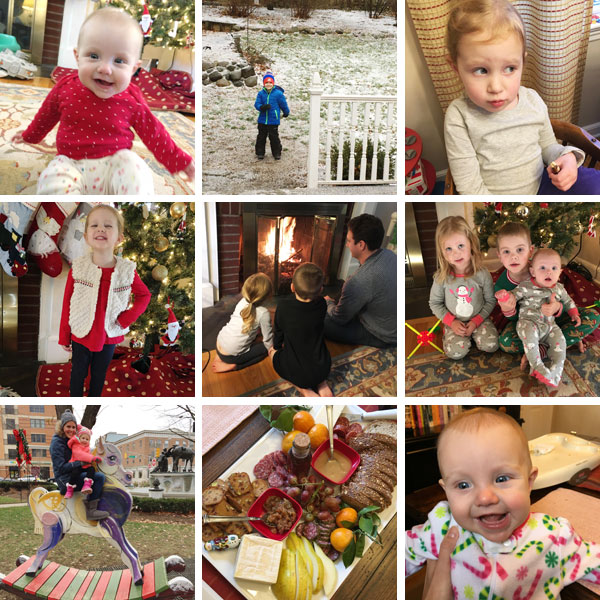 Save
Save
Save
Save