Considering our proximity to New York City, we don't visit nearly often enough. I'm sure it would be different if my brother hadn't moved from Manhattan to Denver just one month before we relocated to North Jersey. Or if we didn't have two children and all of their necessities to take with us every time we leave the house.
But I decided that we were due for a little family trip — so we planned a Sunday in Brooklyn during a break in Nick's work travels to Canada and Germany. I chose Brooklyn because I knew we wouldn't have to tackle the subway with the double stroller and because I knew there were plenty of playgrounds and family-friendly food options.
The drive from Morristown to Manhattan was far too easy. And it barely took any time to cruise through the Holland Tunnel (words we would be eating later that day). We parked in a garage near Cadman Plaza Park, loaded up the kiddos, and headed towards the Brooklyn Bridge.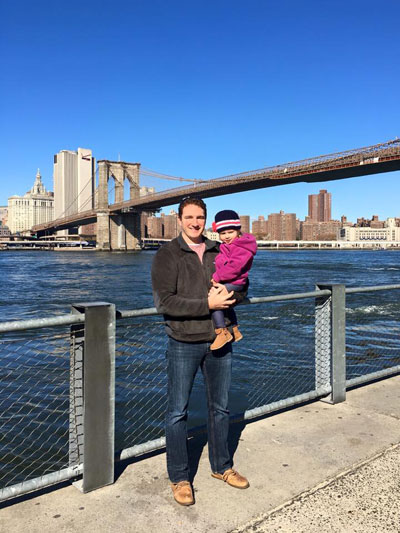 We let the kids stretch their legs and run around the Pier 1 Playground while we all enjoyed the panoramic views of Lower Manhattan.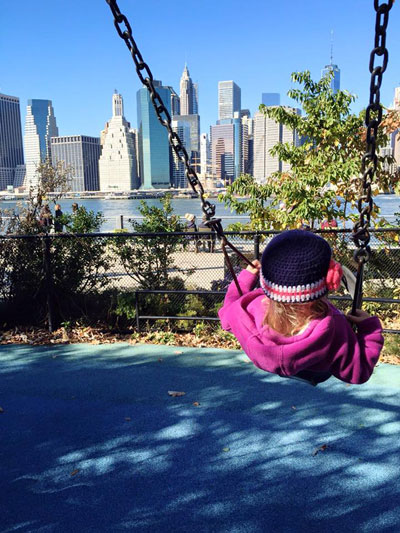 The playground is geared more towards the toddler crowd — but we promised Sam that bigger things awaited him.
Because it was lunch time, and because we were within sight of Shake Shack, we decided it was necessary to stop. Sam ate all of his burger and part of Nora's. Probably because she was too focused on the vanilla milkshake.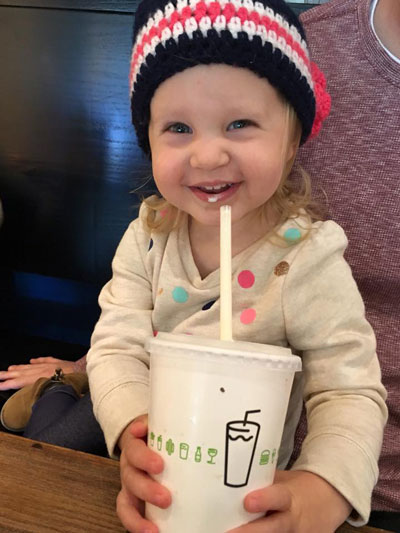 Time to walk off lunch (and work on building up our appetites for dinner), so we strolled along the Brooklyn Heights Promenade. Well, we strolled, and Nora ran.
Next stop: Slide Mountain at Pier 6. It was super crowded, thanks to the gorgeous sunshine, but Sam and Nora both managed numerous trips down the slides. We didn't have a chance to check out Swing Valley, but I'm sure it's equally as awesome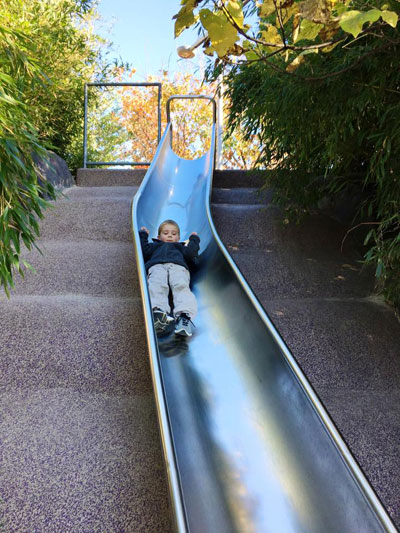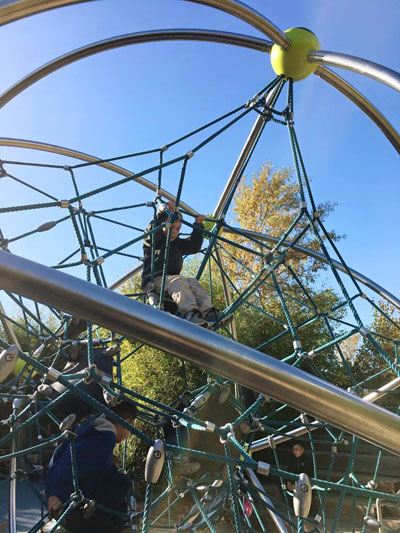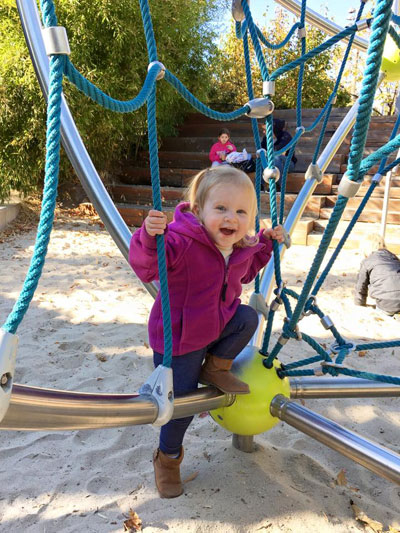 We took our time getting back to the bridge and stopped at every rock to climb, log to jump, and exhibit to explore.
Finally, back to the main attraction. We attempted to carry both kids in the double stroller up the ridiculous amount of stairs the reach the bridge. And, fortunately, a nice young man offered to take my load. Otherwise, we might not have made it up in one piece.
We managed to keep the kids strapped down until we reached the Manhattan side, then they were both eager to get out and explore for themselves. This lasted for about 20 minutes until we bribed them with lollipops to get back in, and they both (thankfully!) fell asleep before we got back to Brooklyn.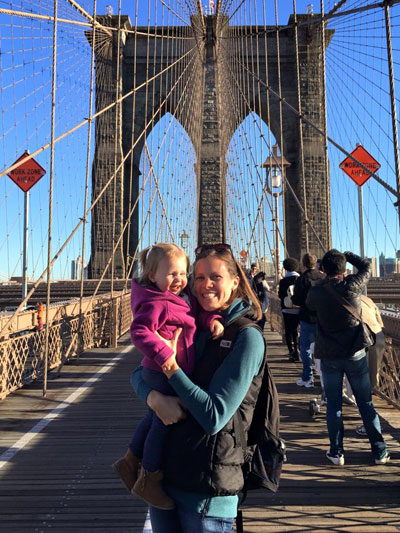 Every other person we passed had a selfie stick. Time to invest in one?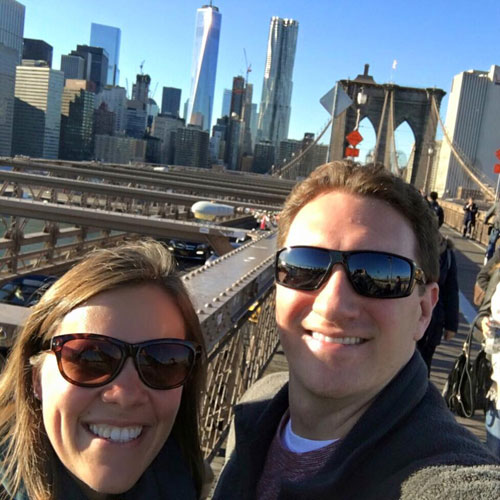 Dinner time! We debated between Grimaldi's and Juliana's. Both had lines — even at 4pm. Since we had eaten at Grimaldi's in Hoboken several years ago, we decided to give Juliana's a try. And, boy, am I glad we did. It was probably one of the best pizzas I have ever eaten. Nick still flops between New York style and Chicago deep dish. But I much prefer the thin, crispy crust and simple tomato/basil/mozzarella toppings. Bonus that we had a perfect view of the pizza chefs throwing and stretching the dough and building the pizzas. Sam was especially enthralled.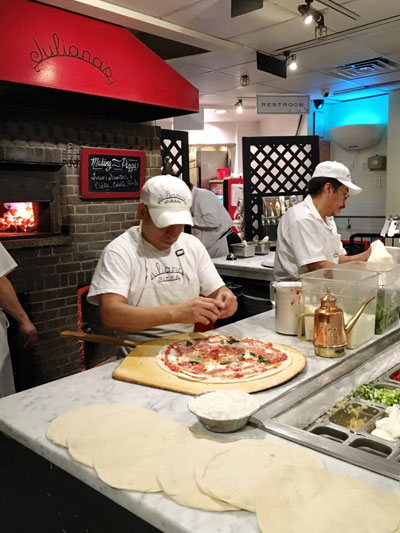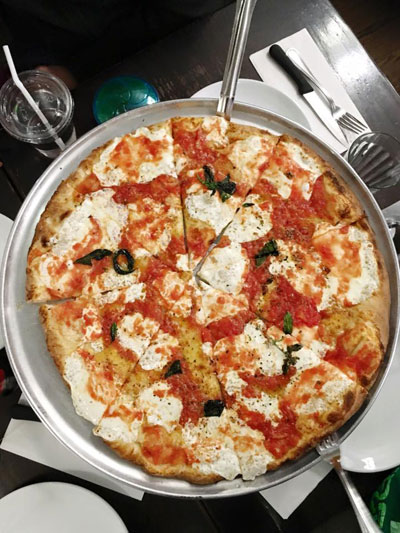 Time to make our trek back to New Jersey. And what a trek it was. While it took under an hour to get there earlier that day, it took almost 2 1/2 hours to get home! Fortunately, our phones were fully charged and kept the kids entertained during the drive. And, really, it was well worth it for such a fun day in Brooklyn. See you again soon, NYC!