We walked down the slippery stairs. We said, "I do" and "I promise." We exchanged rings. We listened to a sweet song surrounded by the most important people in our lives. We kissed. We celebrated. And we left the garden as Mr. and Mrs.!
There were more kisses.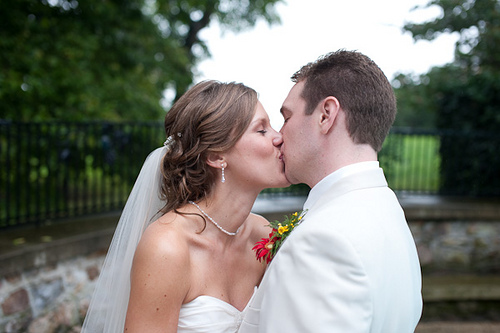 And a few moments alone before our wedding party joined us on the patio.
Then there were hugs. Lots of hugs.
And then we took hands as husband and wife and walked back down the stairs to greet our parents, our grandparents, our aunts and uncles and cousins, our friends. The closer we got to them, the more clearly we heard them.
[youtube=http://www.youtube.com/watch?v=k2bAEVyzFl8&hl=en&fs=1&]
(YouTube)
It was spontaneous and transcendent and one of the most significant moments of the day. Because, really, all you need is love. Love is all you need. We couldn't have said it better ourselves.
(Photo Credits to Robert Winton)