It's not really summer unless you strap the kids in the car for a fun-filled good old fashioned road trip, right? Right. Unless your kids are almost 4 years old and 18 months old. And a 10-hour trip turns into 14+ hours with multiple meltdowns, spilled Cheerios and apple juice stains, Shake it Off on repeat, and a momma who thoroughly exhausted every single creative distraction in her book. (More about how I attempted to entertain the kiddos in a future blog post.) Fortunately, I had my father-in-law with me. And it was all worth it to spend the week with Oma and Opa in Huntsville, AL.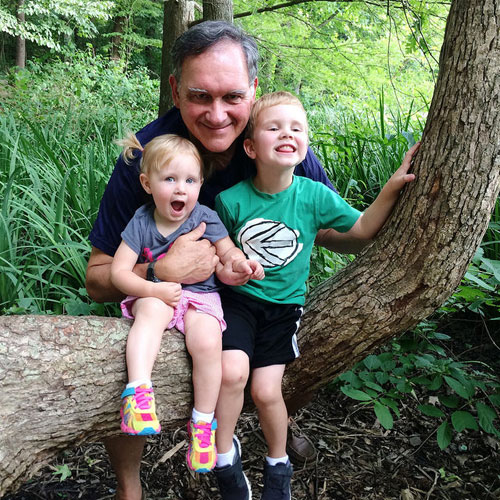 Temperatures were in the 90s all week, so we enjoyed plenty of time at the neighborhood pool.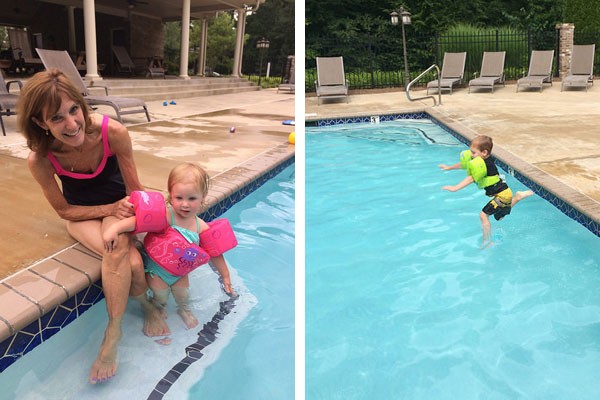 And indoor play with blocks and board games and swords that Nick used to battle his brothers when he was Sam's age.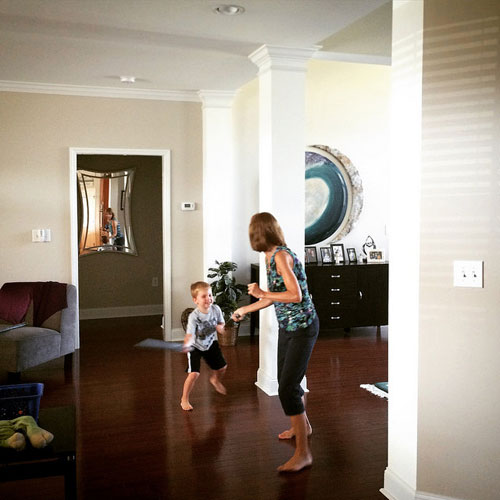 We hiked around the lake at Green Mountain. And we were all grateful to have Super Sam to protect us from the baby dragons, sharks, and hot lava.
We took a day trip to Chattanooga, or "Chack-a-nooda," according to Sam. First stop: the Creative Discovery Museum, and the kids had an absolute blast. They excavated dinosaur fossils from the sand, dressed up as bees and climbed inside a honeycomb, made music, molded clay, and explored the rooftop fun factory. I think we could have spent the entire day at the museum.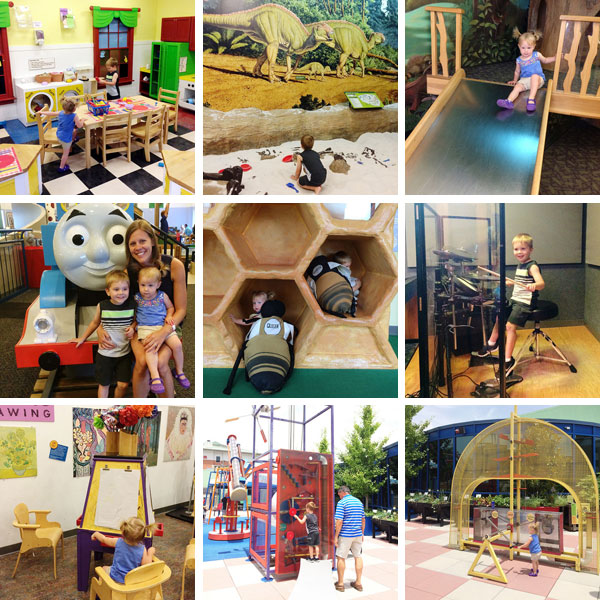 We left the museum after lunch and were dripping with sweat within five minutes. We probably shouldn't have chosen a 90+ degree day to visit the River City. But, fortunately, it is the River City, and there were plenty of ways to cool off.
The Water Steps near the Aquarium were amazing! The kids changed into their swimsuits and walked up and down the steps about three times before wading through the pool at the bottom.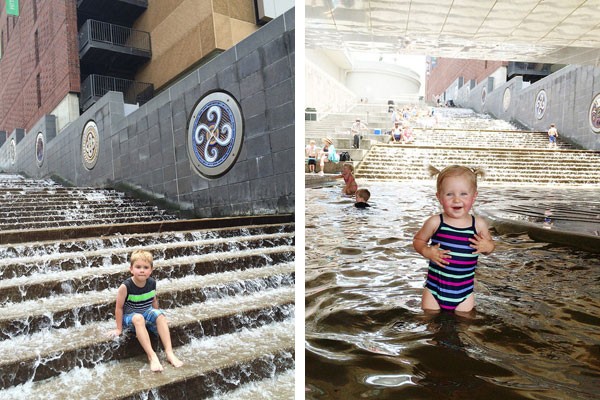 Then we loaded them into the stroller — still in swimsuits — and walked across Walnut Street Bridge in search of more water play on the North Shore. While Nora caught a quick nap, Sam ran through the fountains at Coolidge Park.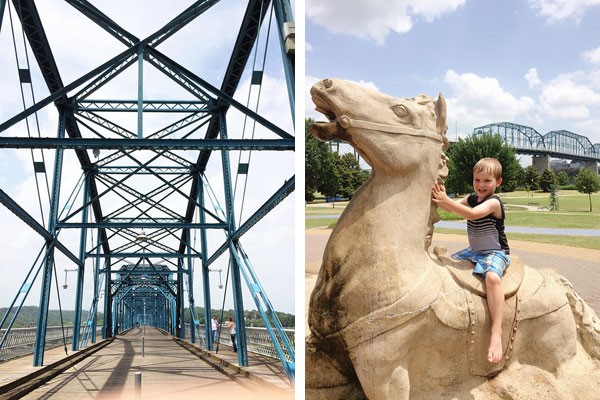 Then it was back into dry clothes to ride the 100-year-old restored antique carousel.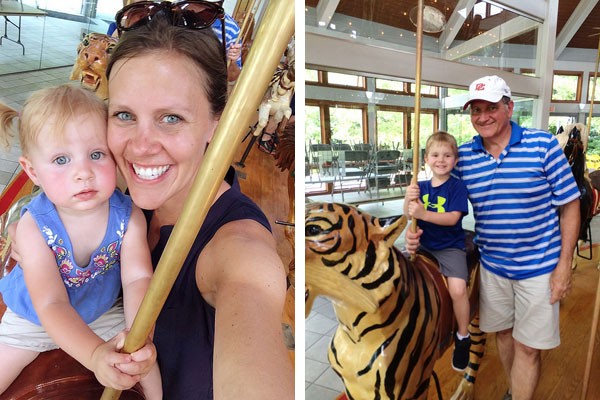 A trip to Chattanooga is not complete without a visit to the Chattanooga Choo Choo. The terminal has been converted into a hotel lobby, and you can make a reservation to stay inside one of the Victorian train cars.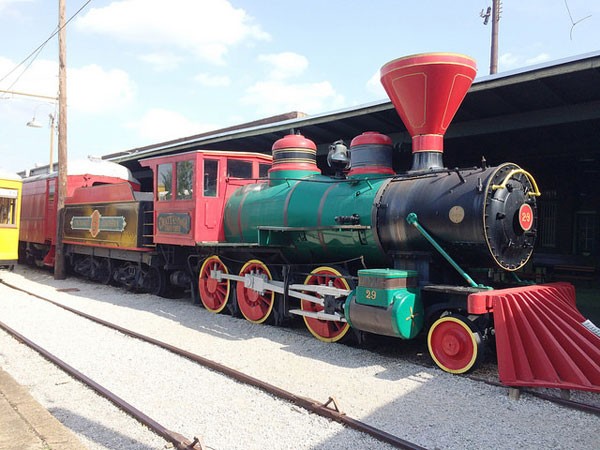 I was thoroughly impressed with "Chack-a-nooda" and would love to return one day — on a cooler day, perhaps.
We visited the Botanical Gardens, and I loved it just as much as the first time. (I also loved seeing my friend, Anna, again!) The kids spent most of the afternoon in the cool pond, and I don't blame them. We did convince them to get out long enough to see some of the dozens of LEGOs sculptures on display.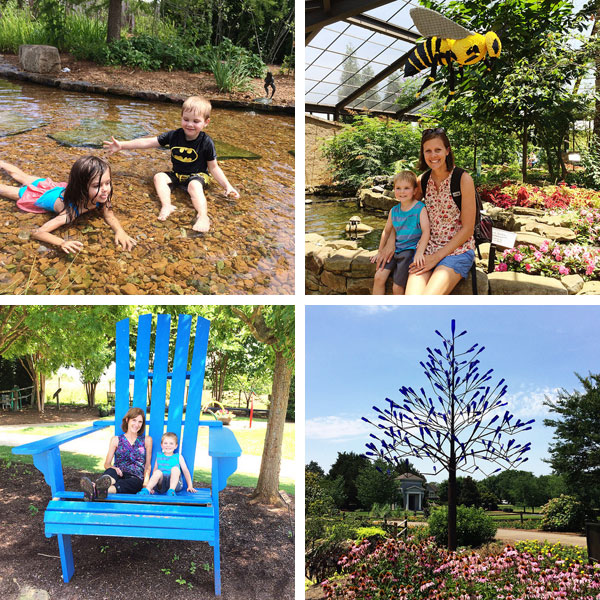 Final excurstion of the week: Oktoberfest at the Space Center. Yes, we ate bratwursts and schnitzel under the Saturn V rocket ship.
Thanks to Dan and Carol for hosting a wonderful week in Alabama!