Hey Little Lady,
Nine months, already? Not possible. You really need to stop growing up so fast.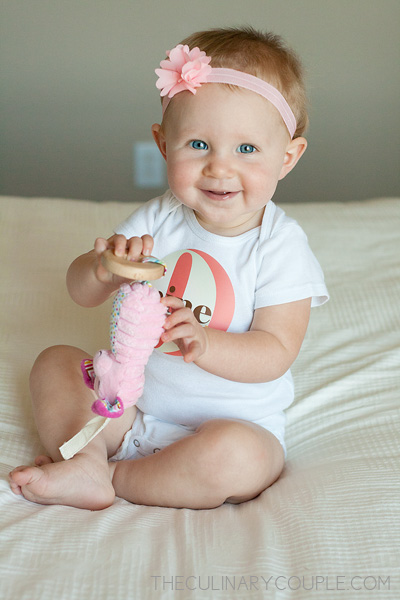 You are officially mobile, and I believe you have explored every inch of our house. You crawl under the kitchen table, into the corner between your crib and dollhouse, onto the bottom shelf of our toy shelf, and all over Lucy's bed. You are already so fast! We have had to re-train ourselves to lock the gate at the top of the stairs and keep all of the cabinet doors closed.
You are also pulling up onto everything — the ottoman, the laundry basket, your dresser, Sam's bat cave. And I can see you getting more comfortable each day with the thought of moving your legs and cruising from one thing to another.
Needless to say, it's become impossible to contain you. You have outgrown the pack 'n' play, and you lose interest very quickly in the jumperoo. You just want to move!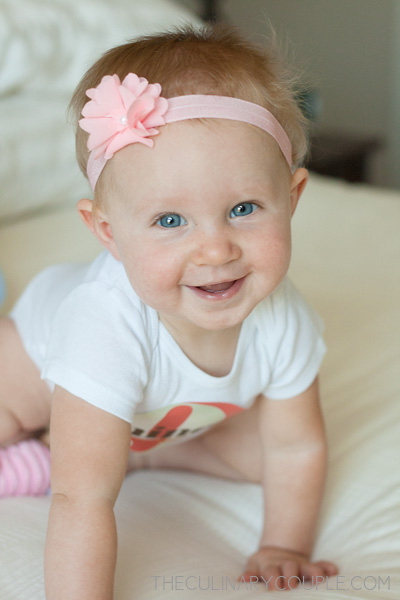 You are very curious just like your big brother. You try so hard to figure out how things work — the wheels on Sam's cars, the swing on the zoo, the toy piggy bank full of coins, the bead maze, the stacking rings, the musical tea pot, the sticker on your shirt.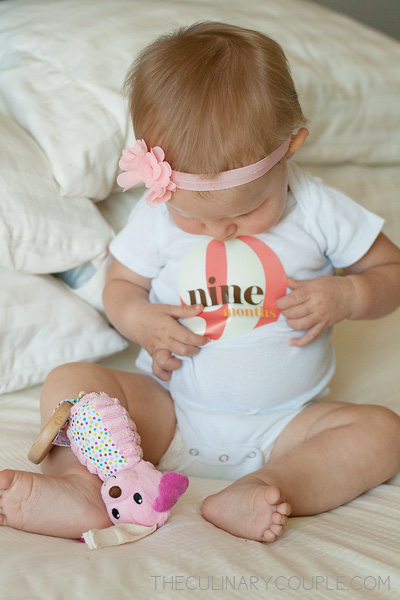 Your favorite new trick is to sit at the railing above our entryway and throw things onto the first level floor. You are also constantly tossing things over my lap and then climbing over me to retrieve them.
You love anything that makes noise, which means you are right at home in our new music class. I take you every Tuesday for 45 minutes while Sam is in school. You are the youngest in the class, but you are not at all shy. You bang the drum with the big kids and sway to the songs and didn't mind at all when the teacher picked you up for some bouncing.
I love that I have this opportunity to spend time with you and focus only on you (as Sam tends to dominate most situations). You surprise me every day with what you are already capable of doing.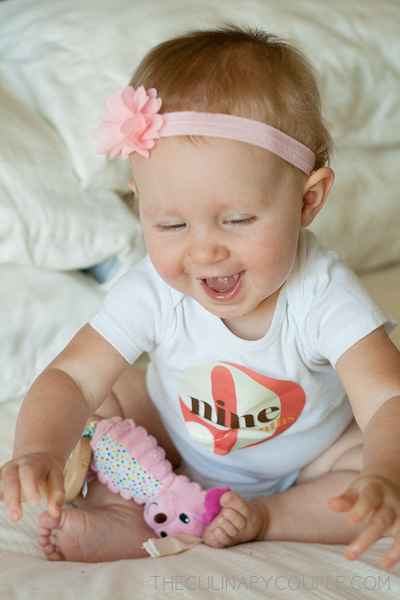 You are such a happy baby girl. People often ask if you are ever not smiling. Well, yes, when Sam takes your toys or when Mommy tells you "no," you immediately scrunch up your face and cry with real tears. But, otherwise, you have a permanent grin on your face. And I can't get enough of it.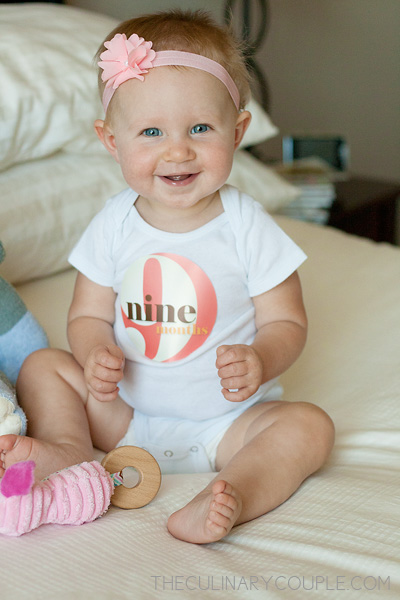 You caught a nasty virus this month, which caused your temperature to rise to 103 degrees. It was awful. I spent the first night cradling you in my arms and willing your fever to break. You were hot and miserable, and neither of us slept more than a couple hours. Fortunately, you were back to your smiley, healthy self within a few days. But it took another week to get your sleep back on track. I'm happy to report, though, that you are now consistently sleeping through the night — from about 7:30pm until 7:30am. Hooray!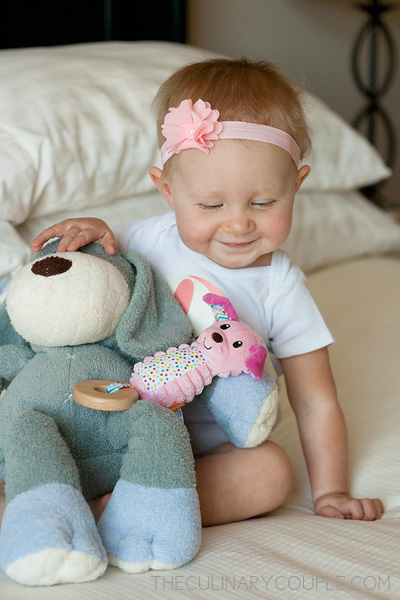 You love pizza, pumpkin bread, straw cups, playing in Lucy's water bowl, and riding in the backpack with Daddy. You dislike socks, diaper changes, and eggs.
I love how you don't just reach for me, you lunge at me with all your weight. I love the way you hook your arm around mine and hang on while I hold you on my hip. I love your close-mouthed grin and how you crinkle your nose and your eyes. I love how you sit on your knees to play and appear under my feet while I'm washing the dishes. I love to hear your voice sing from your bedroom every morning, and I look forward to that final kiss on your forehead every night.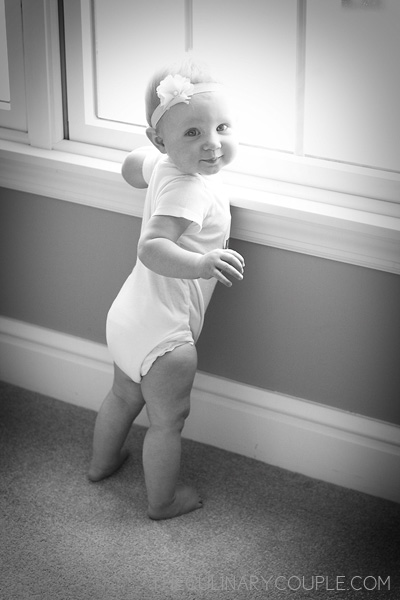 Nora, you are my little sweetheart, and life is infinitely better with you in it.