Dear Nora Kathryn,
Oh, what a doll you are! You are the most content baby girl, and you are not at all phased by this crazy family of ours. You sleep soundly through toddler squeals and canine barks, ringing doorbells and a revolving door of excited visitors. And I do believe that your calm demeanor is contagious. Because I feel so much more patient and more flexible than I expected to feel as a new momma of two.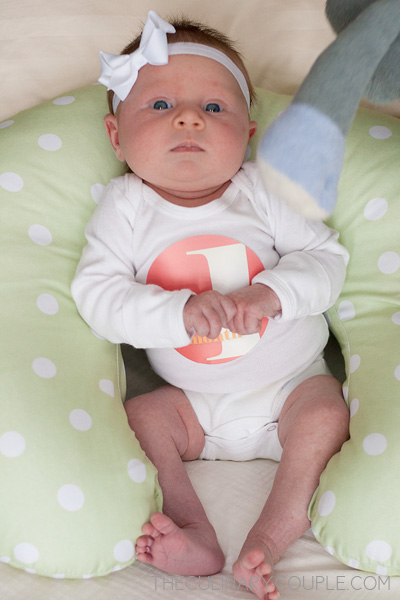 How quickly I had forgotten some of my favorite things about the newborn stage: the way you sigh while nursing and coo while sleeping; how you arch your back and curl your legs when waking up; the hiccups and the squeaks; the way you throw your arms into the touchdown position and how you kick your legs during diaper changes; the sweet smell of lavender lotion and Dreft laundry detergent.
Then there are the things that are unique to you: your silky hair; your longer fingers and slender feet; your sweet, chubby cheeks; the rolls under your chin and around your thighs; how you hold onto my shirt and look into my eyes while nursing.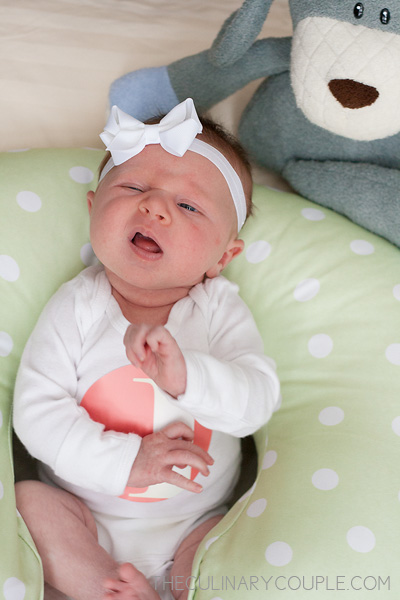 You are most happy wrapped tightly against my chest while I cook and clean. You don't mind when Sam drives his cars across your belly or when Lucy sniffs your itty bitty toes. You transition easily between my arms, the pack'n'play, your swing, and the car seat. Though your favorite position is upright so you can take in your surroundings with those big blue eyes.
You encourage me to slow down and be more present. I feed you when you're hungry (typically every 2-3 hours) and let you sleep for as little or as long as you like (sometimes 20 minutes and sometimes 3 hours). I know the day will come when we will find a routine that works for us, but for now, I'm enjoying this relaxed pace.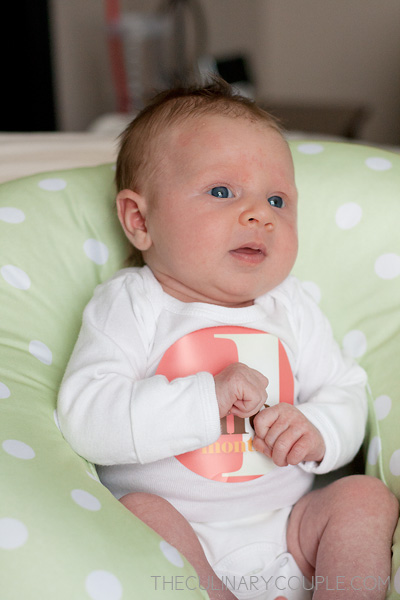 You latched and nursed like a champ from day one. And I'm grateful it's been so easy for us because I've had to feed you while sitting on the floor and playing blocks with Sam, while walking to the back door to let Lucy out, while eating my dinner with one hand, at Barnes and Noble and at Chick Fil A and while Daddy tried on shoes at Macy's. But I also look forward to and savor the quiet moments we share in your nursery and sneak as many extra snuggles as possible while someone else is chasing your brother around the house.
At your one-month well visit, you weighed 9lbs 4oz and measured 23 inches long. Though the doctor would like to see a higher percentage of weight gain between now and your two-month visit. Doesn't he realize that you're already wearing three-month clothing?! But we'll listen to his orders and continue to plump up those already incredibly kissable cheeks.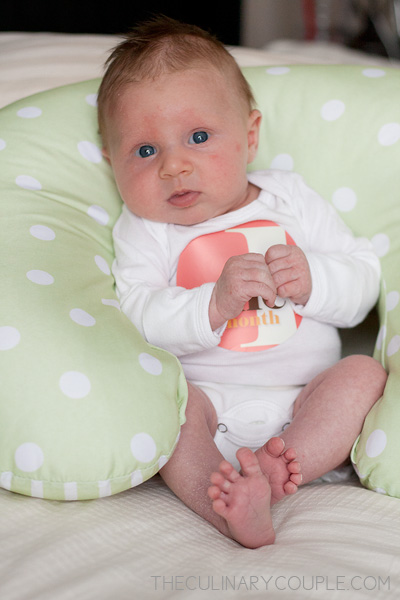 You are such a strong girl! You have had no problem holding up your head and following the sound of our voices since the day you were born. You don't mind tummy time and even lift and turn your head from side to side. We spend at least an hour every day on your activity mat and you especially love when Sam lays beside you.
Speaking of laying beside you, Sam insists that you join us in his bed every night for story time. He tucks you in and holds your hand, and it is one of my favorite moments of our day.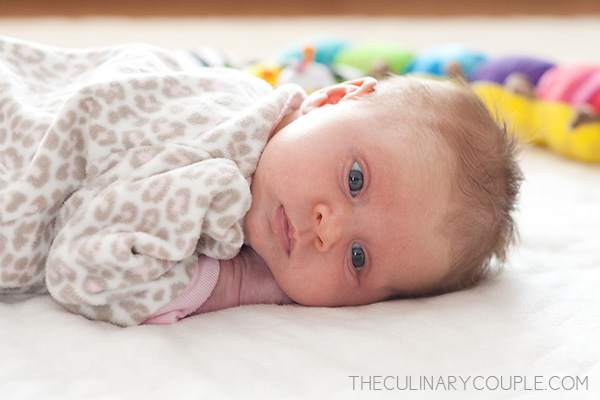 Big brother Sam is also an amazing helper during bath time. He washes your belly button and your toes and drains the water from the tub when we're finished. You are so wide-eyed and content during this time.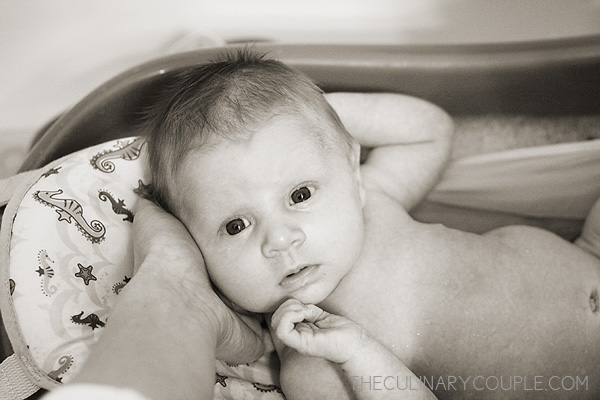 I couldn't be happier to have a daughter to love and spoil. Nora, you just fit so perfectly into our lives, and it's already impossible to remember our days without you.