There is nothing more relaxing and rejuvenating than a mid-summer beach vacation. This year we joined the whole Wiley clan (minus one — we missed you, Robyn!) in Destin, FL. And it lived up to all expectations.
Prepare yourself for a lot of photos!
The Beach
Our house was just one block from Crystal Beach, and we spent at least a few hours there almost every day. Boy, do I love the clear blue waters and soft sand beaches of the Gulf Coast!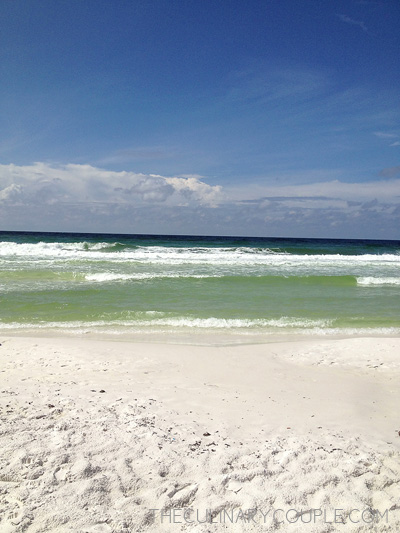 Sam barely dipped his toes in the Gulf last year, but he was all about it this year.
He especially loved the sand. I believe he thought it was a big basin of baby powder.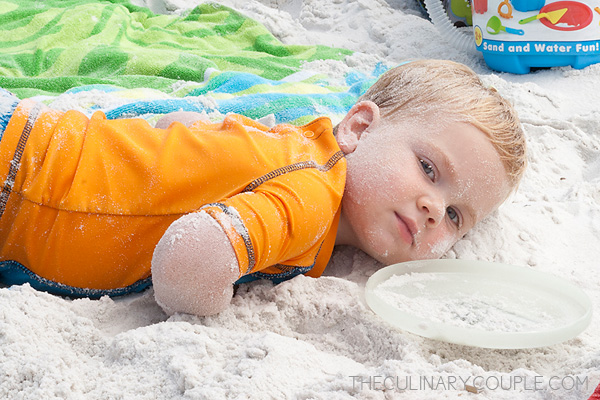 Needless to say, it was quite a task to wash the grains of sand from between his toes and from inside his ears. But it was worth it.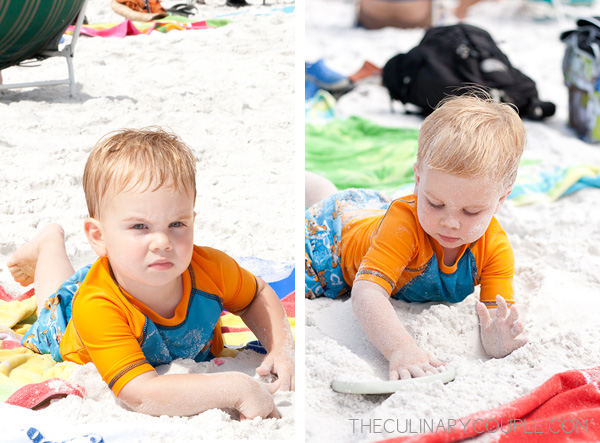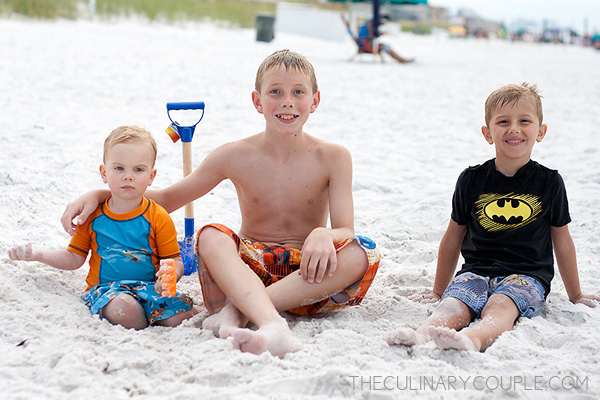 I managed to read an entire book from start to finish (Gone Girl — highly recommended!), but I also found plenty of time to frolic through the waves with my favorite kiddo.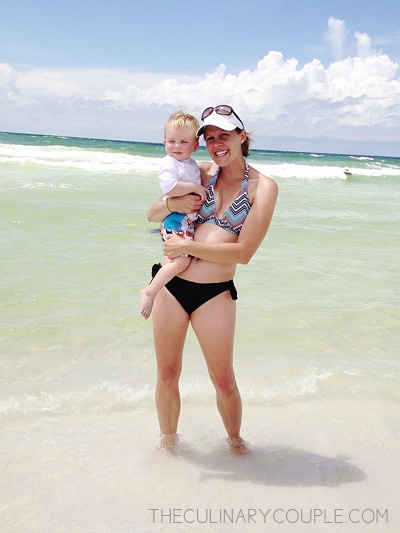 Speaking of waves, Sam was obsessed! He fearlessly ran into the water and laughed when he was knocked over by the salty waves. Nick took him into the deeper water to jump through the waves, and he begged for "more, more, more."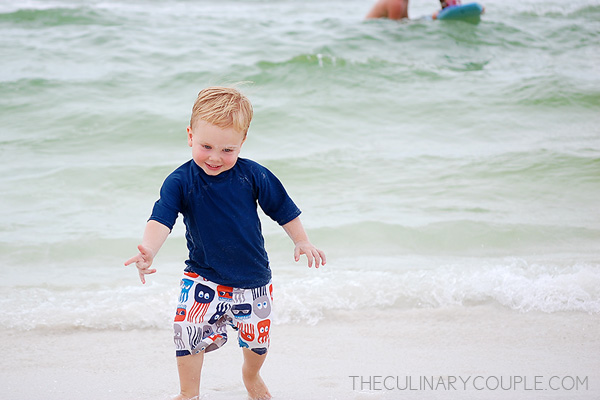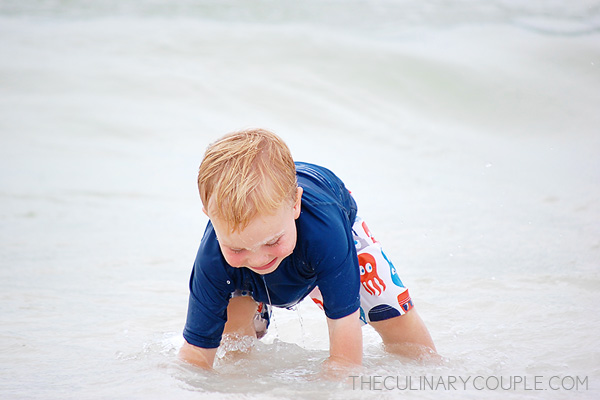 He spent lots of time building sandcastles and digging holes and playing football with his cousins and uncles.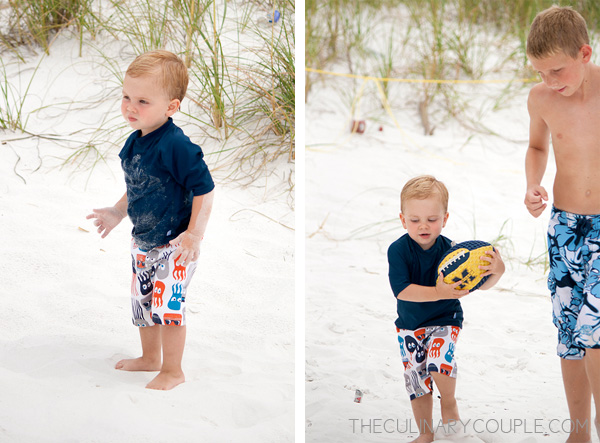 And burying his feet in the wet sand with Aunt Megan.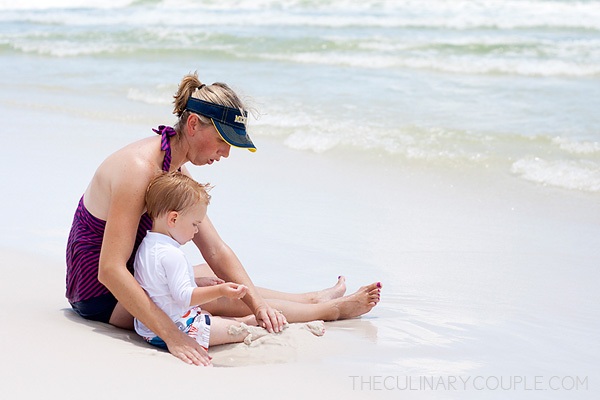 One morning our little family of three packed a bag with towels and snacks, grabbed a bucket and a shovel, and walked to the beach.
It was quiet and we were able to give Sam our full attention.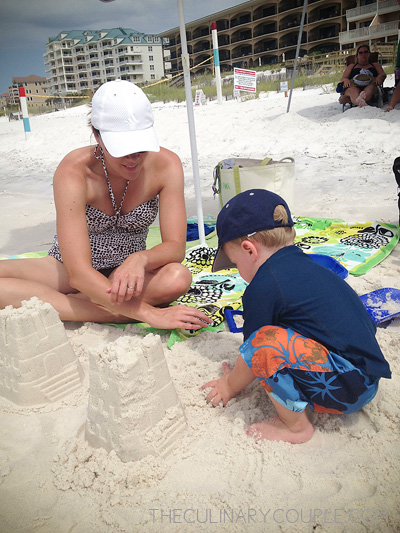 He held our hands and walked along the shore, and it was pretty perfect.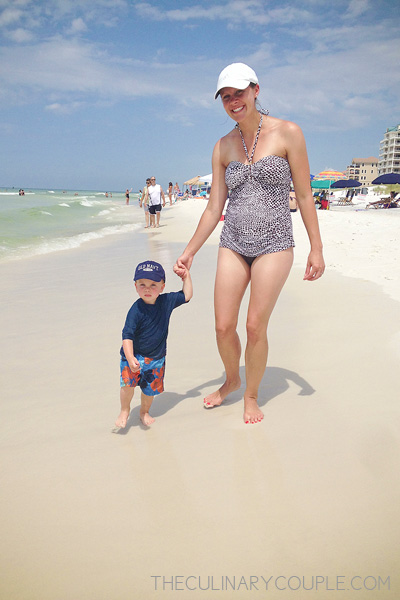 There is nothing better than a tired toddler after a full day at the beach.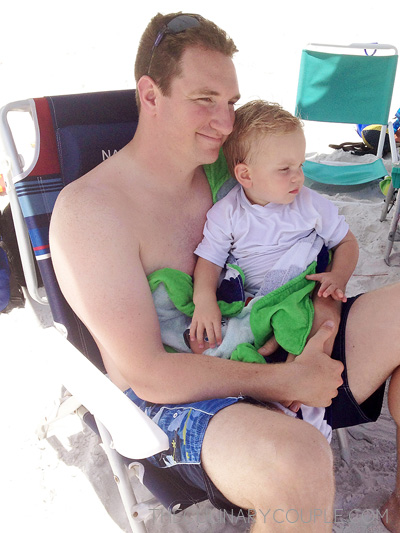 And when he was ready to go, he let us know by putting on his shoes and wrapping himself in a towel and waving bye-bye to the beach.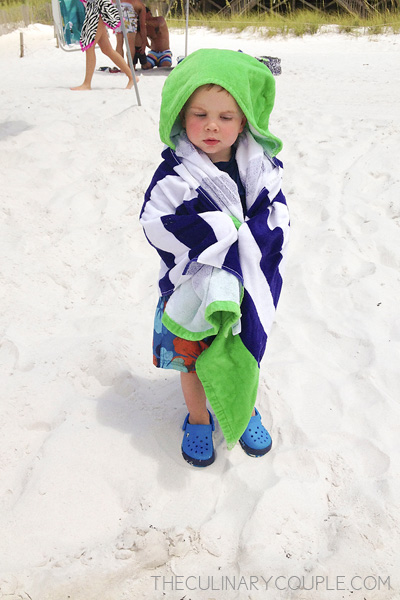 The Pool
In my opinion, the best part of our beach house was the beautiful backyard. It was private and big enough to seat all of us for meals. It had a grill and a fire pit and a big heated pool.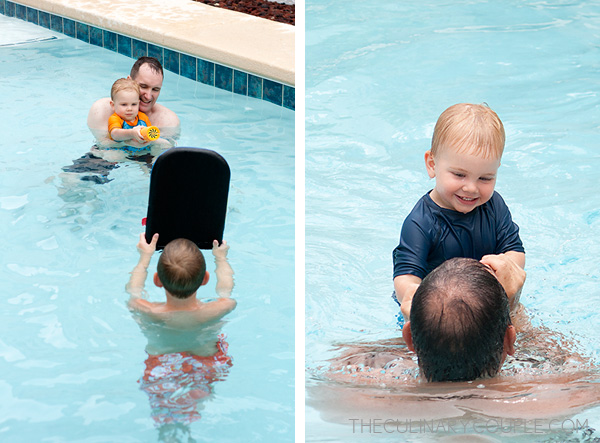 We dunked the kids in the pool every day after the beach. (Sam may have even gone skinny dipping.) And they continued to swim late into the evening.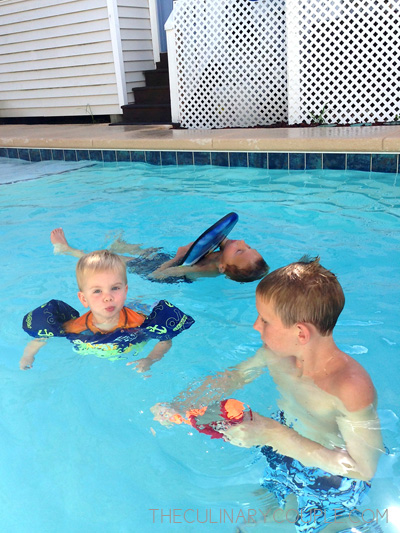 One night we had a glow stick pool party. And the boys loved it, as you can imagine.
Around Destin
Whenever we travel, we make time to explore the area. As much fun as we had at the beach and in the pool, it was nice to get out of the sun and get to know Destin.
The Gulfarium
We spent Tuesday morning at the Gulfarium, per Molly's recommendation. We even got to meet her and her sweet kiddos! It's always so much fun to put a real face and a real voice to a blog you've been reading for years. I only hope our paths cross again in the future!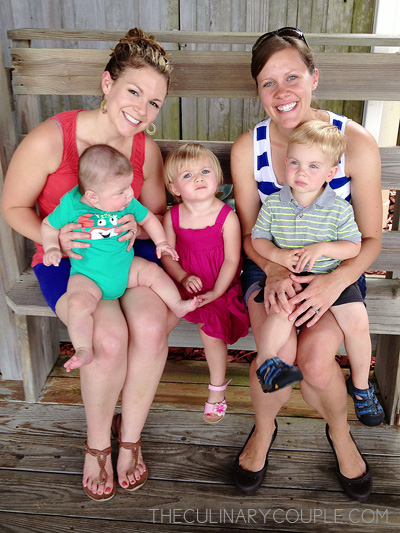 Sam was mesmerized by the dolphin show. And when the trainers rewarded the performers with fish, Sam decided it would be nice to share his goldfish and tried to toss them over the railing and into the water.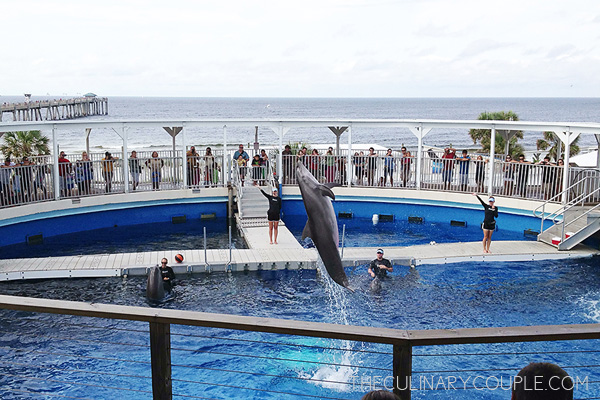 Later Sam thoroughly enjoyed his first Icee with his big cousins.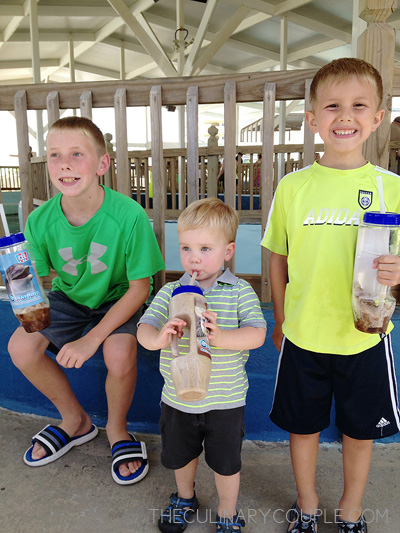 Seaside
While Destin is fairly commercial and highly populated, there are many quaint beach towns along highway 30A. One morning we drove along the coast towards Seaside. I can't say enough about this cute town! It's no surprise that The Truman Show chose this spot as inspiration for the film.
We spent about two hours window shopping and exploring the downtown.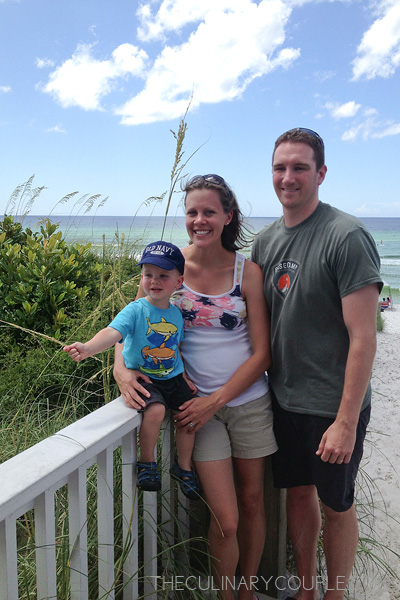 And we tried as best we could to steer Sam away from the numerous toy shops. But some were just irresistible.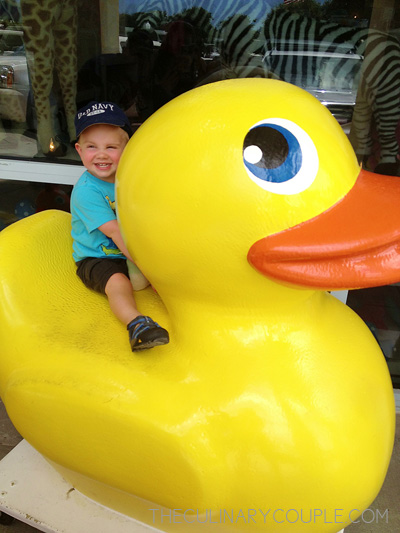 One street, in particular, reminded me a lot of Savannah.
Sam liked that street, too.
Before heading back to Destin, we had to sample something from one of the many food trucks that line the main street. We chose gourmet grilled cheese sandwiches from The Melt Down. It was a good choice.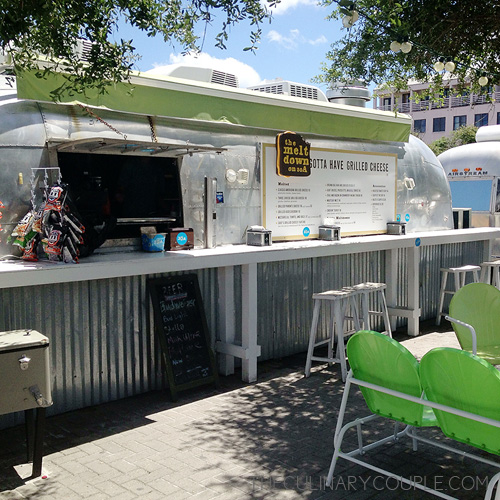 Harborwalk
Most evenings were overcast, but we chose a good one to check out the Harborwalk.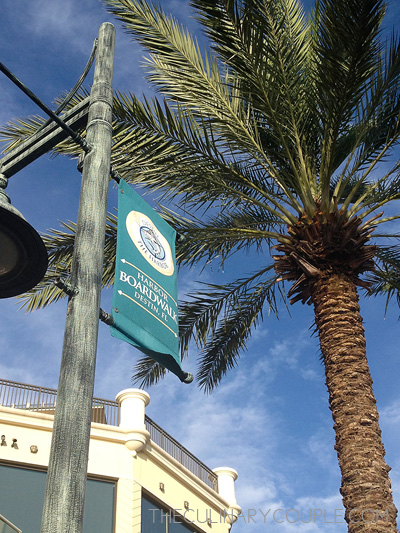 The boardwalk is lined with fancy shops and restaurants that overlook the water.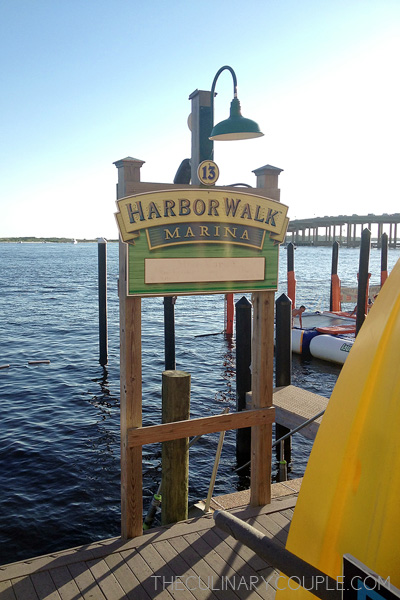 They even had a choo choo train for kids. Which, of course, we had to ride.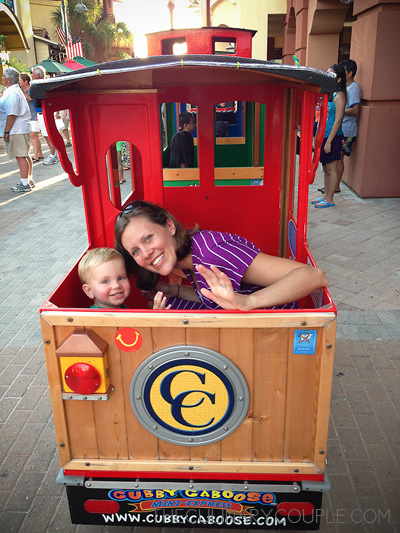 Several times each week, the Harborwalk hosts a themed event: a Pardi Gras parade, a fireworks show, a Rock the Docks concert. But it gets very, very crowded, and parking is limited. So, if you want to check it out, arrive early!
McGuire's Irish Pub
Most nights we ate dinner at the house, but we did gather the whole gang one night for dinner at McGuire's Irish Pub, which came highly recommended by every person and every book.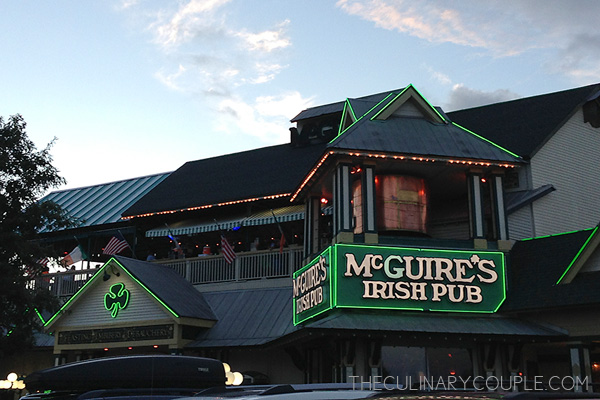 What a fun place! Delicious comfort food in a casual environment. A friendly staff and a great sense of humor.
The boxtys were a big hit, and Nick especially liked the raspberry wheat beer. The boys enjoyed counting the dollar bills that lined the restaurant and trying on Irish garb in the gift shop.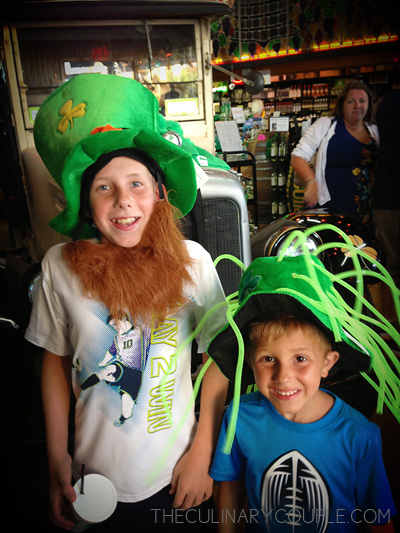 Again, this place gets really crowded. But we had no problem getting a (very private) table at 4:45pm. Cheers!
Destin Commons
Just across the street from our neighborhood was a great shopping complex (there was an even better outlet mall a bit further down the road!) with a playscape and splash fountain for the kids. It took Sam about 10 minutes to spot the fountain, but when he did, he bolted straight for it! And then proceeded to run and skip and jump and giggle … and completely soak himself … for the next 20 minutes. It was seriously one of the highlights of the week for me — to see him so absolutely thrilled.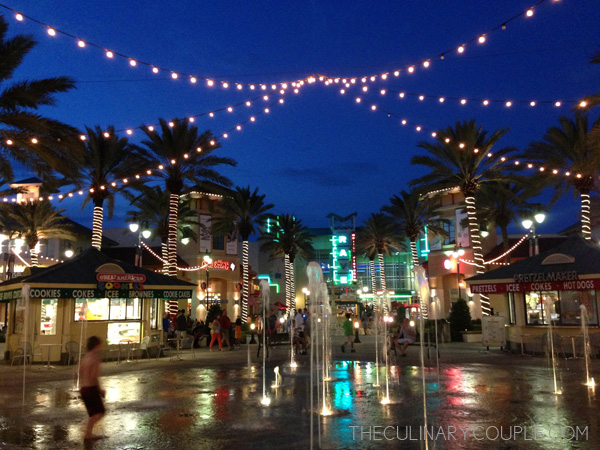 Family Time
The true purpose of this trip — even more than relaxing and swimming and overeating — was to spend time with family. Unfortunately, we are spread over four states and don't get to see each other nearly enough. In fact, the last time we were all together was at our wedding nearly four years ago!
And so we soaked up every minute together.
We ate. And we drank.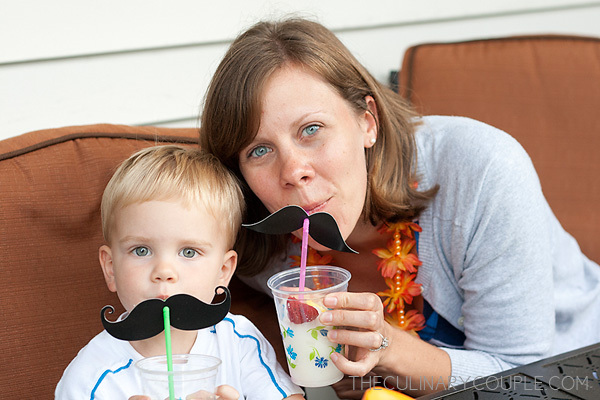 We danced.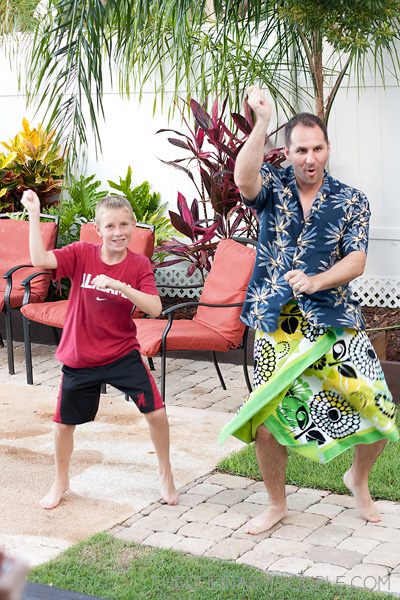 And we all especially loved watching the cousins play together.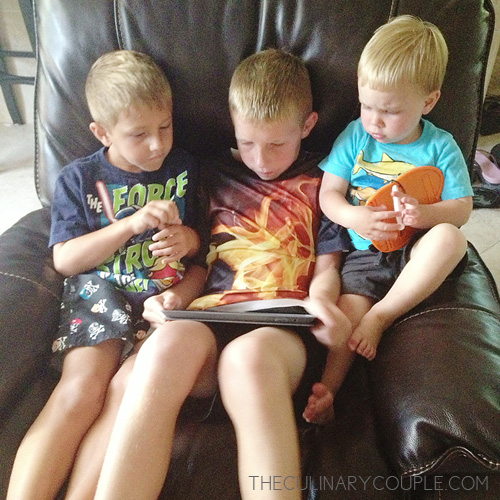 Sam followed the older boys like a little blonde shadow.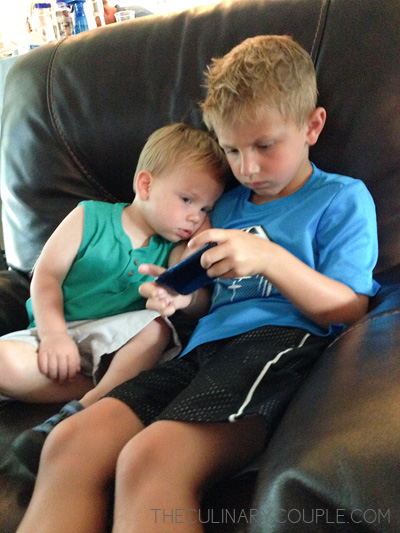 And by day two, he was saying "Sean" and begging to hold his hand everywhere we went.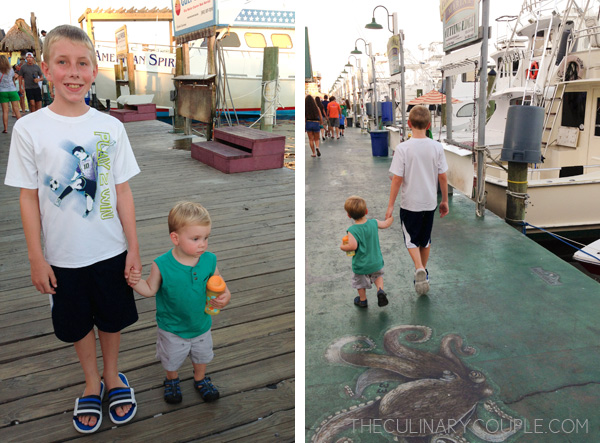 One night the grandparents watched the kids so the siblings could have a night out. We ate at Dewey Destin's (the seafood gumbo was amazing!) and convinced the guys to go outlet shopping after.
As I said, our backyard was perfect, and we gathered around the fire pit one night to roast marshmallows and count the stars.
And that glow stick party? Was pretty awesome.
Thank you, Mom and Dad Wiley, for planning such a fantastic vacation!