Our weekend in Chicago was exactly what we needed — and more. Yes, temperatures were in the teens. And, yes, we missed the boy and the pup. But we had adult conversations and drank cocktails and held (mitten-covered) hands. We saw some sights, visited friends, and ate our way through the windy city.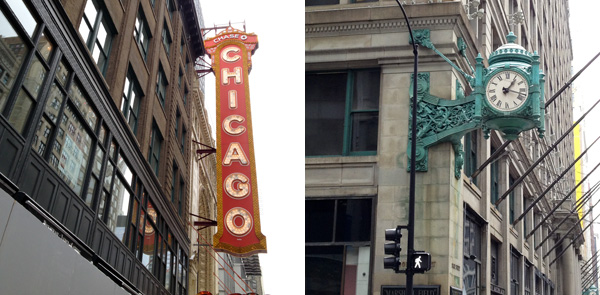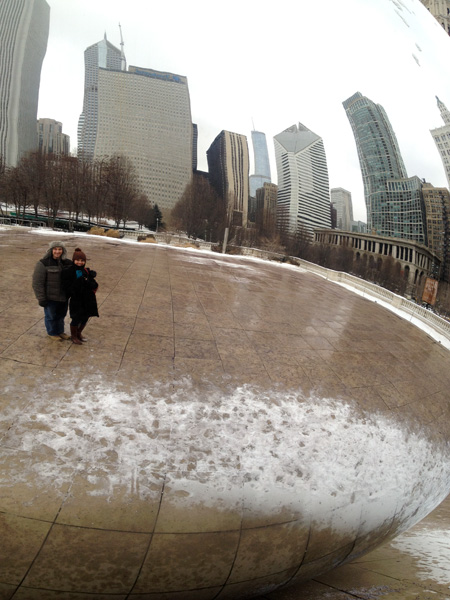 First food stop on our weekend of indulgence: Frontera Grill, home of Top Chef Master Rick Bayless. We were prepared to meet a long line of lunch-goers, but we arrived at 11:30 and just barely beat the afternoon rush. The dining room is vibrant and casual (the more formal decor is next door at Topolobampo), and the waitstaff is authentic and knowledgeable. We started with the famous guacamole, which had just the right amount of spice. It was served with fresh tortilla chips plus a three chile salsa and tomatillo, and we housed it. Next, thanks to a recommendation from our server, we enjoyed the street food trio (with potosinas, stuffed chicken jalapenos, and sopes) and the not-too-miss mole. The food was beautiful and bold and definitely worth the visit.
With bellies full of spicy Mexican food, we decided we were ready to tackle the frigid temperatures. But we only made it about ten blocks before our toes and noses turned to icicles. This called for a hot chocolate stop at Wildberry Cafe.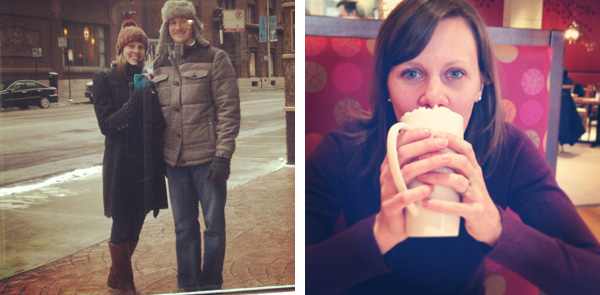 Once we thawed, we braved the cold again and walk to Navy Pier. We didn't expect to see much, and so we were pleasantly surprised to encounter an ice sculpting competition. Classic Chicago in January.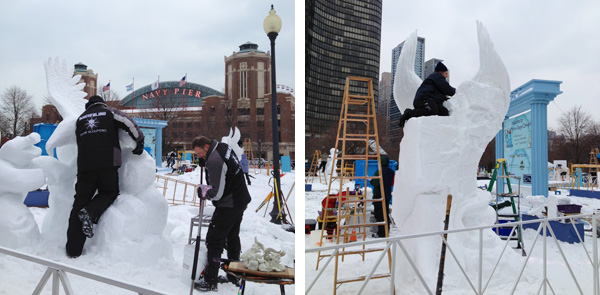 The perimeter of Lake Michigan was frozen, and the beach was a mix of sand and snow. But the walk along Lake Shore Drive was perfectly peaceful.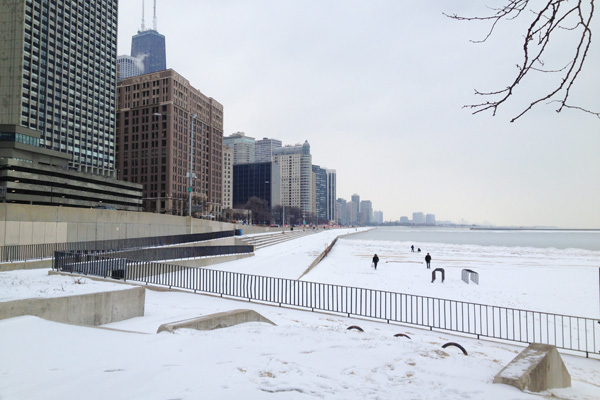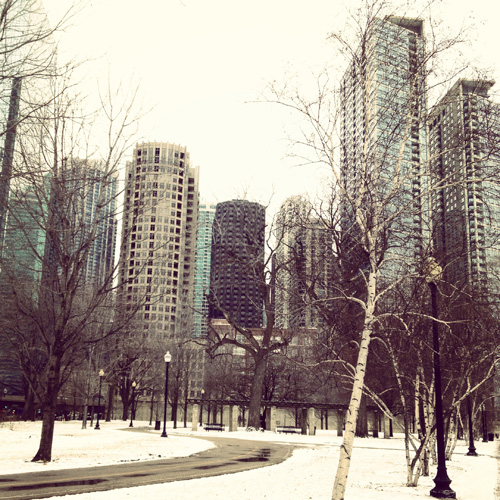 After a quick stop at our hotel to freshen up, we headed back to North Clark Street to meet friends for drinks at Bub City. I was so excited to see Lauren and meet her husband. Not surprisingly, we had a fantastic time, enjoyed a few Goose Island brews, and fell even more in love with Chicago.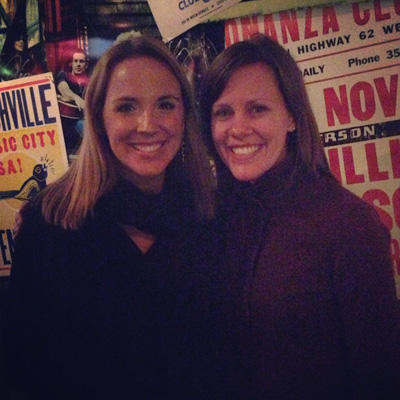 After happy hour, we walked down the block to grab dinner at Lou Malnati's. Now there is much debate as to which pizzeria holds the title for best deep dish. And after eating at Giordano's a few years ago, I must say that Lou Malnati's has a slight edge, in my opinion. The cornmeal crust is buttery and flaky and not too thick. We ordered the classic version with sausage and extra cheese. And when we saw the deep dish chocolate chip pizza on the menu, we couldn't resist. Topped with vanilla bean ice cream and whipped cream. Why not?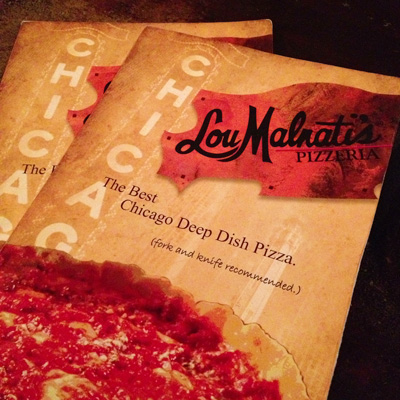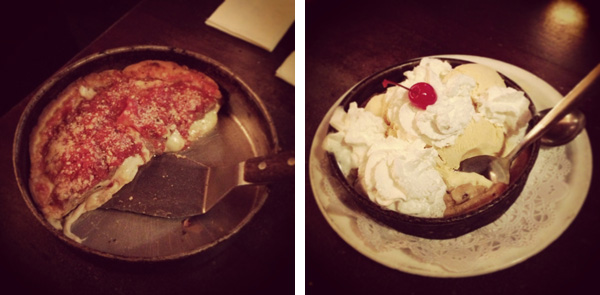 We woke up on Saturday morning to sunshine and blue skies and slightly warmer temperatures — though not nearly warm enough to not require my long underwear again. Our hotel was located on Michigan Avenue and so we spent some time strolling and window shopping along the Magnificent Mile. Then it was off to Old Town for brunch.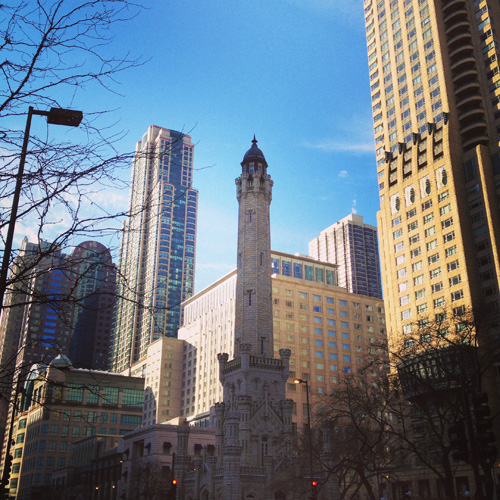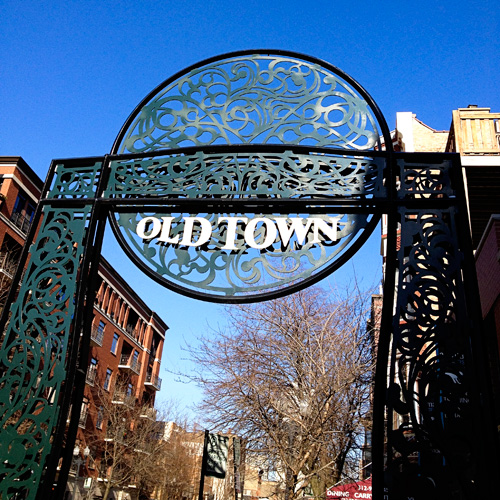 We had originally planned to eat at Old Town Social, but we arrived before it opened, and so we settled on Elly's Pancake House instead. Fluffy old fashioned pancakes and strong coffee. It was just what we needed.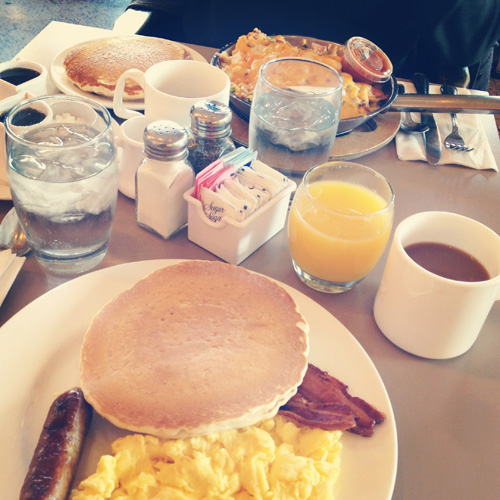 Our real reason for visiting Old Town was The Spice House. And it did not disappoint! I seriously think we could have purchased the entire store — from chili powders and herb blends to peppercorns and sea salts to baking spices and extracts, it was quite an impressive collection.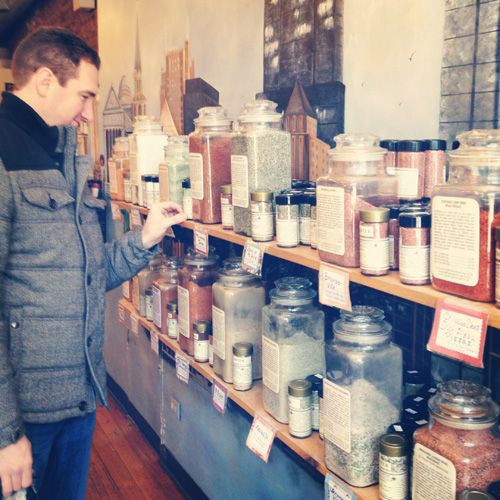 From there we hiked about two miles back downtown, and really enjoyed the brisk sunny day.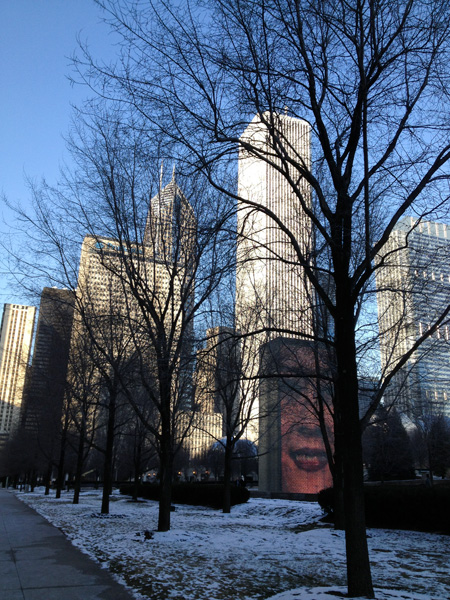 We worked up an appetite, obviously, and popped into Garrett's for a small bag of the signature Chicago mix: cheese and caramel crisp. Sounds crazy, I know, but it is oh so good.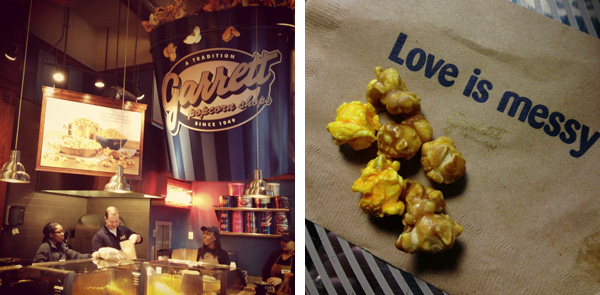 The plan was to eat our popcorn while walking to the Willis Tower (formerly the Sears Tower). We had heard great things about the new glass ledge viewing deck, and it was the perfect clear day to see the city from above. Unfortunately, there was a two-hour wait! No way were we going to sacrifice our dinner plans. Which should come as no surprise.
The thing I was most looking forward to during our weekend in Chicago? Dinner at Girl and the Goat. Reservations for this very popular restaurant owned by Stephanie Izard, winner of Top Chef Season 4, are booked months in advance. And so there was no guarantee that we would get in. But we arrived when the doors opened at 4:30, and the host told us there were two seats available at the community table until 6pm. YES!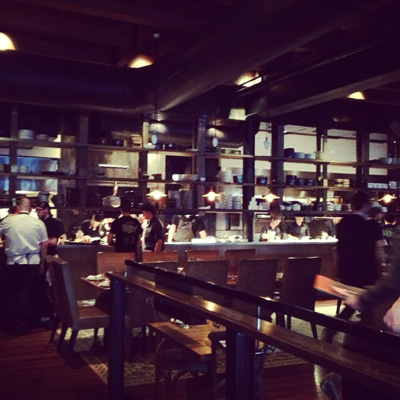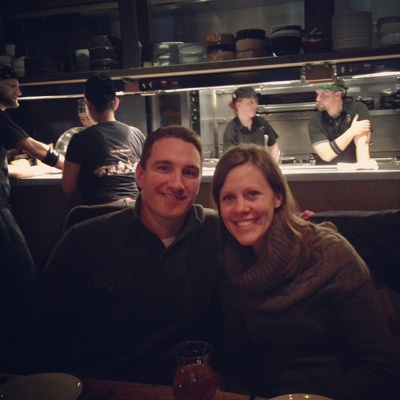 I have to say — hands down — this is the best meal I have ever had. From the extremely friendly and approachable staff to the open architecture of the restaurant that encourages you to watch the chefs to, of course, the thoughtful and delicious food. It is tapas style, and we probably ordered more than we needed, but we finished every bite!
Clockwise from top: squish squash bread with ginger butter and applesauce; roasted cauliflower with pickled peppers, pine nuts, and mint; confit goat belly in bourbon butter sauce with lobster and crab and fennel; kona kampachi crudo with crisp pork belly; and wood fired chicken with sweet potatoes, fried pickles, and brussel slaw. Oh. My. Goodness. Gracious.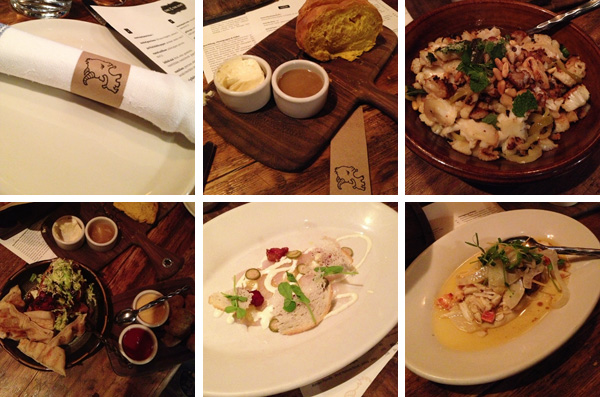 And guess what. We spotted Stephanie! We were seated just beside the kitchen, and there she was checking orders. We tried — paparazzi style — to take her photo, but eventually Nick asked if she minded posing for a picture with me. Thank you, babe! She happily obliged and seemed just as genuine as she did on television. Yes, I was a bit starstruck. And it was the perfect ending to an already perfect meal!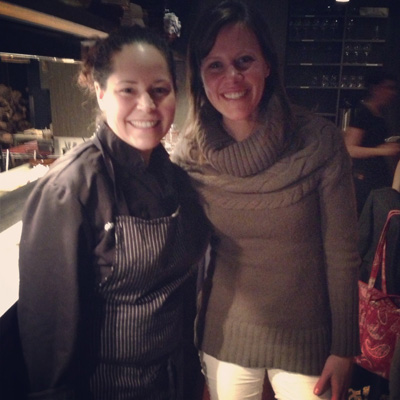 Before calling it a night, we stopped to visit friends and enjoy a few more local beers. I hadn't seen Doug and Cari in years, and their boy, Aiden, is just three months older than Sam. We chatted and reminisced and swapped toddler stories until almost 10pm. Then we hopped in a cab and stopped for a nightcap at The Signature Room on the 95th floor of the Hancock Building. Check out the view from the ladies room!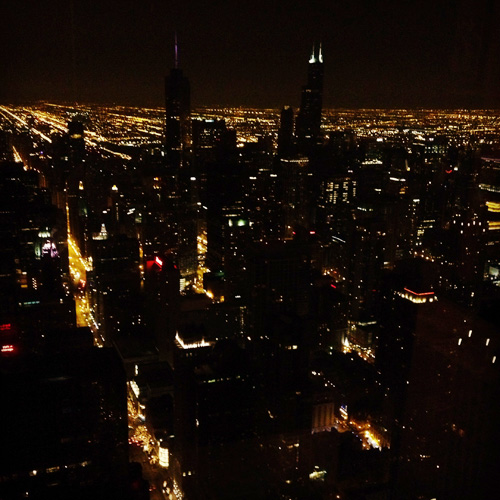 As I said, the weekend could not have been better. I left yesterday morning feeling refreshed and full … of both great food and necessary quiet moments with my husband. Chicago, we thank you for your hospitality, and we hope to see you again soon!