1. We finished Friday Night Lights last night. I started the series when Nick went back to work in October, and it was my best breastfeeding companion. Sam and I spent many hours on the couch with our favorite Dillon residents. I told Nick about a million times that he should watch it with me, but he didn't give it a shot until about halfway through season 4. Then he was hooked. Obviously. If you haven't watched it yet, you must. And then you'll understand why I'm going to miss my daily dose of Tim Riggins.
2. Mr. Sam is on the move! I left him on the blanket in the living room for about 30 seconds while I grabbed a yogurt from the refrigerator. And this is how I found him when I returned. I have a feeling this kid is going to be crawling before we know it.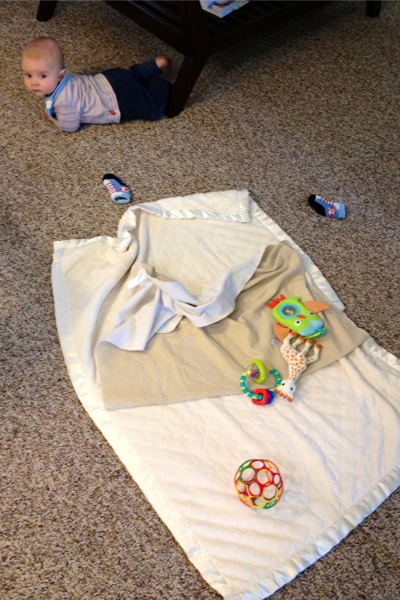 3. See those socks on the floor in the photo above? We've tried at least five different brands, but it is impossible to keep any of them on little guy's feet …
4. … or should I say big guy's feet. Sam has officially outgrown all of his 3-month clothes. Which means that we went shopping today! And I must say that I am in love with the new JCPenney. Have you been to one since they unveiled their new pricing structure? Let's just say that Sam is set until summer, and we barely spent $100. Mommy got a few new shirts, too. I'm especially excited about these scoop neck smocked tops — not marketed as nursing shirts, but they're perfect!
5. And one more sweet Sammy photo because I can't resist.