Dear Evelyn,
You are TWO! Though you like to say "three" when we ask you. You have grown tremendously this past year. From crawling to walking to running and jumping and somersaulting. From first words to full sentences.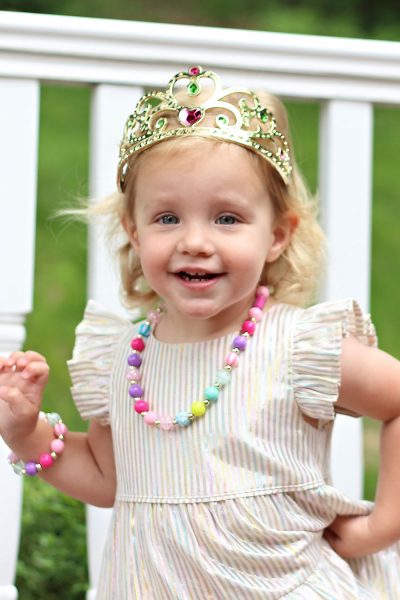 I had almost forgotten how much fun it is to be two! Wild and free and so eager to explore the world.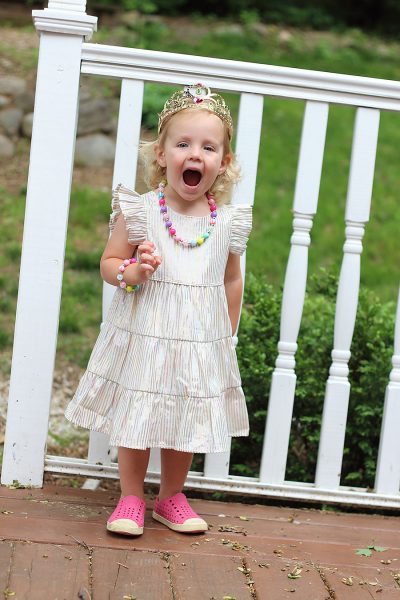 You are our girly girl — always taking tutus out of the dress-up bin and accessorizing with necklaces, bracelets, and crowns. You rarely walk out the door without your "pink shoes" and "Minnie sunglasses." And I've caught you with my lipstick on more than one occasion. Maybe I'll have a little princess ballerina, after all!
Of course, you also like sports, thanks to your siblings. Sam taught you how to throw a football and hit a baseball, and Nora taught you how to kick a soccer ball. They are your biggest fans! You also love to sword fight, dig in the dirt, spin in circles until you get dizzy and fall down, and play tag with the big kids at the bus stop.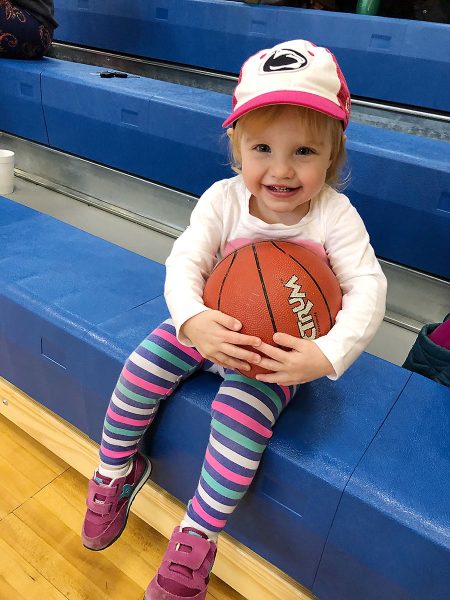 You are fast on your little legs! You love to crouch down in the starting position and say "mark, set, go!" and race down the sidewalk. You quickly picked up on the South Street obstacle course that Sam and Nora created (that involves swinging from the bike racks, balancing on the curbs, and jumping over the cracks in the sidewalk), and now you much prefer that method of transportation to riding in the boring stroller.
And I still can't believe how quickly you learned to ride a scooter! When Sam got his new bike, he was happy to share his scooter with you. And you mastered it in no time. You are agile and speedy and never tire of riding circles around the parking lot.
On Monday mornings, we go to "nastics" at Little Gym. When you started in September, you were so shy and clung to me and wouldn't let Miss Jen touch you. Now you are first in line to demonstrate the tricks! You especially love the rings and bars. You are strong and brave and confident, and I'm so proud of you!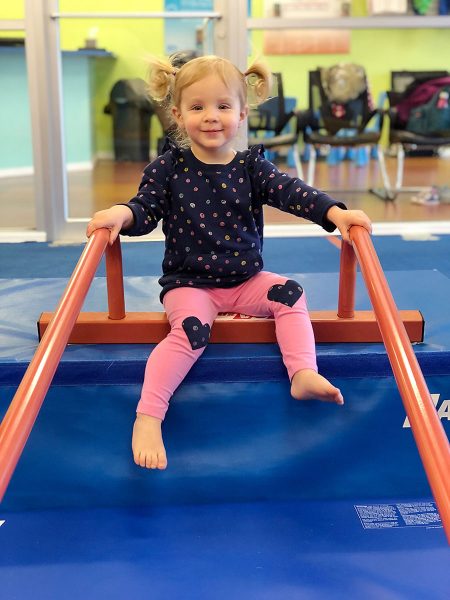 On Tuesday mornings, we volunteer at the library at Sam's school. I love that the librarian knows your name, as well as so many kindergartners and second graders (siblings of Sam's friends). Sometimes you follow me around while I shelve books, and sometimes you find a comfy place to sit and "read." Favorite book characters are Curious George, Pete the Cat, and Ladybug Girl.
You love books and take several to bed with you every night. You and Nora both protest when I turn out the light. I think the two of you would stay up reading all night, if I allowed it!
The big kids are really into art right now so, of course, you are, too. You like to color Minnie Mouse and the Paw Patrol "pups." You fill blank pages with surprisingly straight lines and tiny circles — just like Nora did at this age. You paint with water and draw with chalk. And you try really hard to cut with scissors. We've had a few incidents with permanent markers (on the hardwood floor, the wall, and Sam's bed) because the big kids forgot to put them away. But, mostly, you're very good with art supplies.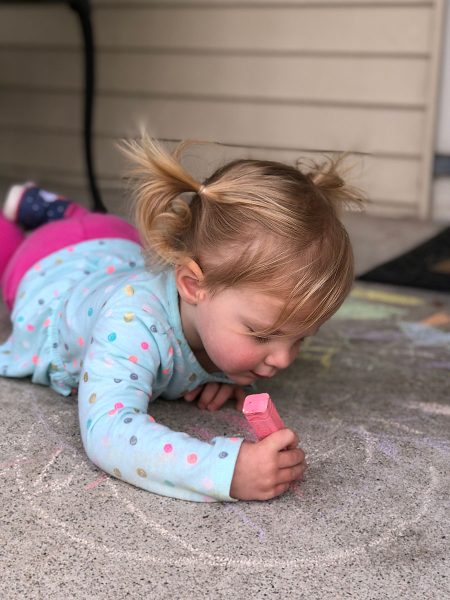 You also love building with Sam's tiny LEGOs, stacking cups and blocks and boxes, and assembling wooden puzzles. You make cookies and soup in the play kitchen, pour cups of "hot coffee," push your baby in the stroller all over the house and the yard, and sing into Nora's red microphone. Your favorite songs are "Can't Stop that Feeling" and anything from The Greatest Showman — no coincidence that we listen to the soundtrack all the time. You've even learned the words to several songs, including "never, never, never enough."
We don't watch much television, and you have not yet made it through an entire family movie night. You're mostly in it for the pizza and popcorn! But you are slightly obsessed with "Baby Boss." In fact, Daddy calls you "Mega Cute CEO Baby."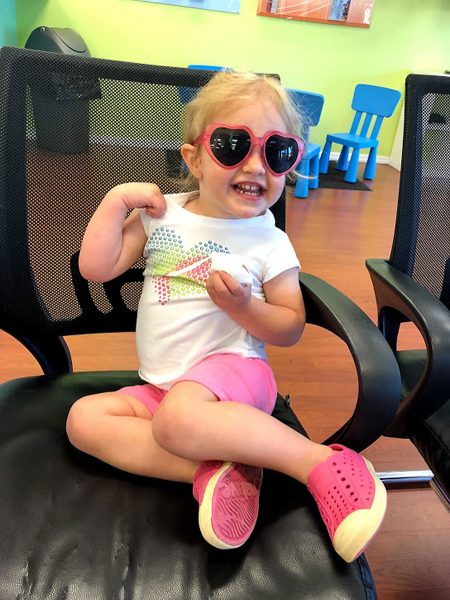 Now that the weather is warm, we go to the playground almost every afternoon. You climb the stairs, go down the slide, sit on the swings, and try to follow the big kids across the monkey bars. You pick flowers and fill your pockets with rocks. We ride bikes on the back deck and blow bubbles and throw balls. And you have so much fun jumping in the bounce house with Sam and Nora. You love to be outside!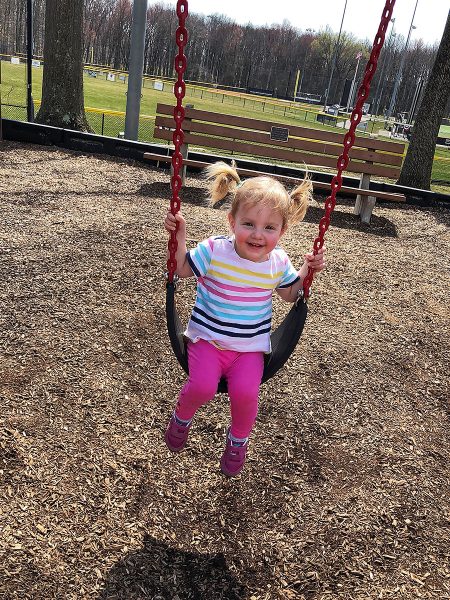 You are my laundry helper — you like  to identify which clothes belong to which family member, and you get it right 95 percent of the time. You help to load the dishwasher and put away clean utensils. You spray and wipe down the windows — because the finger prints and kiss marks are mostly yours! You can't stand to have any door or drawer open. You insist on ringing the door bell every time we walk inside the house. And you recently figured out how to push the button to open the garage door.
Daddy is your snuggle buddy, and the two of you have taken naps together on the couch, in Nora's bed, and at the pool. You say, "Daddy … snuggle … phone." Though he has to be careful handing over his phone to you, because we're pretty sure that you factory reset it a few weeks ago!
You will eat almost anything that we put on your plate — spicy chicken curry, Thai shrimp, carnitas burritos, lasagna. Favorite foods are pizza, cheeseburgers, tacos, berries, and bananas. Favorite snack requests are fig bars (always "two"), applesauce, and popcorn. You love to dip pretzels in hummus, cucumbers in Ranch, chips in guacamole, apples in peanut butter, waffles in syrup, grilled cheese in tomato soup, and French fries in ketchup. And you have a sweet tooth just like everyone in our family.
You rarely stay in your own seat during mealtime. You hand over your plate and cup and walk across the table to either my lap or Daddy's lap. Then you steal bites from our plates. You're lucky you're so cute!
You brush your teeth, and wash your hands. But you have no interest yet in the potty. In fact you said, "scared" when I took it out of the closet. We turned your car seat around last week, and you are thrilled! Every time you climb into it, you say, "seat, like it."
You can't sleep without your binky and your blankie (hand-me-down sleep sack from Sam). You also like to carry both around the house. You learned how to climb out of your crib a few months ago — probably because Sam and Nora climb in and out of it every day. Sometimes you climb out of your crib and into Nora's bed. You put your head on the pillow and pull the covers up to your chin, and I hear the two of you giggling. I have to admit, it's pretty darn cute. Overall, you're a great sleeper. You sleep from about 8pm until 7am with a twoish-hour late morning nap. Although, I almost always have to wake you up to get Nora from school, or take her to gymnastics. Such is the life of the third child.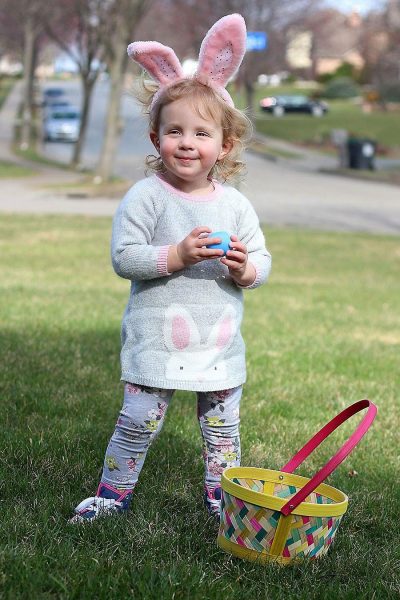 You love Sam and Nora and want to be included in everything that they do. You have also learned how to fight back if they steal a toy or try to discipline you. You like to "feed Lucy" and put her "outside" and throw the ball for her in the backyard. And you love to FaceTime with family members, especially cousin Maggie.
You like to tell stories about how Poppy was silly with your stroller, how the "buh-fly" flew towards your head, and how Uncle Steepie was sick and couldn't come to our house. You know all of Sam's and Nora's friends by name and often request to go to the playground with them. You are comfortable with familiar people like our neighbors and parents of your friends, but you still run to me and bury your face in my legs if a stranger acknowledges you. The skeptical "Evie eyebrow" still makes an occasional appearance, too.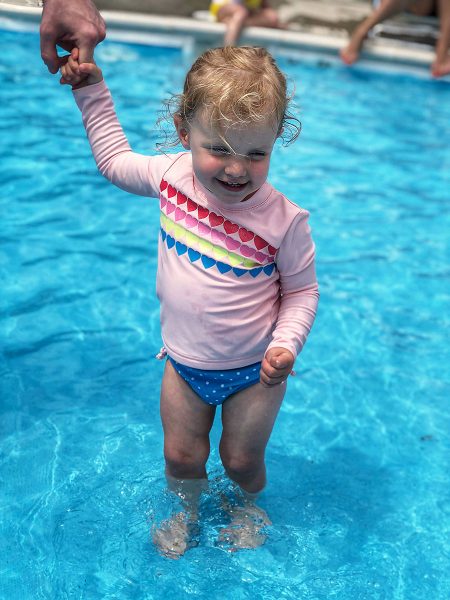 Oh, sweet girl, it is such an honor to be your Mommy. I love watching you learn about the world, gain confidence, and develop your own personality. I love when you wave and blow kisses from the door. I melt when you say "thank you" and "I love you," though you still usually point to yourself for the "you" part. And I can't get enough of your kisses and hugs.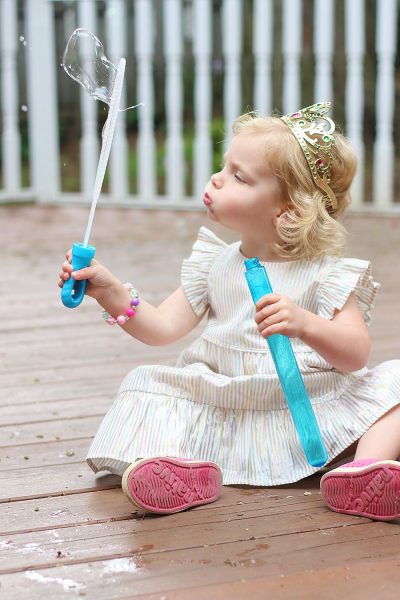 Happy second birthday, Evelyn Claire!