Dear Nora Kathryn,
You are three! How can it be? You are sweet, silly, smart, sassy, spunky, stubborn. Affectionate, emotional. Creative, talkative, habitual. Demanding, dramatic, persistent. You challenge me. You exhaust me. You make me laugh. You make me thankful. You make me proud.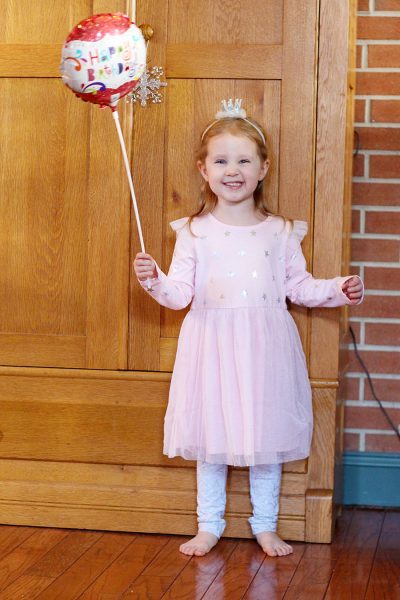 The two biggest changes in your little world this year? Becoming a big sister and going to preschool! And you are excelling at both.
You adore Baby Evie, and it's been so fun to watch your relationship with her evolve. When she was born, you wanted to hold her and snuggle her and sing to her. You wanted to help with diaper changes and bath time. You constantly rubbed her cheeks and patted the top of her head, and you giggled when she wrapped her fingers around yours.
Now that she is sitting and (almost) crawling, you think it's your job to monitor her playtime. This involves selecting which toys she's allowed to play with and removing things from her hands if you don't approve. If she topples over, you pull her back up. And I've caught you, more than once, trying to roll her over or re-position her. I suppose you're just toughening her up like Sam has done for you!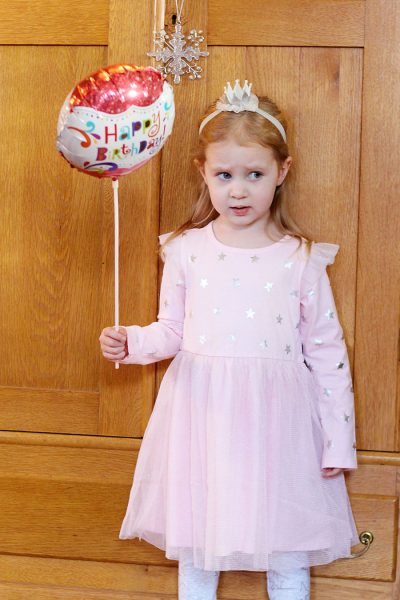 You and Sam are capable of playing so well together — if you're both in the mood. You set up dollhouses and bat caves for your little families of super heroes, princesses, Paw Patrol pups, and characters from Daniel Tiger and Peppa Pig. They fly in rocket ships and drive cars from your room to his. Sometimes they sleep, sometimes they battle, sometimes they go to school or to the grocery store. The scenarios are limitless. And it's my favorite thing to watch.
You imitate everything that Sam does — from crawling under fences and hanging from bike racks to climbing rock walls and snow piles to scaling the railing of our stairs to slithering like a snake across the wood floors.
Sometimes I send the two of you (and Lucy) into the backyard to burn off energy. You dig holes in the dirt with tiny shovels, collect rocks, hunt for treasures, build sandcastles, play basketball, push each other in the Little Tikes car, and sled down the hill when it snows.
I can only imagine what kind of trouble the three of you will get into when Evie is big enough to join the fun!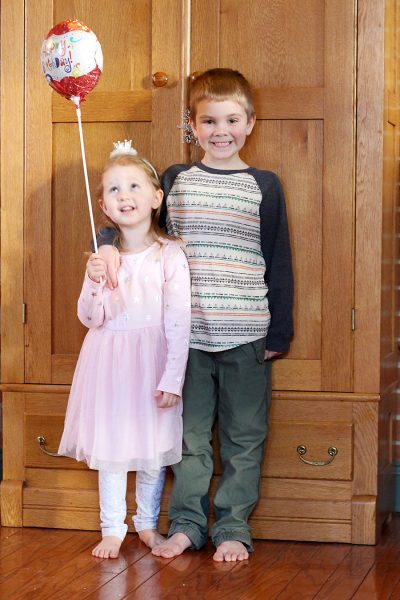 You have adjusted incredibly well to preschool. It was an easy transition for you because you spent last year watching Sam and couldn't wait to join him. You held big brother's hand on the first day and didn't shed a single tear, and you never complain about going. You are in the 2 1/2-year-old class (most of the kids are now 3) which meets on Tuesdays and Thursdays from 9am – 1pm. (Lunch bunch is well worth the extra few dollars every week!)
I love that you have made little friends of your own, and you have already attended at least five birthday parties. Tabitha is your "best friend," and we often walk home from school with her. She's come to our house for play dates, and the two of you are so sweet together. I almost don't know that you're here! So unlike when Sam has friends over to play, and they run around the house like little wild men.
Your teacher says that you are quiet in class, prefer not to be the center of attention, and follow directions well. She also says that are developing more confidence and independence as the school year progresses. I love to see your smiling face at pick-up and hear stories from your day — which often include how many times you got to play outside, what you ate for snack, and the artwork that you created.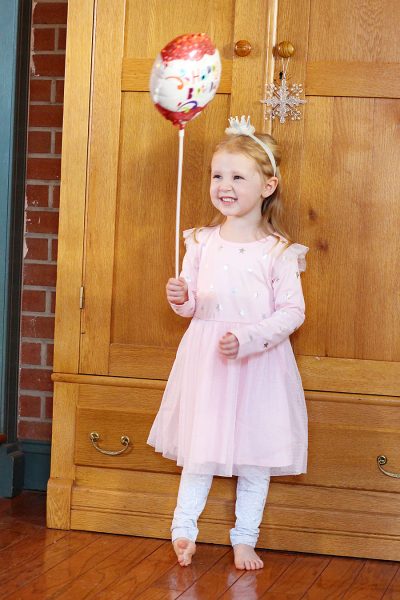 You love books, stickers, puzzles, LEGOs, wooden blocks, play-dough, paint, flashlights, and anything from Sam's collections of coins and rocks and seashells. You wear tutus and princess crowns, dress like a firefighter or a doctor, carry swords and light sabers, rock baby dolls, and tuck dinosaurs into the cradle. You sing songs, do somersaults, and spin in circles until you get dizzy and fall to the ground. You can flip your jacket over your head to put it on and insist on wearing your "pink Crocs" (Native brand shoes) almost every day.
You can sing the ABCs and count to 28 (sometimes higher, though you forget a few numbers). You recognize the letters in your name (and Sam's name) and can write "N" and "O." You can now draw recognizable figures like the members of our family, Rexy, and our house. One evening while watching The Jungle Book, you drew several scenes on your easel and recited them back to us when the movie ended. You have an answer to every question and a very detailed explanation to accompany it. Yes, you are our little storyteller — just like your momma.
You are also a little actress, when you want to be. You have such expression in your face and have perfected the pout. You can cry on demand and quickly turn it into a laugh. During our trip to Disney World, you were chosen from the audience during the Lion King show, and you surprised all of us and marched and danced around the theatre. You wouldn't stop singing "I just can't wait to be king" the rest of the night. You also worked up quite a sweat square dancing with Minnie Mouse at the BBQ dinner on our final night of vacation.
You steal my phone when we're FaceTiming with Nini and walk around the house talking to her. And when friends or family come to visit, you give them a tour of our house and tell them stories about everything like Evie's jumperoo, your "big girl bed," Ricky, and the closet where we put our shoes.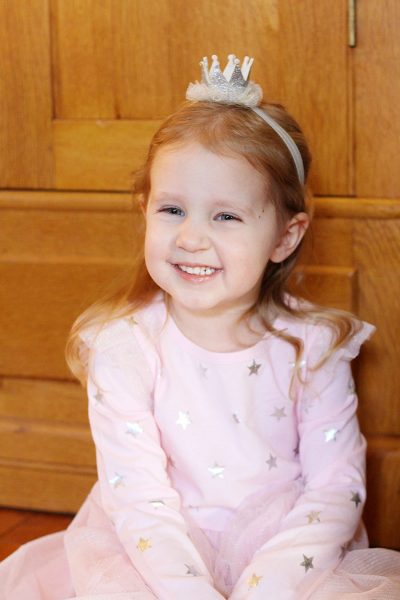 Current favorite foods are "square pizza" (frozen Freschetta), jelly sandwiches ("no peanut butter"), pretzels and hummus, "pock-corn," cantaloupe, apples, "nanas," cucumbers, bagels with cream cheese, marshmallows, raisins, "circle crackers like Nini has," bacon, sausage, and pistachios ("stash-i-os"). You and Daddy could eat an entire bag of pistachios, if I let you! Sam doesn't like to eat them, but he'll happily crack them open for you. You sometimes drink milk, but I think you only do it because Sam does. You get really upset if Lucy bothers you while you're eating, especially if she tries to lick your chair. And you often end up in my lap, or on top of the table during mealtime.
We had a few rough weeks of sleep before the holidays. It was a huge struggle to settle you down for bedtime, and we both often ended up in tears. You got so upset if I messed up a tiny detail of your very strict routine — like if there wasn't enough toothpaste on your toothbrush, or if I sang the wrong tune to my made-up "butterfly song," or if your pink Minnie blanket wasn't perfectly tucked under your chin ("that's not right, throw it higher").
Daddy and I both had to be in the room for hugs and kisses, and we had to count to 5 before blowing out the lights. Except 5 wasn't 5, it was 8. And so I just let you say 8, even though I know you also knew it was wrong. Talk about testing your limits … and my patience.
You would finally fall asleep around 9pm. And then wake up around 2am to go potty. But then you would be awake for an hour or two! Of course this meant that you were an absolute disaster at 7am when you would still, inevitably, get up to start your day. Whew.
So I started rubbing your feet with coconut oil and lavender each night (and called it "magic lavender") and slowly eliminated things from our routine and replaced them with shorter steps. I'm happy to report that (knock on wood!) you are now sleeping much better, from about 8pm until 7:15am with no middle-of-the-night wake-ups. We even recently switched your room with Sam's (in preparation for room sharing with your little sister), and you handled it like a champ. Though you can now open your bedroom door and often sneak up to my bedside before I'm awake.
You are full potty trained, even at night. Though you've had a few random accidents. Like in your closet on top of a pile of stuffed animals. And while sitting on the couch and reading books while I was upstairs with Evie. That particular time, I found you sitting on the couch with one hand under your very wet bottom, and you said, "I catched it with my hand so you wouldn't see it, Mommy."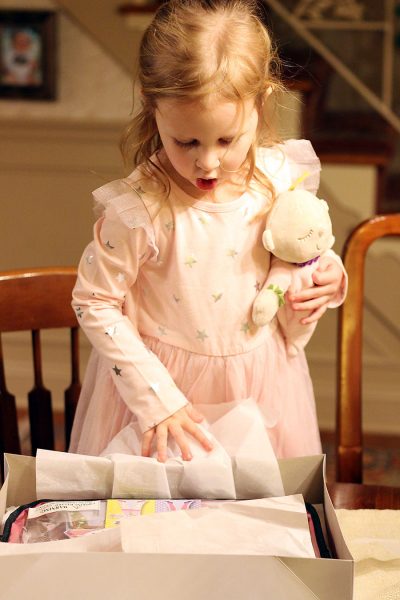 All of your babies are named "Nor-nah Kaf-rin Wi-yee." You are still "Daddy's baby" and his "Nora bear." You love to ride on his shoulders and honk his nose. You call Sam "Dam" and "Bubba" and call Evie "cutie pie" in a high-pitched baby voice.
For quite awhile, Sam teased you because you said "funny" like "bunny." Now you both say "funny bunny" and laugh hysterically.
More memorable things that you have said:
I heart you means I love you a lot.
Evie so much loves me.
Sam is my best friend.
Poop is not a nice word, Sam.
Don't eat too many or you'll get a belly ache.
My legs are too tired to walk.
I sleeping. Don't wake me up. (You often pretend to fall asleep in the car or on the couch.)
It's soon going to be nighttime. You better come inside and go to bed. (To all of us sitting on the deck at Nini's and Poppy's house.)
We have a big problem. I got bacon grease on my baby.
That's not right. Why this not working. (With a very frustrated voice.)
I do nothing, Mommy. (With a very guilty face.)
I can find it, Mommy. I'm really good at finding things. (While sniffing your nose.)
Don't worry, Daddy. I got it. It's not too much water. (While carrying a full cup of water from the bathroom to your bedroom.)
Don't yell at me. It's not nice to yell.
I sorry I cried.
I didn't meant to do it.
I don't want to talk to you. I don't want to play with Evie. I just want to sit here and be mad.
That's impossible.
That's easy peasy.
I have to go poopy. You have to wait a minute. It takes a really long time.
(When I say "good job," you say … ) You're welcome.
(While opening Christmas presents and birthday presents …) This is just what I wanted!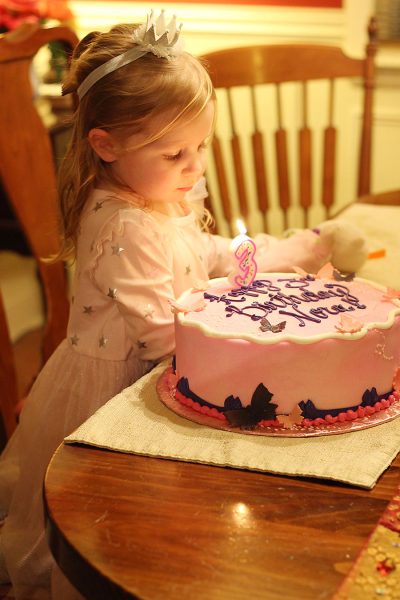 We celebrated your birthday early with family in Dover. Because we were all passing around a stomach bug, we had to cut the guest list. But we still had fun! And lots of chocolate cake with pink frosting.
On your actual birthday, you woke up to balloons outside your door and more downstairs surrounding your new scooter (just like Sam's!) and Minnie Mouse helmet. Of course, you rode the scooter around the house all morning and insisted that we take it outside to the back deck as soon as you got home from school.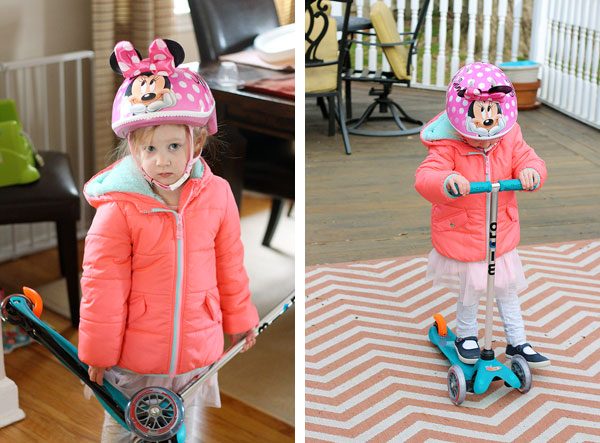 Oh, sweet Nora, you fill our days with love, light and laughter. We adore you, big girl!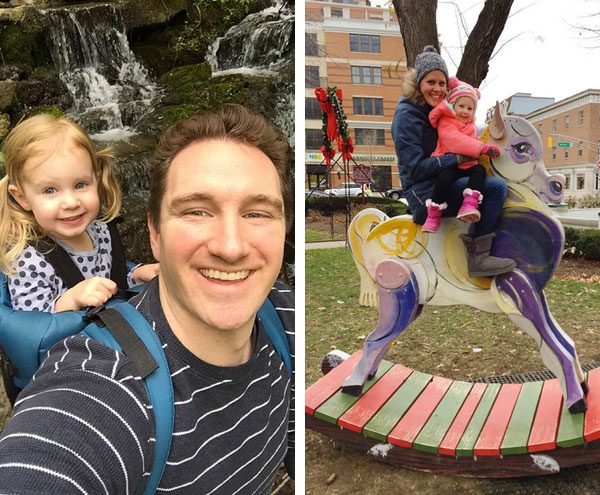 Save
Save
Save
Save
Save
Save
Save
Save
Save
Save
Save
Save