The inspiration for Nora's nursery began with a piece of fabric I found at Jo-Ann. I was immediately drawn to the colors (purples, blues, and greens) and knew it would be perfect for our baby — just the right amount of girly and something that could grow with her. So as soon as it went on sale, I purchased enough to make the curtains.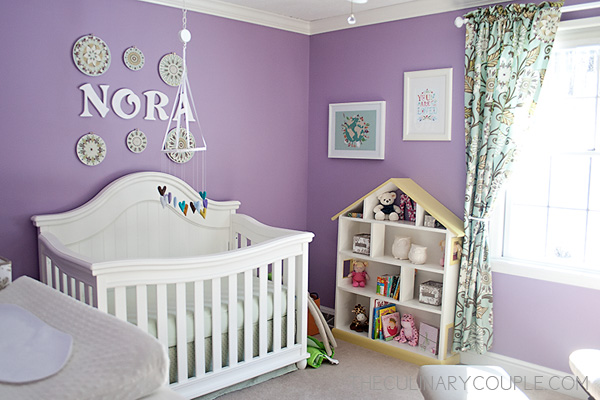 Next we found a shade of paint that matched the purple in the curtains. (We had always envisioned a purple nursery for our daughter.) And we coerced my dad into painting the room and adding fresh white crown molding.
Just as we had always envisioned purple walls, we knew we wanted white furniture. (In fact, Nick had talked me out of buying white furniture before Sam was born, and I'm so glad we waited to get it for our girl.)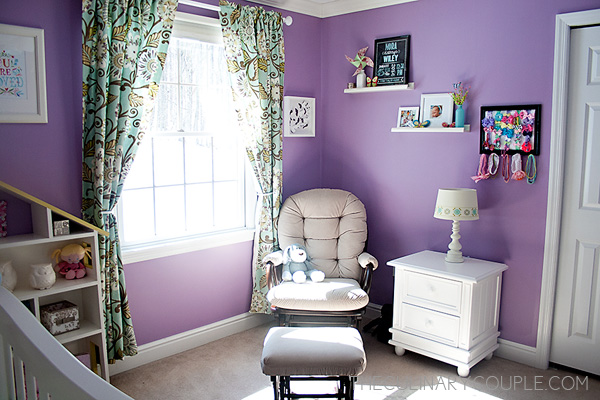 With all of the major pieces in place, the real fun began! We shopped at Ikea for wall shelves, a mirror (which we spray painted a pretty shade of blue), and several pieces of artwork.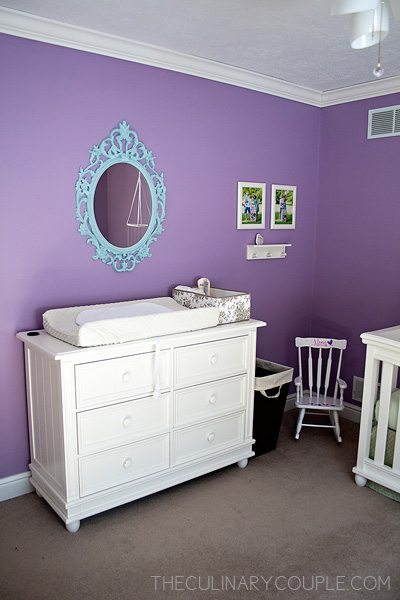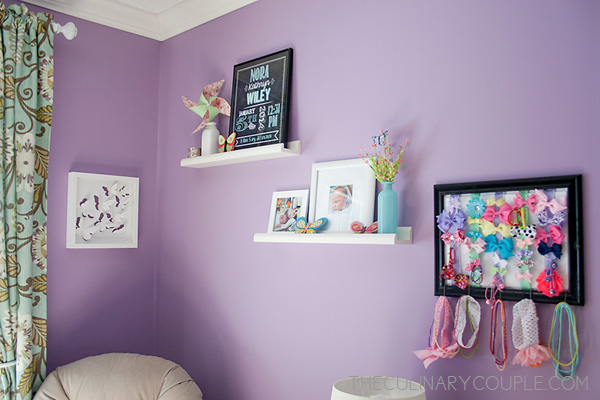 Then we completed a few DIY projects: the crib skirt (measure and cut four pieces of fabric, then secure each to the crib frame with safety pins — SO easy!), the mobile (followed the same instructions for Sam's), and the artwork above her bed.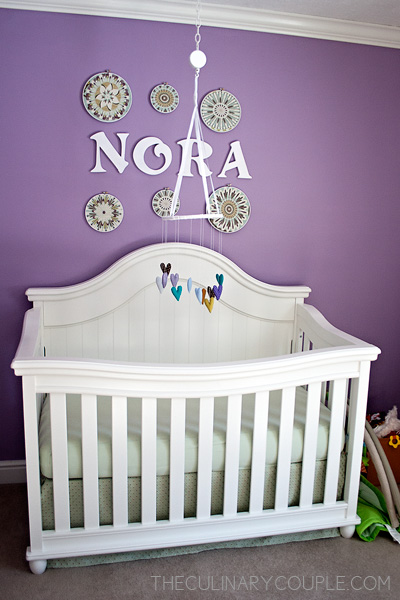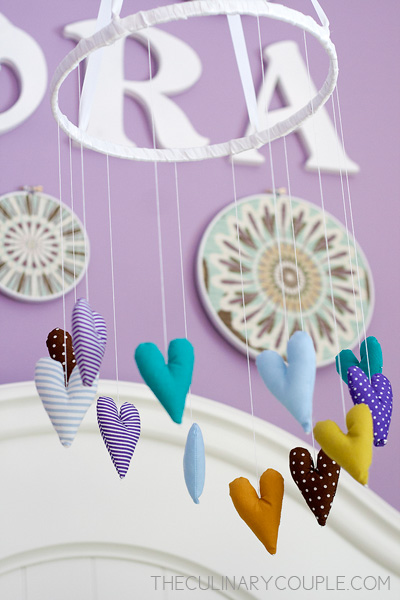 For the artwork, I simply cut circles of leftover curtain fabric and secured them inside embroidery hoops that Nick had spray painted white.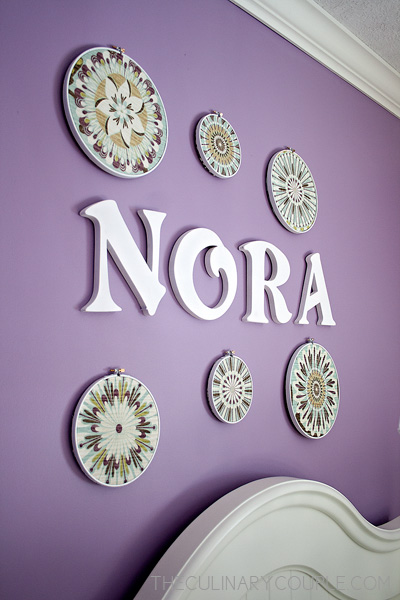 One of my favorite pieces in Nora's nursery is the dollhouse bookshelf built by my Dad. I fell in love with the one from Pottery Barn Kids, but it was not within our budget. So, of course, I asked my Dad to make one. And, of course, it's even better than the original! He used an unfinished bookshelf that was just sitting in their basement; added dividers and a roof; cut doors and windows; added molding; and painted it to match her room. Love!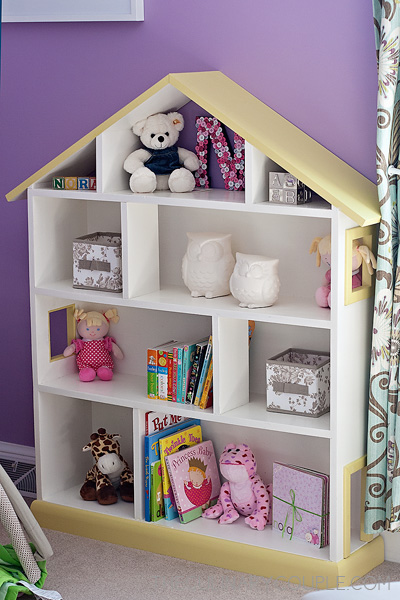 No baby girl's room is complete without a bunch of pretty little bows and barrettes and headbands! And I have my brother's girlfriend to thank for this lovely display.
We had so much fun creating this space for our baby girl. Let me know if you have any questions about the details!
Paint color: Simply Lavender by Valspar from Lowe's
Crib, Dresser, and Nightstand: Pali Marina Collection in white
Glider and Ottoman: SONA by Storytime Series in espresso
Dollhouse Bookcase: built by my dad, inspired by Pottery Barn Kids
Lamp: Lolli Living from Target
Curtain Fabric: Home Decor line from Jo-Ann Fabric (not available online)
NORA Letters: Jo-Ann Fabric
Mobile: musical parts from NationalArtCraft.com and birds from krakracraft
Mirror: Ung Drill Mirror from Ikea, spray painted blue
Butterfly Art: Ikea
World Art: Ikea
You Are So Loved Print: The Wheatfield by Katie Daisy