This is Nick. (Since my wonderful wife writes 99% of our blog posts, I felt the need to state that up front.) This recipe is a special request from my classmate, Vanessa, who is looking for a non-traditional cornbread to make with her boyfriend for Thanksgiving this year.
I made this cornbread last week to accompany Emily's hearty chili. It's not dry or crumbly like most cornbreads I've had. And it's very flavorful thanks to bacon, jalapenos, and cheese. Enjoy!
Any other recipe requests out there?
Cheddar Bacon Jalapeno Cornbread
Makes 12 servings.
Ingredients
3 cups all-purpose flour
1 cup yellow cornmeal
1/4 cup sugar
2 tablespoons baking powder
2 teaspoons kosher salt
2 cups milk
3 eggs, lightly beaten
2 sticks unsalted butter, melted
8 ounces sharp cheddar cheese, grated
3 stalks scallions, chopped
2 jalapeno peppers, seeded and chopped
5 strips bacon, cooked and chopped
Directions
Combine the flour, cornmeal, sugar, baking powder, and salt in a mixing bowl. In a separate bowl, lightly whisk the milk, eggs, and butter. With a wooden spoon, stir the wet ingredients into the dry until most of the lumps have dissolved. Add the grated cheddar cheese, scallions, bacon, and jalapenos. (Reserve a little of the cheese, scallions, and bacon to sprinkle on top later.) Let the mixture  sit at room temperature for 20 minutes.
Meanwhile, preheat the oven to 350°F. Grease a 9 x 13 casserole dish.
Pour the batter into the greased dish, smooth the top, and sprinkle with the remaining cheese, scallions, and bacon. Bake for 30 to 35 minutes, or until a toothpick comes out clean. Cool and cut into large squares. Serve warm or at room temperature.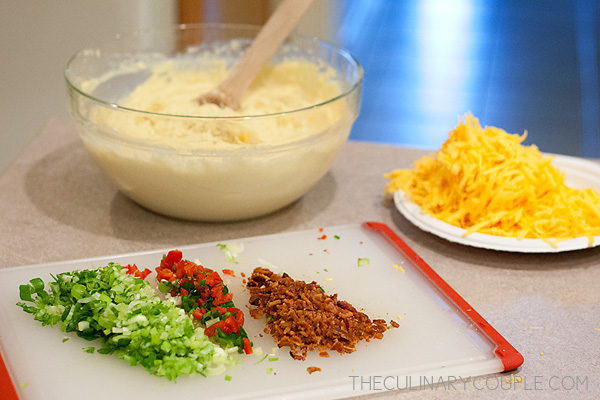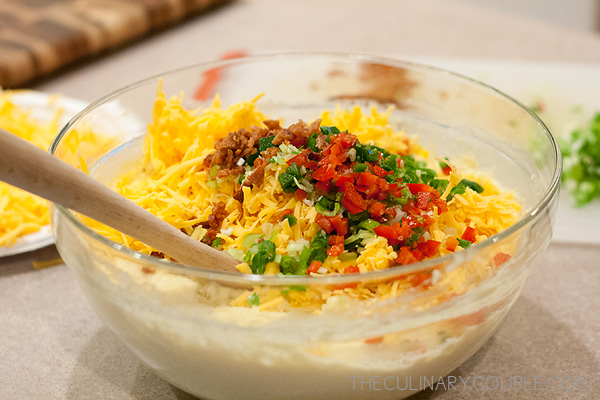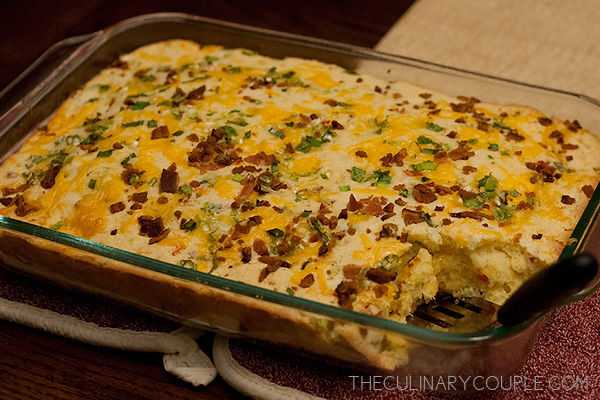 (Adapted from Ina Garten)