Last week I had the honor of judging a competition for local chefs. That's right. Chefs who typically work their magic behind the scenes sharpened their knives, packed their frying pans and portable stoves, and came out to the farmers market to compete in a friendly cooking competition.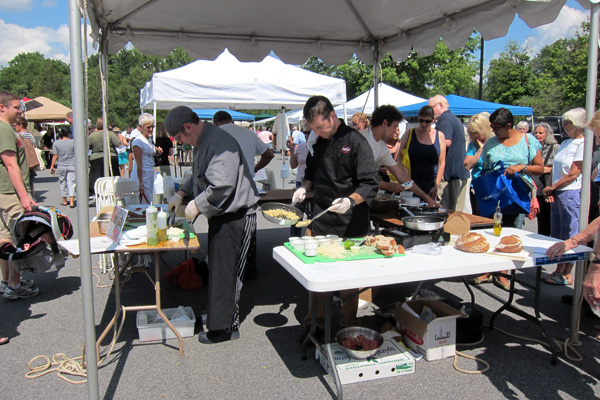 Contestants included: Jamsion Steffan and Gus Aranguiz from the American Ale House, Mark Johnson from Elk Creek Cafe + Aleworks, Harrison Schailey from Harrison's Wine Grill, Sean Kelly from Kelly's, Pete Herncane from Otto's Pub and Brewery, and Andrew Monk from The Sustainable Kitchen. Their task was to prepare two dishes using ingredients found at the market, and our task was to judge the dishes based on creativity, taste, and presentation.
I was invited on behalf of WPSU's Local Food Journey blog (which I manage) and was joined by my colleague, Patty Satalia, local Italian chef Grace Pilato, and State College Mayor Elizabeth Goreham. As I said, I was quite honored.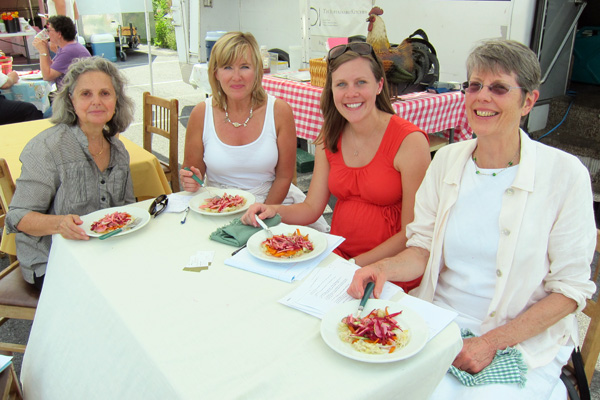 We tasted perfectly prepared pork from Cow-A-Hen Farm, lamb sausage from Tamarack Farm, sweet corn from Audry Farms, apples and peaches from Way Fruit Farm, fusilli pasta from Fasta Ravioli Company, tomatoes from Mothersbaugh Farm, cheddar cheese from Beiler Farm, and more. My hope is that the chefs recognize the delicious bounty we have available in our community and add more local ingredients to their menus!
So which chef was awarded the coveted Golden Basket? Click over to the Local Food Journey to find out (and to see more photos from the afternoon).