Dear Sweet Samuel,
One month ago, you came into this world, and Mommy and Daddy fell instantly and completely in love. We are still sometimes amazed that we created you and that you are ours and that we get to watch you grow and change every day.
You are such a sweet boy. You warm our hearts and put smiles on our faces. We already forget what life was like before you arrived.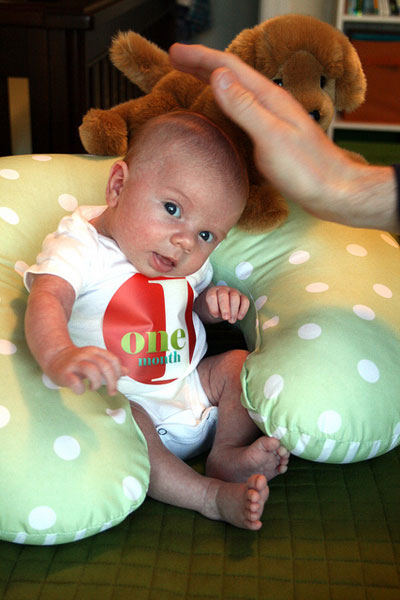 While we look forward to what is to come, we also wouldn't mind if you stayed a snuggly baby Peanut forever.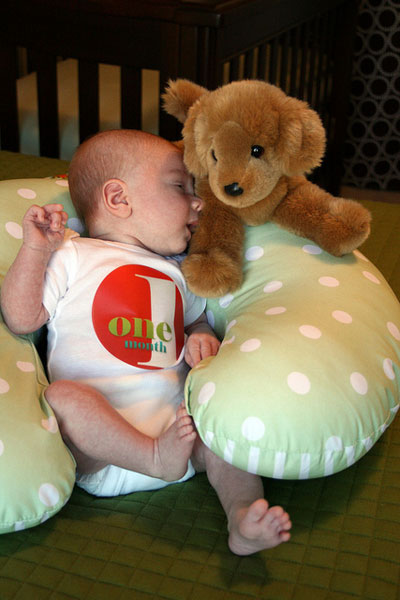 But since that is not possible, we will savor each day and tuck away the fond memories of our first month with you.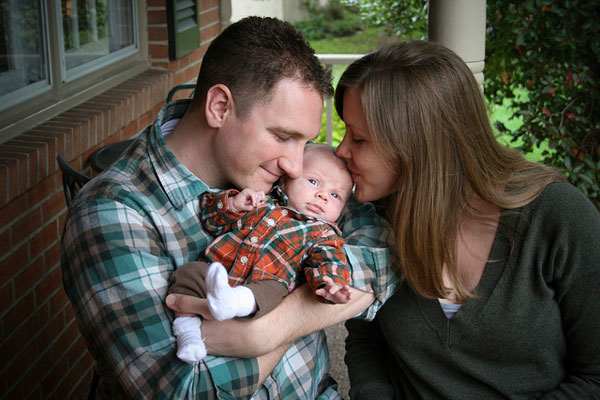 At your two-week doctor's appointment, you weighed 7 lbs 4 oz. That's a healthy 9 oz weight gain since birth. We suspect you're hovering around 8 lbs now — you're still a tiny Peanut! Though you have finally started to fill out your newborn clothing.
In addition to calling you Peanut, we have several other nicknames for you. Mommy calls you Little Buddy and Pal. Daddy calls you Baby Bear (and Grumbly Bear when you're fussy) and Buckaroo. And we switch between Samuel, Sammy, Sammy Woodford, and Sam, depending on our mood.
You found your voice around week two and especially liked to exercise your lungs late at night. But supposedly this is common. The experts say it's at this point that you realize you're no longer in Mommy's belly and desire to return to the comfort of the womb. After skimming several books and watching a few clips from Moms on Call, we decided to try swaddling you at night. We resisted for the first few weeks because we thought you liked your hands too much to tuck them into a blanket. But we learned that the startling reflex (which is common in all babies) caused you to throw your arms into the touchdown position and wake yourself from deep sleep. As soon as we started to swaddle you, you slept four to five hour stretches at night. We're all more rested and more pleasant because of it!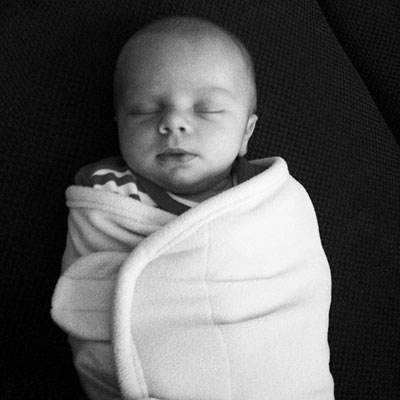 You still sleep in the newborn napper in Mommy's and Daddy's room. It took us awhile to adjust to your nighttime snorts and wheezes, but we now find comfort in the irregular rhythm of your breaths. We plan to move you into your crib in two weeks when Daddy returns to work. We'll see if we (meaning Mommy) can do it.
Speaking of sleeping, around the same time we started to swaddle you, we also started to put you to bed by 9pm. I don't think we could do this, though, if we couldn't watch you on the video monitor. In fact, the first few nights of our new routine, either Daddy or I would run upstairs to check on you if we saw even the slightest movement or heard the faintest cry. But you typically sleep soundly until between 2am and 3am when you wake to eat. You sometimes struggle to go back down after our middle of the night rendezvous, but once you do, you sleep until about 7am when you're ready to get up and start your day.
You also love to nap on Mommy and Daddy. With Daddy, though, you squirm your way up his chest until you can feel the bare skin of his neck. You're such a sweet snuggler.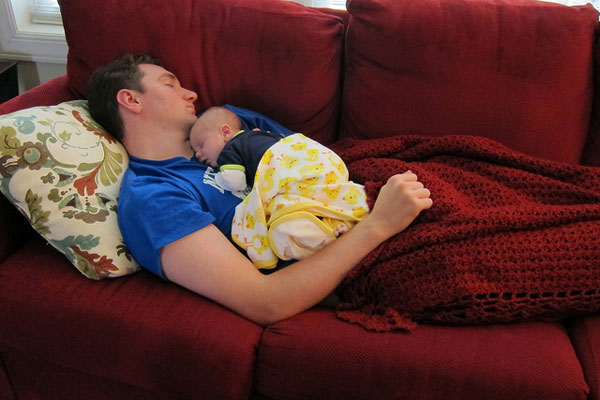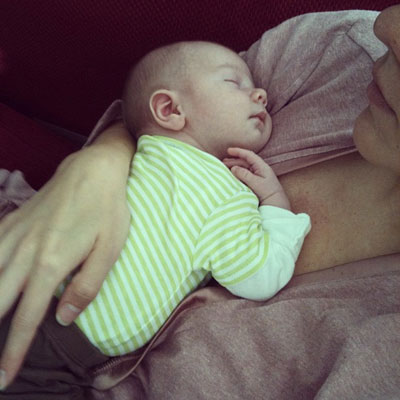 Unfortunately, eating wasn't easy for you in the beginning. While you did latch and suck within the first few days, once Mommy's milk came in, you started to struggle. There were several frustrating nights for both of us, and we saw you cry your first real tears, which just broke our hearts. After meeting with the lactation nurse, we learned that you were just slightly tongue tied. She suggested that we meet with an ENT and possibly have your little tongue clipped. That sounded just horrible to us, but after learning that your Poppy had his tongue clipped 56 years ago (it's a genetic condition, and your Great Grampy had it, too), we figured it was safe. And it was. The ENT was excellent, and the procedure took less than a minute. You were such a big boy and recovered quickly. Daddy says he owes you an ice cream cone. And guess what. You started eating like a champ almost immediately! Now both you and Mommy look forward to and love feeding time. In fact, I think Daddy is a little jealous. He tried to give you a bottle of Mommy's milk a few days ago, but you really didn't like it, so we'll try again another time.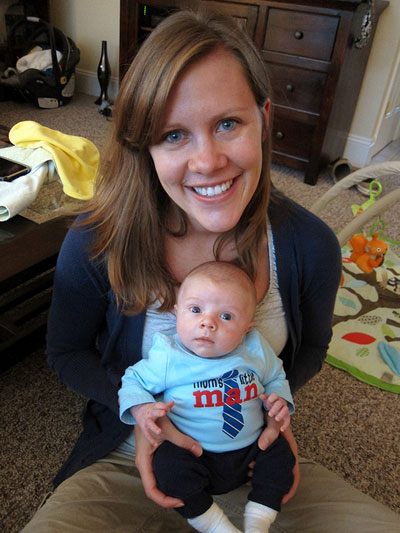 You do a lot of grunting and tooting. And some of your toots are man-size, which make us laugh. We haven't figured out yet whether this is common among all babies, or just baby boys, or if it's a unique trait of yours. We even started to give you infant gas drops after the first week, which you don't particularly like. You do, however, love the sweet, fruity taste of your Vitamin D drops.
And while we're on the topic of bodily functions, it's worth mentioning that you have successfully peed, pooped, and spit up on yourself and us numerous times. I believe in one single day, we all required no less than three wardrobe changes. It's a price we're willing to pay, though. And things have gotten much better (meaning much drier) since we moved you into size 1 diapers. (Pampers is our brand of choice.) We still have to fold the top down under your belly, but the larger size is much better at containing leaks.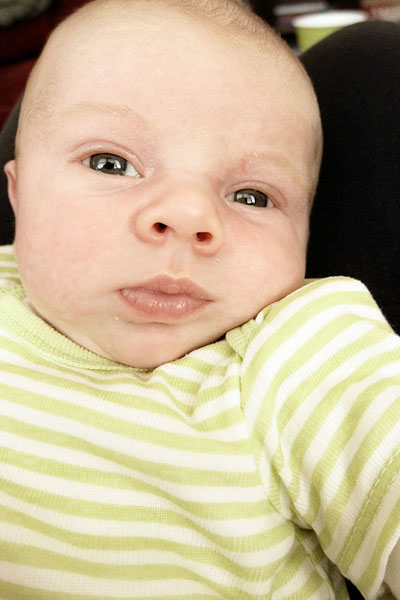 You typically sneeze in twos or threes. And you get the hiccups daily — just like when you were in Mommy's belly!
I think you have Mommy's fast-growing fingernails. I could trim them twice each week and that wouldn't be often enough.
You crinkle your eyebrows and curl your toes just like Daddy. You are so full of expression.
You are most alert between 7:30 and 8:30 in the morning and again around 7:00 at night. It is during this time that we play with your forest friends or do tummy time or listen to Daddy read stories. Daddy does the best voices!
You are so laid back, and you're already such a good little traveler. We try to get out of the house at least once each day. We've been to Target and the mall and the grocery store. We've also taken you to eat at a few of our favorite local restaurants. And you've already been on several walks and hikes. You usually fall asleep as soon as Daddy puts you into the Baby Bjorn, but we know the fresh air is good for you. You also love to nap in your car seat. You slept for almost three hours between our house and Nana's and Poppy's house. Like I said, such a good little traveler! Though Mommy and Daddy may need to get a new (more spacious) car sooner than we thought. You require a lot of gear!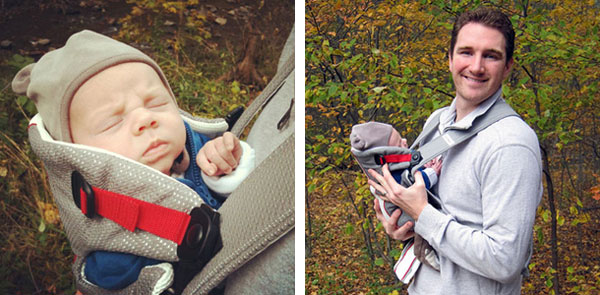 You've really started to enjoy bath time. Probably because Mommy and Daddy have gotten more comfortable with it — though it's still a two-person job. And we still have to be fast, otherwise your little lips start to quiver.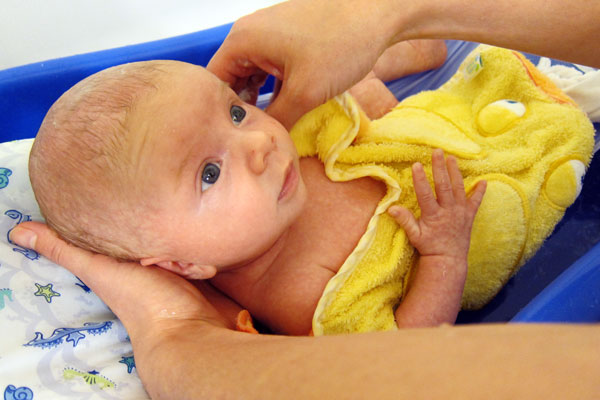 You love to be held upright so you can move your head around, and you almost always end up finding a source of light to stare into — whether it be from a lamp or the window. You also recently started giving us real smiles, though we haven't yet captured one on camera. You also squeak and coo and respond to our voices. Soon you'll really be able to interact with us!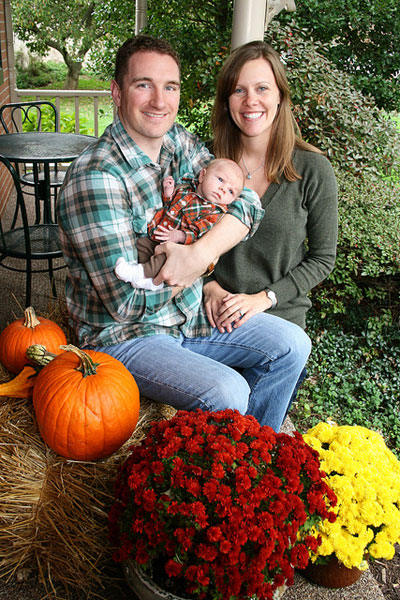 Not too soon, though, okay?
We love you, little guy! And we can't wait to see what the next month brings.
Love, Mommy and Daddy