HER PERSPECTIVE
Best Moment: Road trip week! We covered close to 1,700 miles and 8 states in 9 days. I also celebrated my 29th birthday. 29 years old and 29 weeks pregnant and I couldn't be happier.
Symptoms: Last week I said that I finally, undeniably looked pregnant. Well, this week I finally, undeniably feel pregnant. Especially when it comes to walking, sitting, and sleeping. (And what else is there, really?) Plus Peanut has been kicking and punching in new and unusual spots this week — like just below my rib cage and close to my pelvic bone. Perhaps he/she has flipped into "launch" position already?
Cravings: Southern food. I love it, and I think Peanut does, too. Pulled pork BBQ, tomato pie, sweet tea, pecan pie. We certainly got our fill.
What I Miss: I already miss our family and friends!
What I Can't Wait For: To hit the 30-week mark. Seems milestone-worthy, right?
Milestones: Speaking of milestones, Peanut is quickly approaching 3lbs. Nick and I were both just over 7lbs at birth, which means the bambino will likely double in size over the next 10 weeks. Does that mean my belly is going to get twice as big? Yikes!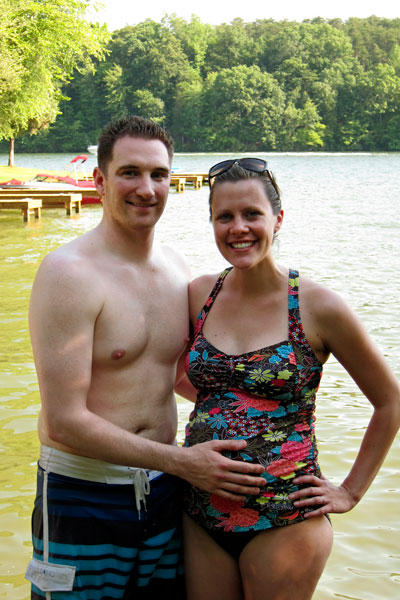 HIS PERSPECTIVE
Best Moment: Hanging out with family and friends in Virginia and Alabama! A close second was visiting my alma mater, James Madison University, after seven years. Wow, how the campus has changed! It was really weird, though, to see an orientation banner for the Class of 2015. Even more strange to think that Peanut will be Class of 2032.

Symptoms: A little anxiety about taking a 12-hour road trip with a seven month pregnant wife, but Emmie did just fine, and we got to see a good portion of rest stops in several different states. 

Cravings: Pita pizzas on the grill — mmmm, thanks Mr. and Mrs. Arceneaux. And all of the other wonderful Southern food that is still sitting on my hips!

What I Miss: Traveling is fun, but I sure did miss our bed and our kitchen.

What I Can't Wait For: The next trip to Alabama (at Christmas) when little Peanut can meet Aunt Megan, Uncle BJ, and his/her cousins, Sean and Jackson.

Milestones: Peanut is about the size of a jicama, or perhaps a petit Virginia ham.